Follow Her: to Swim with the Manatees!
When my friend and I booked our tickets down to Largo, Florida for spring break we had one thing on our mind, to find a manatee we could swim with. It was important to me to only swim with manatees that are in the wild. I am very much against animals in captivity, so when I found a place in Crystal River in which we could swim in the wild with them, I booked us tickets.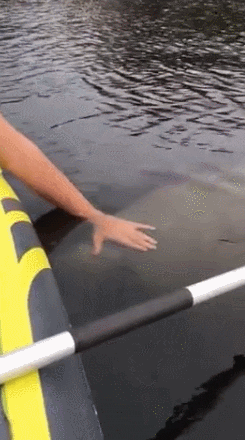 GIF courtesy of GIPHY
We bought the tickets through Groupon, which was supposed to save us $30 but with the tax and a jumpsuit it only saved us about $10... is still better than nothing. The only day we could book our adventure was on the day we landed, so we got off the plane at 1am and got in the car to drive to to Crystal River at 7am.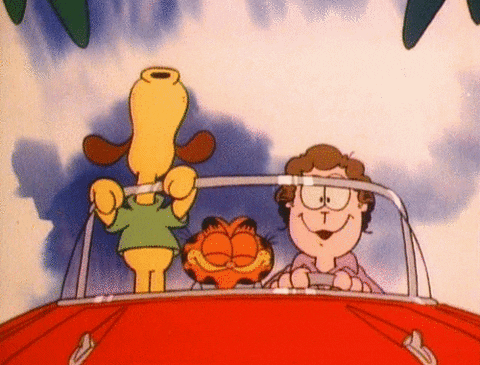 GIF courtesy of GIPHY
After 2 and a half hours in the car we finally arrived at the swim shop. We had to watch a 15 min video on when and how you are allowed to touch a manatee. Since they are in the wild you can only touch them when they approach you, or else you can fined hundreds of dollars. We were given wetsuits to put on. Have you ever put on a wetsuit in 72 degree weather inside a building that is 75 degrees. IT WAS  A LOT!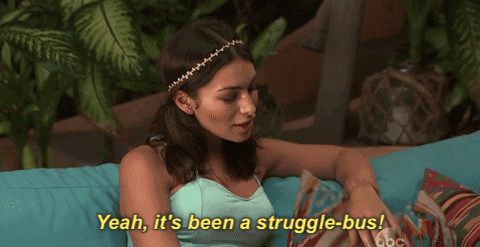 GIF courtesy of GIPHY
After a short 5 min bus ride we were at the lagoon that the manatees call home. I was shocked during the information session that the water was going to be swampy. Apparently the manatees eat the swamp plants, so if the water is clear there won't be any manatees. I was picturing the loch ness monster type of swamp, but it wasn't too bad. We put on our snorkels and hopped in the chilly water. That was when I saw my first manatee.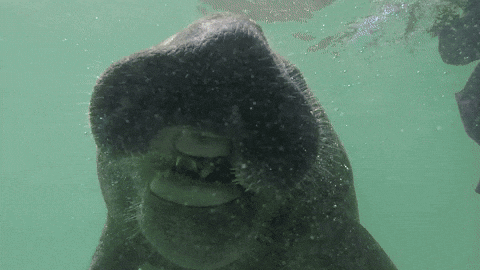 GIF courtesy of GIPHY
She was the most beautiful creature I had ever seen. Although I tried to take pictures and videos, they came out horrible. I saw a few other manatees during the visit, I swam next to her for probably an hour or so. She had a scar on her back from being hit by a boat. The water was so shallow, maybe only 4 feet, that she had been hit by a passing propeller. She was all healed though and the tour guides insisted it looked worse than it was. We spend about 2.5 hours in the water with these beautiful creatures and we named the one we followed "Cutie paTooty" because she kept farting in peoples faces. But.. look at them, you could never stay mad at that face!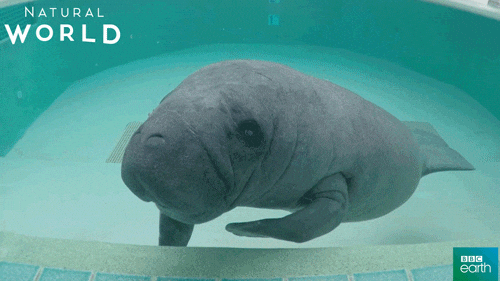 GIF courtesy of GIPHY
I had been able to pet "Cutie paTooty" a few times during our time together, but my favorite part was watching her eat. She has a little routine. She ate for 10 mins came up for air, repeat. Underwater you could hear her eating, it was like "smooosh, smoosh"! I was the last one on the boat to head back to shore, and I was heartbroken saying goodbye. When I made it back to shore I missed my "Cutie paTooty" but I knew she was out living her best life in the wild.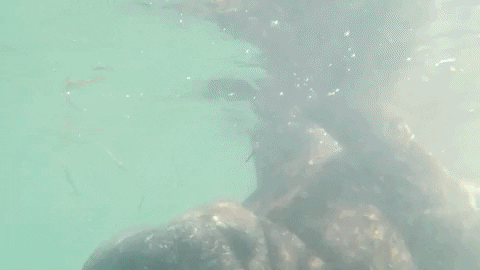 GIF courtesy of GIPHY
I took the tour through "Seadaddys Adventures", they were reasonably priced and well worth the drive. I highly recommend them to all my fellow manatee lovers out there!