Trick-or-Treating… COVID Style
Halloween is right around the corner and I am as excited as ever.  Trick-or-treating used to be my favorite activity when I was younger. I loved to get dressed up as either a witch or nerd, run around with my friends, eat candy, and stay out late. Trick-or-treating felt odd grown-up, and I even did it in college with friends, running around Beacon Hill in the rain and trying to blend in with families there. I was fortunate enough to grow up in a giant, safe residential neighborhood, which is where I am living now because of COVID. In my childhood, families from around the city would drive to my neighborhood and trick-or-treat there, creating crowds of kids and adults. I feel special to live here, and even though COVID will make trick or treating different, the show must go on.
My neighborhood is doing many things to ensure the safety of trick-or-treaters and residents, most of them suggested by the city, and then discussed by the neighborhood. Of course, Halloween has not happened yet, but these tips and tricks would certainly be helpful for anyone to hear.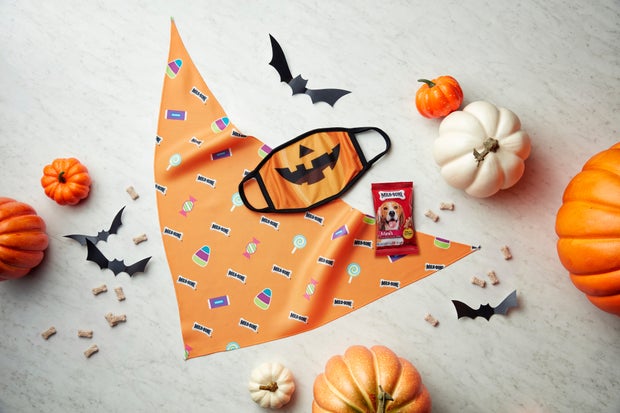 Milk-Bone
Tips for Trick-or-Treaters and Parents
1. Incorporate a mask into your costume. If not, always wear one.
We know masks are essential, and in some places, it is even illegal not to wear one in public. Be sure to be wearing one while trick or treating, and to be even cooler, incorporate it into your costume. You can be a masked cowboy, a cat with a mask, and so on. Remember the best costume is a safe one.
2. Parents: monitor your kids.
Trick-or-treating has been a time to let your kids run rampant around the neighborhood, and in the past, that may have worked. Now is not the time to teach your kids about independence, especially if they have issues understanding personal space or are too young to grasp the seriousness of the pandemic. If your kids cannot socially distance on their own, they need to be supervised or they need to stay home.
3. Go with your family only.
I used to trick or treat with large groups of friends. This is also not the time for that. Go with the people you live with, even though you will be outside. There will likely be a lot of people outside with you and you should be as safe as you can.
4. Don't go to houses that have crowds in front of them.
If a house has a large line or a crowd in front of it, don't shove yourself in that line. I know it can be tempting; the houses with crowds tend to have something cool to draw in said crowds or better candy than other places. You know what else these houses might have now? COVID. Wait until the space is clear or skip the house.
5. Bring hand sanitizer/wipes.
Bring hand sanitizer or wipes with you and clean your hands periodically, especially if you will be eating candy along the way.
6. Wipe down candy wrappers after you get back home.
This is an easy one for parents and trick or treaters, but once you get home, wipe down all the candy wrappers with wipes, so you or your kids can touch them without worrying from then on.
I thought about saying you could throw out the candy and replace it with some you bought on your own, but being wasteful during a pandemic? Naw. If this is an issue for you, then maybe trick-or-treating is not for you, or maybe you should replace the candy with a toy.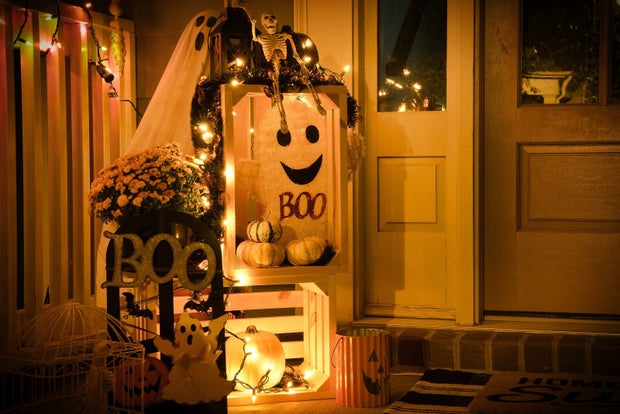 Photo by Clint Patterson from Unsplash
Tips for Those Handing out Candy
1. Decide if you are opening your door to kids.
Where I am, you can still be "business as usual" and open your door to trick-or-treaters, handing them candy. If this is the case where you are, decide if you want to do so, or if you want to do something else. There are numerous other options, such as putting a bucket outside and keeping the door closed. You could also lay candy out on a table and if your front door has a glass door and then another one, you could stand behind just the glass one and wave.
If you do go outside, it would be best to set up a table and stand behind it to establish social distancing. You can spread candy out on the table, and of course, always wear a mask.
2. Make little baggies of candy.
Every time kids come to the door, they ask how many pieces of candy they can take. If you are planning on being behind a door or not being outside regularly, consider making bags of two or three pieces for kids to just grab. This will also prevent kids from fishing around in a bucket and leaving germs everywhere.
3. Only give wrapped candies.
If your candy is not individually wrapped like it was when it came from the store, don't give it to people. The same goes for baked goods right now. Just don't do it. Stick to the individually packaged candies or else your stuff may end up getting thrown out, probably for good reason.
4. Consider giving out something else instead.
Candy goes in your mouth, and that's a direct transmission for COVID and other illnesses. If that is something you don't want to be involved with at all, consider giving mini pumpkins or something cheap. You can go to the dollar store or a clearance section at Target or Walmart, and grab anything that is appropriate for children and does not go in their mouths. Although babies… they put everything in their mouths.
5. Do not participate if you are not comfortable or not able to.
You are under no obligation to participate in COVID Halloween, just like you have never had to participate in the usual Halloween activities. If you are immunocompromised, stressed, or god forbid sick, just turn off the porch lights and watch a movie. Your body will thank you and so will everyone else. 
Unfortunately, Halloween is not the same as it was last year, and neither are a lot of things right now, but we can do our part to create new and safe memories for kids and others. Above all, use common sense, and treat this like you are going into the grocery store or another building. Protect yourself, your family, and your neighborhood.