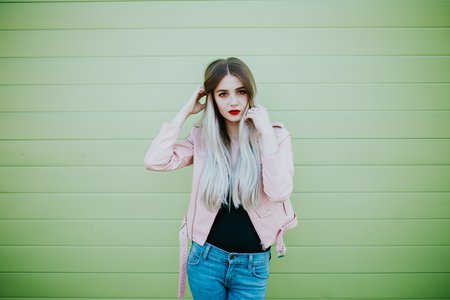 Arianna Tucker / Her Campus
Transition Your Wardrobe from Winter to Spring
After months living in extremely cold temperatures and (sometimes) harsh weather, all I want to do is break out the sundresses and go out without being so bundled up. Not so fast though; it's not summer just yet. If you are afraid of people clowning you for wearing bulky jackets and thick scarves when it is almost 60 degrees outside, or if you are afraid of being almost too prepared that you're still cold outside, follow these tips to make your wardrobe transition to spring seamless from head to toe!  
1.

Let your hair free from the beanie!

As winter ends and spring begins, so will the coldness of your head and ears. I would wear beanies for particularly freezing days, mostly because it would feel like my ears were about to fall off if there wasn't anything on my head. This wouldn't be a problem in the spring, so lose the beanie! Don't fret if you're having a bad hair day and you don't have a beanie to fix it, though; a bandana or thick headband should do the trick! A bandana or headband also does a great job of keeping your hair out of your face.

2.

Switch your chunky scarf for a dainty necklace.

Breanna Coon / Her Campus

This is probably the most important accessory to lose when spring finally arrives. Scarves are an absolute lifesaver when the weather reaches single-digit degrees, but they might make you feel a little bulky and confined, especially when the weather starts to get warmer and temperatures begin rising. Instead of a big bulky scarf to take off whenever you step indoors, switch it out for a cute necklace that you can have on for the entire day. A dainty necklace also helps your outfit have a softer look than a huge scarf would.

3.

Lose the thick and bulky sweater, but don't hesitate to layer.

My go-to outfit in the wintertime would be an oversized sweater to go with a pair of thick jeans, thick socks, and huge Timberland boots—that is, before I pile on my thick jacket, beanie, and scarf. Obviously, you don't have to do the same thing for your outfits in the springtime, but don't be afraid to have multiple layers on you. For instance, you can layer a flannel or a light jacket over a T-shirt, and you can take your flannel or jacket at any point throughout the day if you ever get too hot. Plus, your layered item of clothing can also act as a shield from rain during April showers.

4.

Get used to the warm weather before busting out the shorts/skirts.

I've done this one too many times, but as soon as the temperature starts to get out of the 40s and into the 50s, I have gotten way too excited and started wearing shorts and skirts and completely ditching winter wear. I suggest waiting a little bit to get used to spring-like weather before busting out your lighter pieces of clothing. For instance, you can transition from thick pairs of jeans to leggings to avoid getting too cold too quickly. Once you're used to the breezy climate and temperatures start getting higher, don't be afraid to bring out the shorts and the skirts you've been waiting to wear ever since fall struck.

5.

These boots were made for walking—and for spring too!

Who said boots were only fit for winter? There are several ways of bringing these trendy shoes to warmer weather. Instead of big and hefty snow boots to trudge to class in, swap these boots for a pair of ankle boots, which are fit for practically any season. Ankle boots keep your feet warm enough but comfortable for both cold and warm climates. If you plan to go out on a night on the town, pair a set of knee high boots with a spring dress for some edginess to your look.