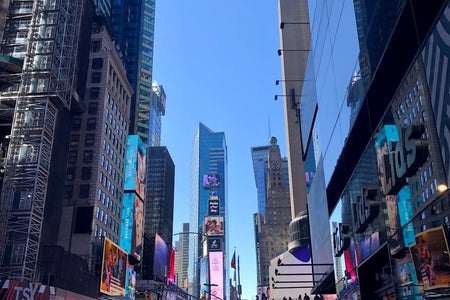 Original photo by Marieska Luzada
This Time Last Year: Traveling to New York Right Before The World Shut Down
If someone asked me, "What is the first thing you would do once the pandemic ends and all restrictions are lifted?" I would reply with one simple word: "Travel."
Disregarding the plane rides from here in Boston to my home in Sterling, Virginia (or vice versa), the last time I traveled before the entire world shut down was a President's Day weekend trip to New York City with my roommate Liv, which was around this time about a year ago. We had been planning this trip for months, and we could hardly wait for that weekend to come. We didn't really have any specific plans that were set in stone for that trip (except for the tickets we bought for Jagged Little Pill that Sunday evening), so we were excited that this entire trip would be spontaneous and unstructured.
We caught an Amtrak train bound for Penn Station on Friday, February 14 around noon so we would be able to catch an evening show that night. As soon as we sat down in our seats, Liv and I entered all of the Broadway lotteries we could find so we could see a show as soon as we arrived in the city (read more about Broadway lotteries and different ways you can get cheap Broadway tickets here). About halfway through the train ride and after countless emails of "Hi Marieska, unfortunately you did not win a chance to purchase lottery tickets," I won the lotteries for Emojiland and Tina: The Tina Turner Musical. We eventually chose to see Tina, and we did not know what to expect of the show since we hadn't heard much about it at that time.
A few hours later, we finally arrived at Penn Station, and we quickly made our way to the nearest subway station so we could check into our hotel before heading back to Times Square for the show. We arrived in the city during rush hour, so you can imagine how stressed we were with our duffel bags while trying to get Metrocards. Eventually we managed to jam into a packed subway (something I cannot imagine doing now), well on our way to our hotel in the Lower East Side.
After we checked in and dropped our bags off at our hotel, we hopped back onto the subway bound for Times Square, ready to see Tina. Additionally, we didn't know where we were sitting since we won lottery tickets, so we were baffled to find out that our seats were front row center orchestra.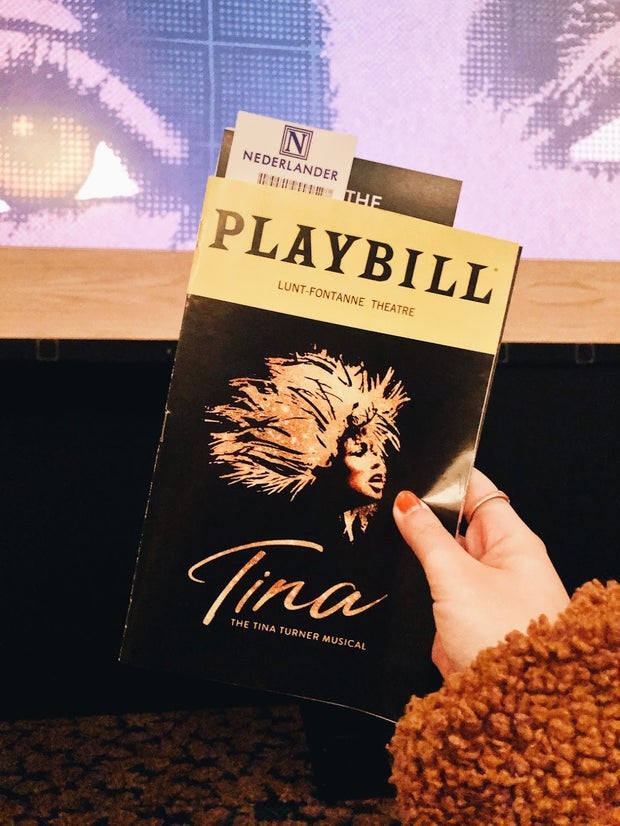 Original photo by Marieska Luzada
Despite definitely being the youngest ones in the audience that night, it was an incredible show to put it short. Because we were seated right in front of the stage, we were able to see the performers up close and personal. I also have to give props to Adrienne Warren, who played Tina, because she did the show entirely full-out with an ankle brace. She was also a sweetheart at the stage door after the show, as well as many of the other performers that signed our Playbills.
Because we hadn't eaten anything since the train ride, we were super hungry after the show. After stagedooring, we headed over to Junior's for a late-night dinner. We then took the subway back to the hotel (with the Junior's strawberry cheesecake we ordered to-go), and called it a night; it was a very successful first night in New York, if I do say so myself.
I'm thankful that both Liv and I naturally wake up on the earlier side, so we left the hotel Saturday morning around 10 A.M. to start our second day of our trip. Before we decided to do anything else, we wanted to find a show to see that evening. So we took the subway bound for Times Square, and decided to walk to each Broadway theatre to look for rush tickets.
After no luck of finding rush tickets that were reasonably priced, we finally got rush tickets for Girl from the North Country for that night. Happy that we finally got tickets for a show, we met up with Liv's friend Jenna for brunch at The Grey Dog in Chelsea. After brunch, we parted ways with Jenna, and headed to the Whitney Museum. After exploring its many interesting exhibits, Liv and I headed to the Strand Bookstore on Columbus Avenue to satisfy our book-loving hearts. At this point, we were exploring as much as we could since the show wasn't for another few hours. We explored a little bit of Washington Square Park and SoHo before heading back to Midtown.
One of my only requests for the trip was to have a meal at the Jollibee in Midtown Manhattan. If you're not Filipino, Jollibee is probably the most popular restaurant chain to come out of the Philippines, and there is not one bad thing on the menu. So we headed to Jollibee and stuffed ourselves with Chickenjoy and Jolly Spaghetti.
After our heavy, heavy dinner, we headed to the Belasco Theatre for the evening show of Girl from the North Country. We had balcony seats, so we were making ourselves really comfortable in those seats, especially after eating so much. I won't lie, I wasn't a huge fan of the show since I was confused by the plot line and the overall story, but the music slaps (Liv and I play the cast album frequently now). After hanging out at the stage door with performers signing our Playbills, we headed straight back to the hotel, and ended our jam-packed day in the city.
The next day, we left a little later than the previous day, since we already had our tickets for that night's show and didn't have to worry about looking for rush tickets. We met up with Liv's friend Maddie and her boyfriend Mason at Andrew's Coffee Shop for brunch, and I remember leaving that place with my plate empty and my stomach full (highly recommend!).
After brunch, we headed to Times Square to meet up with Liv's friend Bayram. After meeting up with Bayram, the three of us took a subway bound for Chelsea Market. We mostly just walked around exploring Chelsea Market and didn't make any major purchases, but I do remember ordering some very delicious gelato from L'Arte del Gelato. Afterwards we decided to explore the High Line and managed to snap some pictures for the memories (as well as a few TikToks to laugh about later). We also got to see the Vessel, which was really cool!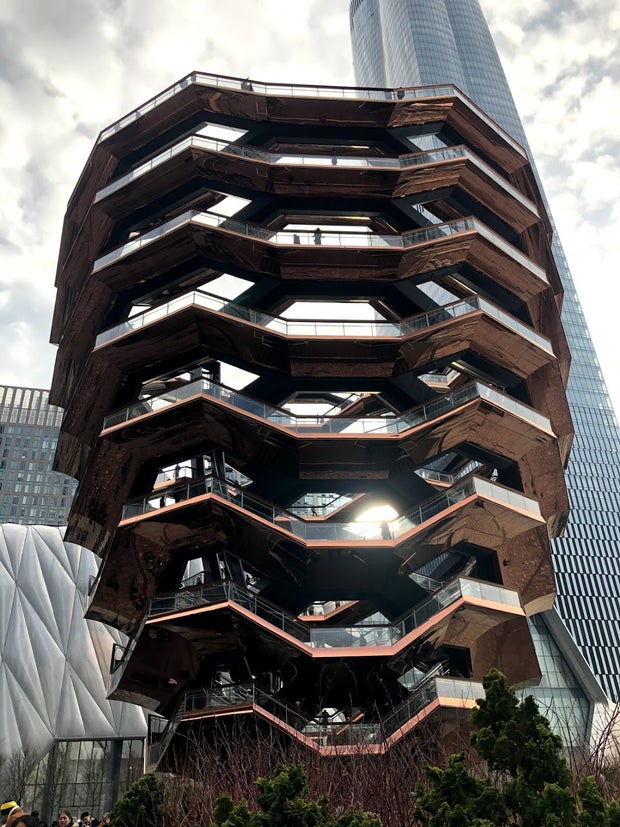 Original photo by Marieska Luzada
After parting ways with Bayram, we decided to do some shopping in Times Square because we had time to kill before seeing Jagged Little Pill later that evening. We decided to check out the Line Friends store in Times Square, where I purchased a few BT21 items for myself, including a few enamel pins and a keychain. We also headed to Theatre Circle, a souvenir shop that sells all things Broadway, where I got a New York sweatshirt and a Come From Away shirt. For dinner, we decided to get cheap pizza from a nearby business, since we were spending quite a lot of money that day.
After dinner, we headed to the Broadhurst Theatre to catch the evening performance of Jagged Little Pill. Long story short, it's probably one of my favorite shows now. If you want to hear more of me raving about how good this show is, check out my review of the show here! After stagedooring, Liv and I went to grab some cookies from Schmackery's with Anne and David, two of our newfound friends from Jagged Little Pill. It was a great ending to a great day.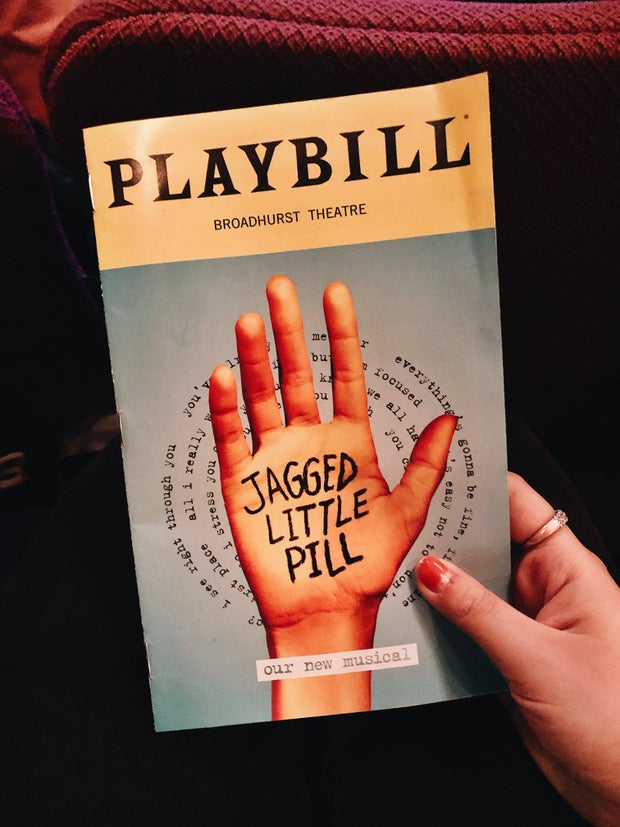 Photograph by Marieska Luzada
Monday was our last day in the city before going back to Boston, so we spent the majority of the day getting to explore the areas we hadn't done already. We spent a good portion of the day exploring Central Park, and we also headed to Rockefeller Center for a little bit. It was funny because I took a picture at Rockefeller Center the previous year around the same time, so I recreated the photo in the same exact spot. Alas, our time had come to leave the city, and we caught the Amtrak bound for South Station in Boston that afternoon.
As I reflect now on how fun that trip was, I cannot express how much I miss traveling, and how much I miss seeing shows (since it's one of my biggest hobbies). Thinking back, I cannot imagine doing half of the things we did on that trip in a pandemic-centric world, like standing shoulder-to-shoulder with people on a crowded subway without masks. Whenever this pandemonium calms down and businesses are slowly starting to reopen, I will be ever-so patient for when Broadway decides to return. One thing for sure, I will be in a state of euphoria once we are able to sit in those familiar red seats again.