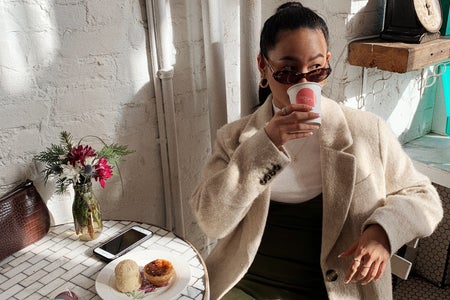 Senior Spotlight: Lee Ann Jastillana
Lee Ann Jastillana is our graduating senior editor, and throughout our time with Her Campus at Emerson, she has edited countless articles to make them the best they could be. Working alongside her on our e-board has been a rewarding experience, and I hope you enjoy getting to know her as much as I have!
Major/minor: Majoring in journalism, minoring in marketing communications
What is one of your favorite college memories?
Definitely getting a bagel before class when Einstein's was still next to LB!
What has been your favorite part of Emerson?
I love how Emerson is a space for you to freely express yourself without judgment. It's been extremely inclusive of all types of identities, fashion, and personalities, and I've never felt pressured to act, look, or dress a certain way. 
How does it feel to be graduating? How has the pandemic affected your feelings about graduation?
It's definitely quite sad given the current situation. I've always been both excited and anxious about graduation, but being stripped of a ceremony or celebration has taken away that excitement and left just anxiety. I'm trying to be optimistic, but ending my senior year prematurely and not being able to savor the last of it because of the abrupt negativity has made me feel a little defeated. 
What are your plans for after graduation?
I'm going to be staying in the Boston area and moving into a cute little studio in the fall! So excited to be living out some aesthetically pleasing mornings there. Over the summer, I'd planned on working retail and job-hunting on the side, which might be reduced to just job hunting now. Ideally, I'd love to be all set up to be a freelance or staff fashion and beauty writer by the fall. 
How long have you been part of HC Emerson?
I've been a part of HC Emerson since the second semester of my sophomore year!
What has been your favorite part of being part of HC Emerson and/or your favorite HC memory?
I love how HC Emerson motivates me to write and churn out copy. I also enjoy how I can freely express myself through writing and talk about almost anything. My favorite HC memory would probably be an E-board dinner we had at the Cheesecake Factory in the winter. I loved just talking to everyone about their plans for the upcoming semester and diving into the cheesecake I'd been thinking about all day. I remember it snowing really bad and everyone figuring out how we'd be getting home. 
What is your favorite article you've written for Her Campus?
I'm pretty proud of "Treat Yourself: Daily Self-Care During Finals Week," which is basically a pick-me-up article during finals week. I have a little "treat suggestion" for Monday through Friday because we all deserve self-care breaks!
If someone is visiting Boston for the first time, where would you recommend they go?
I absolutely love the Isabella Gardner Stewart Museum. The courtyard is so dreamy, and I love wandering from room to room pretending I'm in a princess movie. 
Were you involved with other extracurriculars at Emerson and/or did you have any cool internships/jobs in college?
I was! I wrote for the Berkeley Beacon my freshman year, and then I started writing for Your Magazine my sophomore year. I've been writing for the magazine since then, and I'm currently the web director as well. 
I also was fortunate enough to land some amazing internships. I interned at Glimpses Publications in Guam the summer after sophomore year. They treated me like a staff reporter and were extremely kind and tried to really cater the internship to fit my interests. I also interned at Boston Common Magazine last year, which was amazing. I loved having a hand in producing some issues of that beautiful, glossy magazine! 
Did you have any favorite classes at Emerson? Favorite professors?
I had so many amazing classes and professors at Emerson! My freshman year, I took Introduction to Visual Arts with Cher Knight who was so engaging and funny. A lot of her assignments required us visiting the local museums, and I loved this little push to explore my new environment during my first semester. Last year, I took Sex, Gender, and Society with Nancy Allen. Again, another super engaging and funny professor who was extremely mindful and respectful of the topics she covered. This year, I'm taking French with Pierre Hurel whose energy is so refreshing and vibrant— I look forward to his classes so much. 
Do you have any advice for younger Emerson students?
Take advantage of all the resources Emerson has to offer! The Career Services Center has amazing counselors that can look over resumes, portfolios, cover letters, etc. Sometimes they'll even have opportunities for you to get your headshot!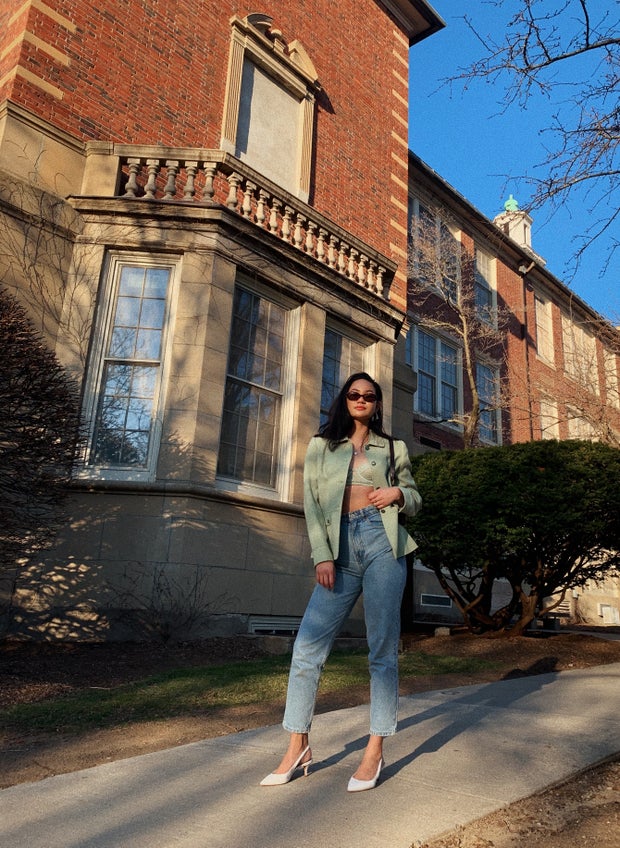 Lee Ann Jastillana
Bonus questions:
What do you like to do in your free time?
I love styling outfits and taking pictures for Instagram!
What are the last good movies and/or TV shows you've watched and/or books you've read?
I recently watched The Prodigy on Hulu, which was a super creepy thriller about a serial killer being reincarnated in the body of a little boy. I've also just watched Grave of the Fireflies, and it was so beautifully heart-breaking. 
Dog or cat person? (Or something else entirely?)
I used to be a dog person, but my boyfriend's recently converted me, and now I'm obsessed with kittens! 
Lee Ann has been such a valuable member of our chapter, and while I'm excited to see what she does next, I'm sad to see her leave us! Even when we suddenly had twenty articles in a week to be edited, Lee Ann has been flexible and reliable, and she always reads through pieces with a careful eye. Having her as my editor has definitely strengthened my skills as a writer—she always asks the right questions to make me consider how I can make my writing even stronger.
Lee Ann, from all of us at Her Campus at Emerson, we wish you luck on your next chapter! We know you're going to do great things, and we thank you for everything you've done for us.