Ranking Every Song on FLETCHER's The S(ex) Tapes EP
Considering I'm twenty one now, I've been active on Youtube for quite some time, and especially active in "queer Youtube". I've been here for the recycling of exes, the predictable coming outs, and the high profile breakups that even I have not gotten over. And this means that I follow Shannon Beveridge, a queer YouTuber and activist, who vlogs, does Q and A's, and tends to have catastrophic breakups with other queer women that everyone knows. One of these women is Cari Fletcher, FLETCHER, who she was with from 2016 to 2020. Thank you Shannon, you've inspired a great album. 
FLETCHER began her career competing on the first season of the X-Factor, where she was eliminated, but she got her start. In September 2016, she released her debut EP Finding Fletcher independently. The music video for the main song, "Wasted Youth", featured Shannon, cementing their relationship together. She released another album, and then finally, September 2020, FLETCHER released her most recent album, The S(ex) Tapes, which shares the aftermath of her breakup with Shannon. The album is made even more visceral because of Shannon's involvement in the album, she personally shot most of the music videos or directed them.
Shannon and Cari are on good terms, thank god, I don't think queer Youtube could take another hit. For Teen Vogue, Shannon said, "To read your ex's journal or diary is an intimate experience, and then to hear it and know that it's going to be shared with the rest of the world adds a layer to that." This album is a collaborative experience for both of them and Cari said that it was "an honest representation of what it's like to struggle in a relationship and what it's like to be confused and not have the answers." 
In the end, The S(ex) Tapes is Cari's side of a breakup after a four-year long relationship, and all the emotions that come with it, influenced by her actual ex. Each song represents a separate feeling that someone feels during a breakup, some euphoric, some low, and some are just mistakes. It is cathartic, painful, honest, just as Cari says a sex tape is.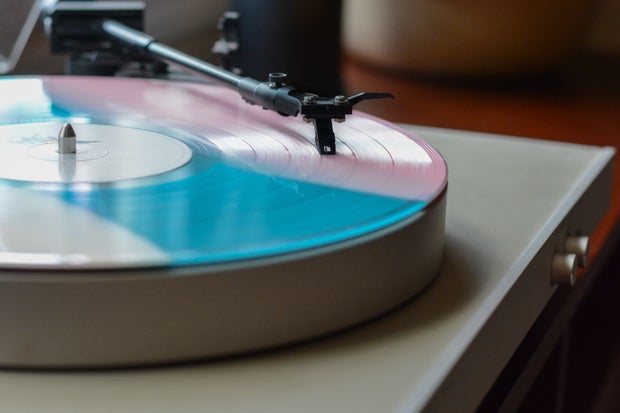 Photo by Lee Campbell on Unsplash
1. Bitter (Ft. Kito)
This is my favorite song in the album, perhaps it is because I'm also "recently single," and trying to hold onto the last shreds of my fleeting confidence. "Bitter" is about someone watching their ex move on and hoping that this new girl is thinking of her. It's an ultimate power move and at this point in my life, I want nothing more. 
Favorite lyric: 
"I know you think about me when you kiss her
I left a taste in your mouth
Can she taste me now"
"Feel" is a slow, belting ballad about numbing yourself to the pain of missing someone. It is heartfelt, vulnerable, and showcases FLETCHER's vocal range. It is gorgeous and raw, the essence of this album. 
Favorite lyric:
"So I'll drink this wine like it's medicine for the mind
Onto my tongue, oh, 'cause I still taste your love"
I feel like having sex with your ex is part of the healing process that some people go through and some don't. And it never goes well because there is usually a reason why the relationship ended. The chorus of the song dives right into this, showing that what she thought was a harmless one night stand is actually stirring up all sorts of old feelings. 
Favorite lyric:
"I just had sex with my ex
In a New York apartment, ah
Now I'm a mess, I'm obsessed
I'm right back where I started, broken-hearted"
The One Night Stand, yet another facet of getting over an ex. This has the potential to go well. This song is dancey and fun, like the subject matter, which talks about letting go and "seeing other people" after the breakup, but knowing that these people are not the "one," because is anyone the "one" right after a breakup?
Favorite lyric:
"You're not the one, but you could be the one right now
I'm having fun, I'm having fun right now"
Breakups are difficult regardless of if you were dating for five months or five years, or if you are on good terms or bad terms. They all just suck. And at night, lying alone, you think about what could have been different, you toss and turn and even if it was an amicable breakup, you wish you could hate them and just move on. 
Favorite lyric:
"The nighttime is the hardest
It'd be easy if I hated you"
Another part of a breakup is learning to be your own person again. When you are with someone, you are a "we," and it can be abrupt to be alone again. Sometimes the best thing to do can be to cut off all communication, especially if the relationship was toxic. 
Favorite lyric:
"All I need is time and space and silence
Cut communication 'cause I'm trying
To learn that I can lose you and survive it"
Casual hookups sometimes do not go as planned because someone catches feelings. In the case of this song, which is a continuation of "The One," except the other person wants things to be more serious. After a breakup, it is normal to be emotionally unavailable, and if you head right into a relationship, you may hurt yourself and the other person. It is best to take some time with yourself, get to know yourself and heal, and then come back when you're ready. 
Favorite lyric:
"This don't need to be serious
I just wanna touch you
So don't tell me how you're feelin'"