In an effort to connect with the Emerson community more directly, we are taking our articles into the organizations that are so loved by the students at Emerson. These organizations work year-round to benefit the community in a number of different ways, and we at Her Campus at Emerson want to recognize the hard-work and dedication that go into running each and every one of them. In this article, we'll be spotlighting The Emerson Review, the oldest literary magazine on campus!
The Emerson Review accepts submissions in poetry, fiction, nonfiction, photography, and artwork. Submissions are reviewed during weekly staff meetings, where about 25 members come together to discuss pieces for potential publication. Currently, The Emerson Review is compiling its 49th volume set to launch at the end of the semester. The literary magazine is published annually, celebrated with a launch party with copies of the magazine and food!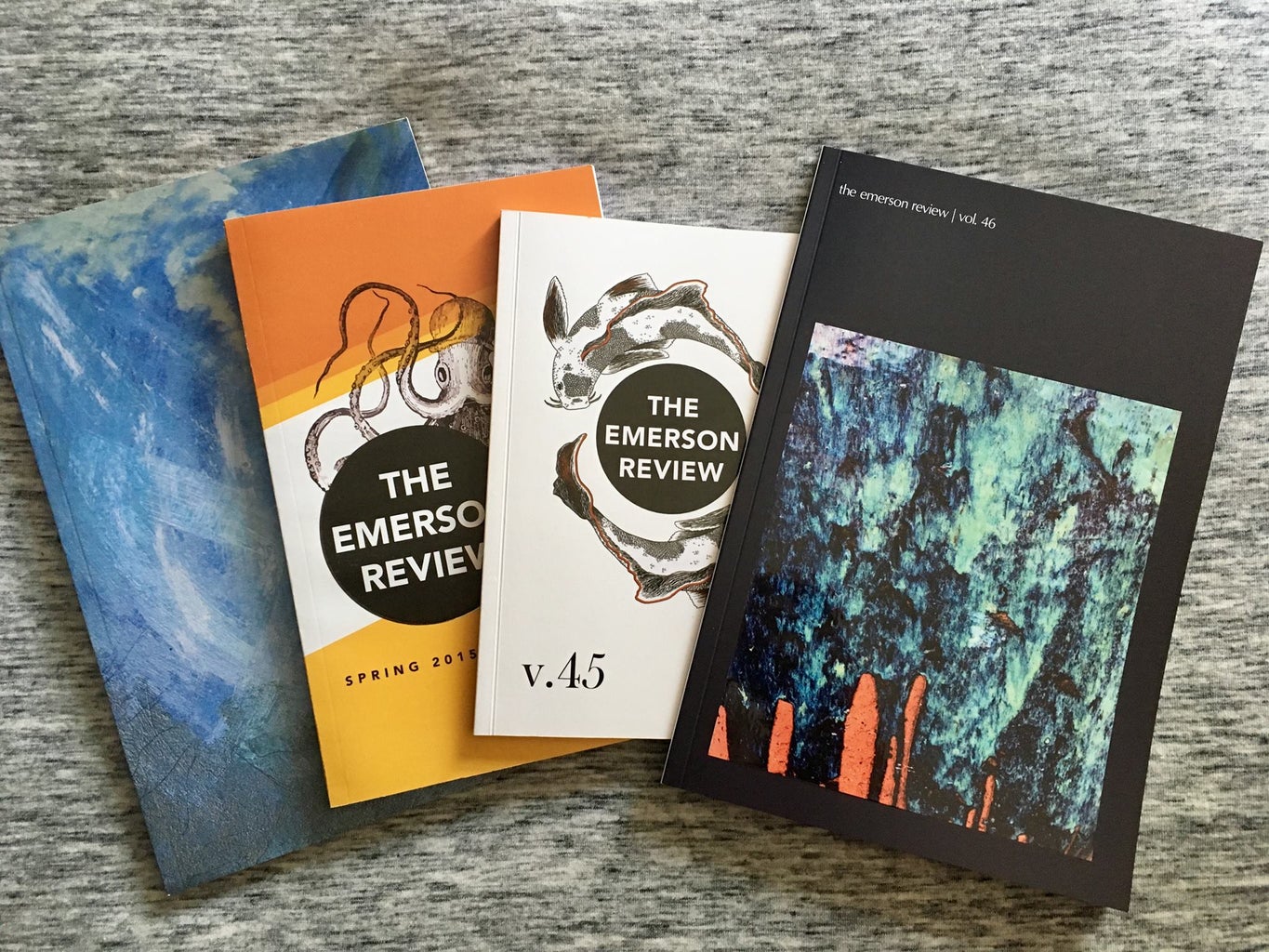 The executive board has many different positions, but each is essential to running the magazine. Talia Santopadre (4+1 publishing senior) is the editor-in-chief overseeing The Emerson Review. Megan Michaud (Writing, Literature and Publishing senior) is the managing editor, and Lily Doolin (WLP junior) is the assistant managing editor. In the fiction department, Nicholas van Orden (WLP junior) is the head editor, and Abigail Michaud (WLP sophomore) is the assistant editor. The nonfiction editor is Sean Etter (creative writing junior). On the poetry side, Alana Scartozzi (WLP senior) is the head editor and Kelsey Marlett (creative writing sophomore) is the assistant editor. Cassandra Koenigsberg (WLP sophomore) is the org's treasurer. Putting it all together is Sam Kiss (WLP senior), the head designer.
The Emerson Review team is very excited to share their newest issue with the world. Talia tells us, "We are hoping to make this the best volume yet!" The staff has enjoyed being able to come together and discuss so many different pieces and bond as a team. Talia, who has been on staff since her first year at Emerson, says her favorite thing about the org has been the ability to watch the magazine grow. The Emerson Review is the only literary magazine on campus that accepts international submissions, which means they get to publish a diverse range of voices. As Talia says, "We hope the book will really resonate with the Emerson community and that people enjoy the stories we have curated for volume 49!"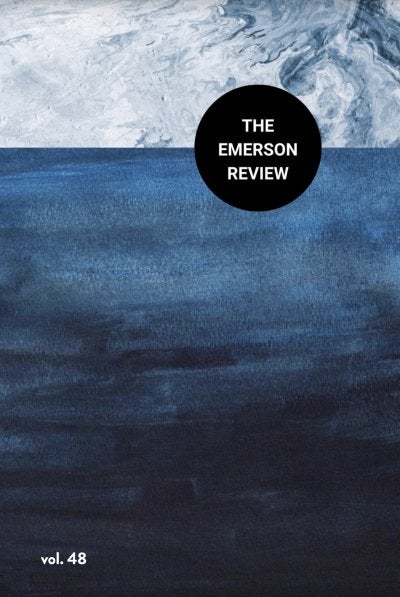 We asked The Emerson Review which three words would best describe them, and they said "passionate, critical, and ambitious." Each year, the team remains driven from fall to spring to make the issue the best it can be. To achieve this, the staff must have a critical eye for pieces and decide how each submission can become even better. Of course, this is no small task—one reading period usually yields around 2000 submissions! The executive board reads through about 200 pieces per week to filter through submissions for the general staff, which usually reads about 50 to 100 pages of submissions.
To get involved, you can reach out to The Emerson Review at submissions.er@gmail.com. The org hires once per year, but you can be added to the email list for the fall semester! You can also look out for The Emerson Review at the fall Org Fair. To submit, you can send in your work through their website or Submittable between August 1 and February 1.
Be sure to keep up with The Emerson Review on their website, Emconnect page, Instagram, Twitter, and Facebook!

Bonus Questions:
AS: What Hogwarts house does your org most identify with? 
TS: I might be a little biased since I myself am one, but EmRev is definitely Slytherin (with a little hint of Ravenclaw). We are a pretty ruthless crowd when it comes to debating and sharing opinions. If we really dislike a piece, we make it known (at least to each other), and there is no holding back when it comes to improvements we want to see. We are there to make the pieces shine, and if we are able to do that for as many pieces as possible, we definitely will try (RE: Ambition). 
AS: If you could describe your club with one movie or TV show, what would you pick and why? 
TS: We are a mix between CATS and The Office. Our org is very much to the absurdity level of CATS, but in an everyday context like The Office. Think, if Michael Scott showed up in a full CATS costume—that right there is The Emerson Review. 
AS: If your org could be described with one animal, what would that animal be and why? 
TS: Platypus! We publish a weird mix of things and somehow it all works together. 
AS: Is your organization more cat people or dog people?
TS: We are cat people! We have a laid-back energy, but can be decisive and critical. We have to warm up to people and our affection needs to be earned, but once it is, we will love you! We are truly like a family and once you're a part of the chaos, it's really hard to leave.