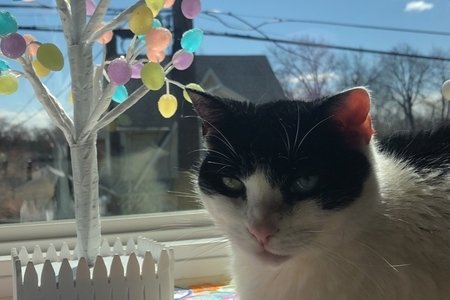 A Love Letter to My Cat While We're Stuck at Home
Dear Minnie,
Productivity enthusiasts are saying to use this quarantine to produce some beautiful, meaningful art, but honestly, my love of cats is one of the only things I can think about in these stressful times. I will not be writing King Lear while I'm forced to stay at home, but I can always wax poetic about how much better a cat makes my life.
Minnie, most of our time together is spent with you sleeping, but I admire your ability to curl into a ball during all hours of the day. Like a girl after my own heart, you're more of a night owl if anything (although there are many times where I find you still knocked out on the couch by the time I go to bed). When everyone else in the house is long asleep, it's always a nice surprise to come out of the shower and find you waiting for me outside, even though I often nearly hit you in the face with the door because you stand so close to it. I think you're mostly just hoping I'll give you a treat before I go to sleep like Mom does, but I'd like to pretend it's because you love me, just a little.
I can't even begin to count how many times I've said "I wish my cat was here" during my college career. For the first time, I can actually go to classes and hang out with you. I never imagined that these would be the circumstances that allowed me to do that, but if I have to be separated from Boston and all my friends, at least you're around to make it a little easier. Maybe you'll make an appearance in one of my Zoom meetings—people keep saying we should bring our dogs to class, but it's time for some cat justice. After all, you'd probably just sit on my lap and sleep, so you wouldn't be a distraction.
To be fair, you've been busy doing some learning of your own. I'm sure our sister is thrilled that you let her pose you for pictures to share with the second grade class she teaches. I doubt you're retaining any of her lessons, but at least you look cute in her daily photo updates. I wonder if you miss the days when we weren't home all day, every day. You're affectionate (on your own terms, that is), so I don't think you're too bothered by the availability of more laps to fall asleep on, but at least back then, no one was making you learn how to tell time. Maybe that's why you're so exhausted now.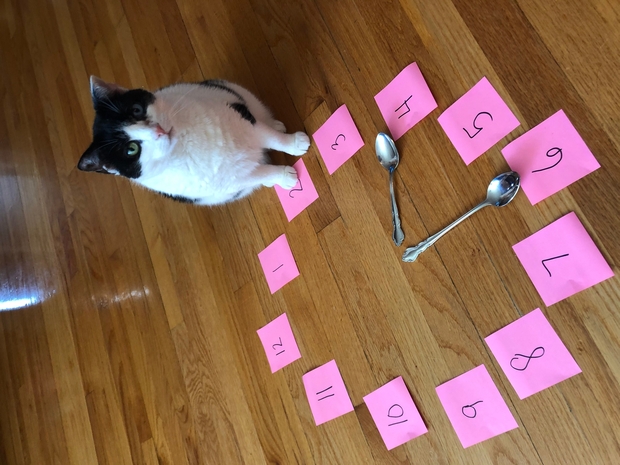 I'm thankful that you bring a little excitement to my days, while the rest of the world feels like it's falling to pieces. I'm not sure I'd be surviving this quarantine without your adorable little face being around to squish. We love you, even though you broke Mom's new Easter decoration today (accidents happen) and immediately hit your toys under the couch after we find them for you (although this one feels like it's on purpose). Every time someone tells me they don't like cats, I wish they could see what it's like to live with you (because you hate meeting new people—it's okay, I do too). The world is so uncertain right now, and none of us know when we can return to a sense of "normalcy." That's a scary thought, but if I have to be stuck at home, I'm glad I get to be with you.
Love,
Allison