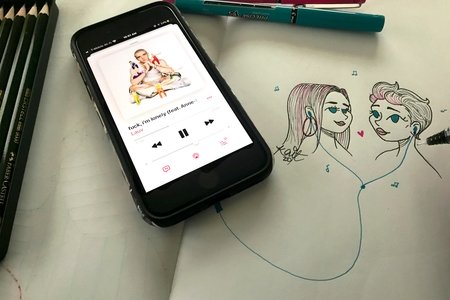 (Kinda) New Music Roundup: Feel Good Songs
Friday, March 6 was a prolific day for music with albums dropping from ten different artists including Megan Thee Stallion and Caroline Rose. From over a hundred songs, it was hard to pick just three to highlight here.
Lauv's new album which includes the single "i'm so tired…" featuring Troye Sivan, is jam-packed with amazing bops that are great for road trips with the windows rolled down and hands up in the air (unless you're driving, because then both your hands should be on the wheel). Not only is "fuck, i'm lonely" relateable for all the single pringles out there, it's also perfect for dad jokes. "Hi lonely, I'm dad."

Every song off Mandy Moore's new album Silver Landings sounds like it came straight out of a Disney Princess movie. Maybe that's because it's hard to separate Moore from her iconic role as Rapunzel from Tangled. "Save a Little For Yourself" is a soft song about self-love that sounds like it's being sung to me from my childhood. It's definitely a lot more hopeful than the last song, but still would somehow fit in the same playlist.

Phantogram always hooks me up with the best music to groove to that's somehow both perfect for grinding out homework and also feeling good about myself on a walk. "Into Happiness" is a perfect middle of the last two songs with concepts of forgetting loneliness in favour of a more positive outlook.
What's your favourite feel good song? Tweet us @HCEmerson and let us know!