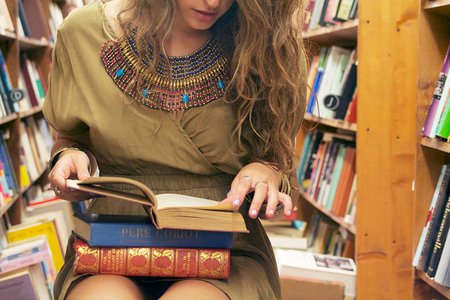 I Tried to Do a 24-Hour Readathon and Here's What Happened
I've always been a reader. From reading Rainbow Magic books in cheap bean bags in the second grade during independent silent reading time to wandering around independent bookstores all around the city as a college student, I have had a fascination with books for as long as I can remember. In fact, my fascination with words on a page and a writer's ability to convey a story to the world is how I ended up where I am today: a journalism student in Boston who is also minoring in publishing.
While I do love what I get to do, my focus on schoolwork, co-curriculars, and my job has diverted me from reading for pleasure. Most of the reading I do are off of PDFs that my professors assign me for homework, and in most cases, this reading isn't pleasurable at all. For months on end, I have been in a huge reading slump, defined as a period of time where a reader fails to read as much as they would like. Because most of the material that I read for class is not exciting and attention-grabbing for me, I have gradually lost the motivation to read. Even when I tried to pick up a book, it would take weeks for me to get back into reading it, long enough for me to abandon the book completely.
Then I came up with an idea. Years ago when I really started getting into the BookTube world (YouTubers who talk about anything and everything book-related), I stumbled upon ReadByZoe, who has posted multiple videos of her accomplishing 24-hour readathons, in which the goal is self-explanatory: you read as much as you can in a 24-hour period. I've been intrigued by these for some time, but I never found the time to do one—until spring break arrived.
Instead of having another day to lie in bed doing absolutely nothing, I decided to tackle the 24-hour readathon on Wednesday, from midnight to midnight. I decided to have a TBR (To Be Read) pile for the readathon, so I wouldn't lose precious reading time trying to figure out the next book to read. My TBR pile for the readathon included Go Ask Alice by an anonymous author, which I had already started but needed to finish, The Seven Husbands of Evelyn Hugo by Taylor Jenkins Reid, and Becoming by Michelle Obama, which I had in the form of an audiobook for this readathon.
After I watched an endless amount of TikToks in bed and sent my goodnight streaks on Snapchat, the clock struck midnight and I picked up on page 104 of Go Ask Alice—the readathon began. Because I wasn't very fond of the plotline of Go Ask Alice, I finished the book at 1:14 A.M. This was the point where the iced coffee I had didn't hit me at all, and so I decided to take a nap before moving on to the next book on my TBR pile.
That nap turned into a full six hours of sleep. While I was disappointed that I was starting off this readathon on the wrong foot by losing six hours of reading time to a trip to Snoozeville, I wasn't going to let that stop me. After getting out of bed at 8:02 A.M., I began reading my next book for the readathon, or should I say listen. While I was showering, Michelle Obama's Becoming played from my phone. To quicken the pace of the audiobook, I changed the settings of the audiobook so it would play at 1.5 speed. After showering, putting on makeup, and choosing an outfit, I paused the audiobook at 56 minutes and 58 seconds, which put me a little into chapter 2.
I had a doctor's appointment that morning, so I spent my time in the waiting room, which was not a lot, reading the first few pages of The Seven Husbands of Evelyn Hugo. This was around 11 A.M., and right before I had to run errands with my mother that afternoon. A mighty chunk of my day was not dedicated to reading, but to going out instead, which is unideal for someone who wants to accomplish reading as much as possible in a 24-hour period. Looking back, I could've listened to the audiobook in the car on the way to and from the doctor's office, as well as while I was roaming around grocery store aisles, which probably would've been a good use of my time in my busy day.
I got home around 4:00 P.M., and so I made my way upstairs to my bed to continue reading The Seven Husbands of Evelyn Hugo. Luckily, I was extremely invested in the story, so I was moving at a pretty quick pace through the book. I stopped around page 150 before heading out to dinner with my family. While waiting for our food, I used that time to continue reading, and I also used the period after we were finished eating to read for about 10 to 15 minutes.
To give myself a break from reading The Seven Husbands of Evelyn Hugo, I transitioned to listening more of Becoming later that night. I made it to chapter 3 before stopping at an hour and 26 minutes in the audiobook. While I was listening, I spent that time doing mindless tasks, like online window shopping online or scrolling through my Twitter and Instagram feed. If I had to, I could've cleaned while listening to the audiobook, which is a great way of killing two birds with one stone.
Because I was so invested in the story of The Seven Husbands of Evelyn Hugo, I told myself that I wouldn't go to bed until I finished the book, regardless of whether or not I would finish before the readathon officially ended. From the time that I paused the audiobook to the time I finished The Seven Husbands of Evelyn Hugo, I think I only put it down once to have a three-minute stretch-and-check-your-Twitter break. Alas, I didn't end up finishing the book before midnight, but it didn't matter because I don't think I have read such a good book in a long time until picking up The Seven Husbands of Evelyn Hugo. 12:40 A.M. was when I finished it—all 385 pages of it.
While this readathon wasn't the best form of self-care out there, I did take away a few things from it. It got me back into reading for pleasure again! I have been slowly compiling my TBR pile for the time being, and it basically forced me to get back into one of my favorite hobbies. Although I wasn't able to stay up for the entire 24 hours, I dedicated the majority of my time that day to just reading and to focus on reading or listening to stories worth hearing.
Would I do this again? Probably not. Did it help me get out of my reading slump? More than words can say.