Haunted Locations in Massachusetts
Boston
The Cutler Majestic Theatre
One of Emerson's many theatres, this location obviously had to make the list. There have been many sightings of a spirit couple who walk through the theatre together and a young girl, who likes to take things that are not hers. Additionally, some people have even seen the spirit of a former mayor, who passed away during a performance in the theatre long ago. 
North Adams
If you dare, take a tour of this historic mansion. Experts believe that the mansion is haunted by Houghton himself, after he died in the house do to complications from a car accident. Rumor has it that his driver may also be lurking around, after also dying in the house by his own hand. And, the spookiest part? This tour is only $5 per person, so take advantage of it if you are looking for a good scare. 
This tunnel's nickname is "The Bloody Pit," so clearly, this is a place that is probably haunted. Built in the 1800s, this tunnel took 25 years to complete and killed 190 people in the process. Not only that, but once the tunnel was completed, it continued taking the lives of people. There have been many accounts of horrible things that have happened here, so if you are interested in locations that kill, this is definitely one for you. Visitors have reported seeing the spirits of minors with lanterns inside the tunnel. 
Salem
The Old Burying Point Cemetery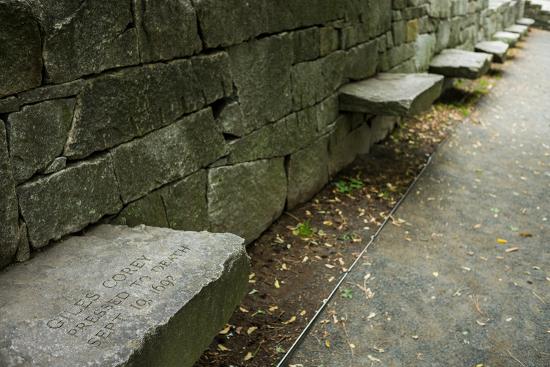 As one of the oldest burial grounds in Massachusetts, this place is bound to have some spirits milling about. This is the final resting place of "The Hanging Judge," also known as Judge Hawthorne, the man responsible for sentencing those accused of being witches. If you stop by after dark, you may catch his spirit milling about amongst the headstones. 
This location is said to be inhabited by the spirit of one of the most famous of the Salem Witch Trial executions, Giles Corey. His spirit is rumored to pull things off shelves and knocking trash cans over. In addition, it is rumored that Sheriff George "The Strangler" Corwin's spirit also haunts the home. The house has another spooky detail: Sheriff George "The Strangler" Corwin was buried in what is now the basement of the house.  His remains have since been relocated, but guests have reported feeling as though they were being choked while at the home.  
This hotel is rumored to be built on an apple orchard that was run by none other than Bridget Bishop, one of the accused and executed of the Salem Witch Trials. Guests staying in the hotel have reported the scent of baked apples, when there are no apples to be found. In addition, the sixth floor of the hotel, along with room 325, are especially reported as one of the most frequent locations to see something spooky, whether it is an apparition or crying. If you are really into spooky things, you can even get married here! 
Quincy
If you are looking for some serious hauntings, check out this ship located in Quincy, MA. Almost every visitor of the ship has had some kind of paranormal encounter, so the chances are pretty good that you'll have one too. There have been a plethora of apparitions across the entire ship, from the decks to the birthing room. You may hear screams, slamming doors, or a variety of other noises. The ship also offers some special Halloween events if you are interested! 
Danvers
For anyone who enjoys a literary tie in to their horror, this site inspired "The Thing on the Doorstep" by H.P. Lovecraft. Though the building was demolished in 2007, its main administration building still stands, and is rumored to still has some tunnels that are being used… whether by the living or the dead will be up for you to discover.  
Fall River
The Lizzie Borden Bed and Breakfast
This little inn is the perfect place for you to stay if you are looking for a good scare, but if you are looking for a more short term scare, you can also just take a tour. If you aren't familiar with this famous tale, Lizzie Borden is known for allegedly killing both of her parents with an ax in 1892. If that isn't spooky enough for you, visitors have reported feeling cold fingers tapping them and footsteps from empty rooms. One guest even reports having seen a women's figure appear dressed in Victorian clothing.  
Taunton
This Hospital has quite the haunted history, so it is definitely a Massachusetts must see if you are into spooky places. Abandoned in 1975, this hospital was once rumored to be run by a satanic cult, and the location of human sacrifices. Not only that, but this was also the site of Jane Toppan's killings, where she murdered at least 31 patients while working as a nurse.  
Information sourced from: