Best 10 Moments of The To All The Boys Movie Trilogy
After three years, we say goodbye to the movie trilogy, To All the Boys I've Loved Before. For some of us, as we watched the final installment, To All The Boys: Always and Forever, we may have smiled and cried, grabbing a box of tissues as we saw the final scenes approach. As I watched each installment, I fell in love with these beloved characters even more, watching how Lara Jean and Peter's romance blossomed, how they overcame the challenges of high school, as well as seeing how Lara Jean grew as an individual. As we close the story's final chapter, let's take a walk down memory lane and see 10 of the best moments from the movie trilogy.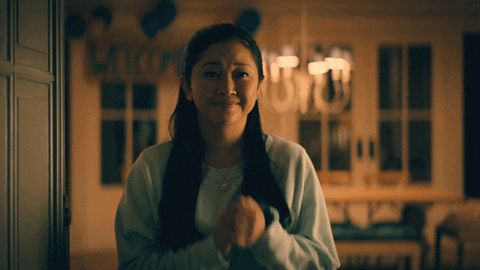 Netflix / Giphy
1. Back Pocket Spin 
In the first movie, when Lara Jean and Peter start "dating" one another, they walk into the cafeteria together hand in hand, and one of the notable scenes, in my opinion, was when Peter spun Lara Jean by using her back pocket. Here, we know that Peter only does this to make Genevive, his ex-girlfriend jealous, and it clearly works! However, in this scene, you can't deny the chemistry between Peter and Lara Jean. When I first watched I was like "Woah! This is so cute!" I couldn't help myself and watched this scene over and over again. What I love about this scene is that it is unexpected and fun. From here, you can definitely see that there is something between them that this is more than them being fake boyfriend and girlfriend. Apart from this, fun fact, according to Teen Vogue, this scene was improvised by Noah Centineo, who plays Peter in the films! 
2. Ski Trip: Peter brings Lara Jean back to her room
After Lara Jean and Peter come back from the hot tub together, a moment where they reconcile after fighting, Peter brings her back to her room. In this scene, we see that they unofficially let go of the contract and the fake dating, allowing their true feelings to come out. I loved this scene because by bringing her back, we see that Peter is a gentleman and sees to it that Lara Jean is okay, safe and sound. Moreover, as they separate ways, with Peter heading back to his room, we get a close up shot of their reactions, their eyes soft and filled with warmth as they look at each other with fondness, there is no faking it this time. The connection or spark between the two is undeniable, it's so cute! With that said, the saying is true, actions speak louder than words and I guess, you can also say, sometimes contracts are meant to be broken, at least for this movie. 
3. Lacrosse field: Lara Jean and Peter become official 
Call me cheesy and a hopeless romantic! Admittedly, I can be both at times. Others might say that this is too romantic, quite over the top, but I think it works just fine. In this final scene, we see that Peter and Lara Jean admit to each other, officially, that they like one another. When they start, Lara Jean tells Peter that she likes him, and he responds by telling her that he and Gen are over and that he chooses her. The first time I watched this scene, I gushed over it, my heart just pounded over how romantic this ended up. Their discovery of learning that they were no longer faking it, that they were now emotionally invested and wanting to see what would happen next. On top of that, they are alone on the lacrosse field, ending up where they first started, where they solidified the deal and made it known to everyone in the school that they were "together," so that Peter can get Gen back and Josh off of Lara Jean's back — so he wouldn't discover that she had a crush on him. I'll say, it was a great way to bring the story full circle for these lovebirds. 
4. Tree House Scene 
Taking a break from the romance, what is memorable about the movie is the friendships made and seeing how the old gang — Lara Jean, Chris, Gen, Peter, John Ambrose McClaren, and Trevor — reunite once more as high schoolers. In the movie, we learn that they were all childhood friends and a tight-knit group once, that there is a past that binds them together. Despite the awkwardness, seeing the love triangle of John Ambrose, Peter, and Lara Jean in play, and Gen trying to make Lara Jean jealous by mentioning memories she shared with Peter, there is still something nice about their reunion. I think that even if they have parted ways, it is quite sentimental for them to open up their time capsule, to see a bit more about who they were back then in middle school, to know what those items meant to them, and reminisce about the good old days. I love watching scenes between old friends, even if they might not be close, since it warms my heart, makes me reflect on my own memories, as well as gives me hope that one day they can be close friends once again.
5. Peter unexpectedly picks Lara Jean up from the Star Ball 
At the beginning of To All The Boys: P.S. I Still Love You, Lara Jean mentions on her date with Peter that she doesn't like to drive in the snow. In the end, we go back to this line when we see Lara Jean walk out of the Belleview and see Peter standing in front of her, with snow in the backdrop. Then we go back to this line, with Peter saying, "You said you don't like driving in the snow, right?" Following this, he continues with, "Break my heart, Covey… Break my heart into a thousand pieces." We see, again, how he is very thoughtful towards Lara Jean, that he wants her so bad that he will do anything to win her over, to show her how much she cares — very endearing and charming Peter Kavinsky, you definitely won me over. Plus, this echoes back to the line from the first installment, "You gonna break my heart, Covey?", a great way to sum up the tribulations they endure in their relationship, breaking each other's hearts with the entrance of John Ambrose, another recipient of Lara Jean's letter. 
6. LJ and John Ambrose McClaren meet again 
Speaking of John Ambrose McClaren, there is nothing like a new character to intensify the drama and create a love triangle. In the second movie, when Lara Jean goes to Belleview we find out that no other than John Ambrose is working there too! Upon seeing him again, Lara Jean knocks over and falls on the gumballs when trying to approach him. John Ambrose helps Lara Jean, making sure that she is fine, no concussions or head injuries. After this, Lara Jean asks if she can get her letter back, with John Ambrose making a deal that she can read it but she has to return it. The friendly back and forth banter over the letter is cute and makes me gush and blush. In this brief moment, we get a small glimpse of John Ambrose's character, who seems to be charming, kind-hearted, humble, and down to earth, allowing us to understand why Lara Jean wrote a letter way back when. Looking back at this scene, I think, "What a lucky girl Lara Jean is to have two amazing boys fawn over her," yet at the same time, I feel bad for her and can empathize with her conflicted heart, not knowing who she will choose.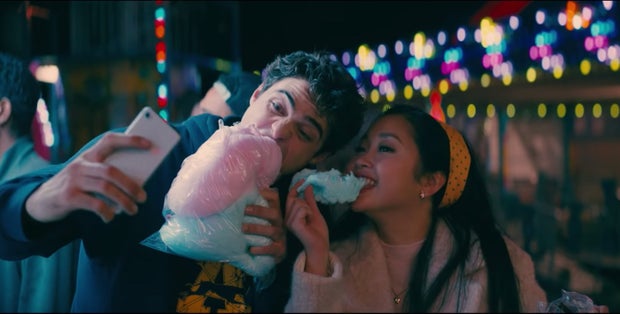 Netflix
7. Peter drinks Yakult for the first time
When I was younger, whenever we went to the grocery store, we would go to the dairy section to get this drink called Yakult. I drank Yakult quite often and it was probably one of my childhood staples. Although I don't drink it as much now, I still love it. To my surprise, as I was watching the first film, I went, "Oh my gosh!" when Kitty hands over the petite bottle with the red stripes on the body and the red silver plastic top, I got so excited, it was so thrilling to see this Asian drink featured in the film. However, even if it was exciting, it was also nerve-wracking, sitting at the edge, waiting for him to say what he thought as well as see his reaction to it. When he mentioned that it tasted good, my heart fluttered, and I thought it was great he enjoyed the drink. I'll admit, I would have been disappointed if he hadn't liked it, but thankfully they gave a good reaction to this childhood drink of mine. Even if this is a minor detail in the film, for me, it is a proud moment for sure.
8. Peter finds out Lara Jean got rejected from Stanford 
In the final film, after accidentally texting Peter that she got into Stanford, Lara Jean finally tells him during their senior trip to New York. As they both sit at the bakery together, she looks down, nervous, telling him the truth: that they aren't going to Stanford together — a plan they had envisioned. Lara Jean says that the text she sent him was meant to be for Margot, frantically saying she got into U.C. Berkeley and that she can visit him. Peter tells her to stop and in that state of panic asks her a simple question that we all like to hear when we don't get into the college we want or when plans fall apart, a question that puts us at ease: "Are you okay?" My heart melted in this sweet moment, how Peter knew the devastation she felt, the fear of telling him and potentially breaking his heart. To make things even sweeter, he says that it isn't her fault. The reassurance, checking in on her, putting even his own emotions aside, shows that Peter's strength, his love for her, and understanding of difficult situations. Moreover, his ability to put others first before himself. An admirable trait that makes Peter Kavinksky all the more charming. 
9. Kitty Tells Lara Jean that she'll miss her 
Leaving home for college can be bittersweet. We look forward to seeing the world, being independent, and exploring the new city or country we are going to live in for the next four years. However, when we leave, we also leave a part of ourselves, our family and friends — what we call home. When Kitty knocks on Lara Jean's door, we learn that she intentionally omitted telling Lara Jean that she got into NYU. As a sister, I was crushed when Kitty says, "I'll miss you a 12, Lara Jean," honestly answering Lara Jean's question of how much is Kitty going to miss her from a one to ten, which was raised earlier in the movie. In the three films, we see Lara Jean and Kitty's bond grow, seeing how close they have become, even with their little squabbles. It sends the message that sisters are forever and parting can be overwhelming knowing that your partner in crime is no longer by your side. A sentiment that I relate to when my sister and I diverged onto different roads for college. 
10. Peter's new contract and their meet-cute 
Out of all the films, if I had to pick one scene that I loved and could watch all day, it would be the ending, where we find out what Peter writes to Lara Jean in her yearbook. Throughout the movie, Lara Jean and Peter struggle with saying goodbye, especially when Lara Jean chooses to go to NYU, neither one wanting to let go, but feel that because they will be on different coasts that it is probable that this will break them apart. This causes them to become distant towards one another for a while, seeing the disconnect between the two. As always, they patch it up. Early on, we see that Lara Jean doesn't remember how they met, yet Peter does. In her yearbook, he mentions that they met during a sixth grade assembly where he helped her untangle her stuck hair in the chair, she smiled, and he said his heart somersaulted in his chest. From there, he says that he wants to support her, not hold her back, and that they can make it work even if they are apart, four years is nothing if they are going to stay together forever. That this will be their new contract and Peter will love her, "always and forever." I giggled and smiled at this scene, a great ending to a beautiful love story. 
Endings are all so bittersweet. I will miss the days where I could see Lara Jean and Peter's relationship on the big screen, seeing how they handle each chapter in their lives, and the agonizing waiting for the premiere date after watching every trailer, wanting to watch it already. But, even so, I know that I can go back to this story by looking back on all my favorite scenes. The story may have ended, I may not know what happens next but I can always imagine and hope for the best for these two.