12 Last Minute DIY Couple Costumes
Halloween is right around the corner, and the window to order a costume online has passed. The only option left is to buy one in-store or DIY your way through Halloween. Grab your partner or your friend and get to crafting one of these twelve costumes.
1.) Salt & Pepper
This is a very classic costume that you could throw together in a day. You could iron on letter patches to plain t-shirts, or even adhere pieces of cardstock on shirt. If you want to go the extra mile, make tin-foil hats to tie the look together!
2.) Hunter & Deer
All this look requires is camo, brown clothes, and some antlers to complete. If you want to add some accessories, you could pick up a fake bow and arrow and put on some deer makeup. 
3.) Farmer & Scarecrow
The farmer and scarecrow are adorable for any pair looking to break their plaid and overalls out of the closet. All you need are some straw hats, scarecrow makeup, and some boots. You're sure to look like a great farming team! 
4.) Jim & Pam
These "The Office" lovebirds are easy to spot with their very distinct fashion types. To become Jim, all you need is a typical button-down shirt, tie, and dress pants. Pam is always in a cardigan, simple blouse, skirt, and some comfortable shoes. Maybe throw in some name tags and Jim's coffee mug for the extra flare.
5.) Dentist & Tooth Fairy
These two are an unlikely pair, but their love for teeth are one and the same. The scrubs and facemask are common as costumes, but when people see a fairy with a wand made out a toothbrush and floss dispenser, they'll be sure to smile for the pair.
6.) Doctor & Patient
If you're not sold on the dentist, give the doctor a try! You still need the scrubs, but try adding a stethoscope. If you're the patient, try to find a hospital gown, but be sure to keep the back closed!
7.) Angel & Devil
These opposites will make a great pair at any costume. All you need are a set of horns, a tail, a halo, some wings, and you're done! Don't forget to wear all the red and white you can to make your colors pop!
8.) Pair of Bandits
If you have black and white striped shirts in your closet, you're golden. Some masks will conceal your identity from the police, and a money sack will help you carry all your loot out of the place.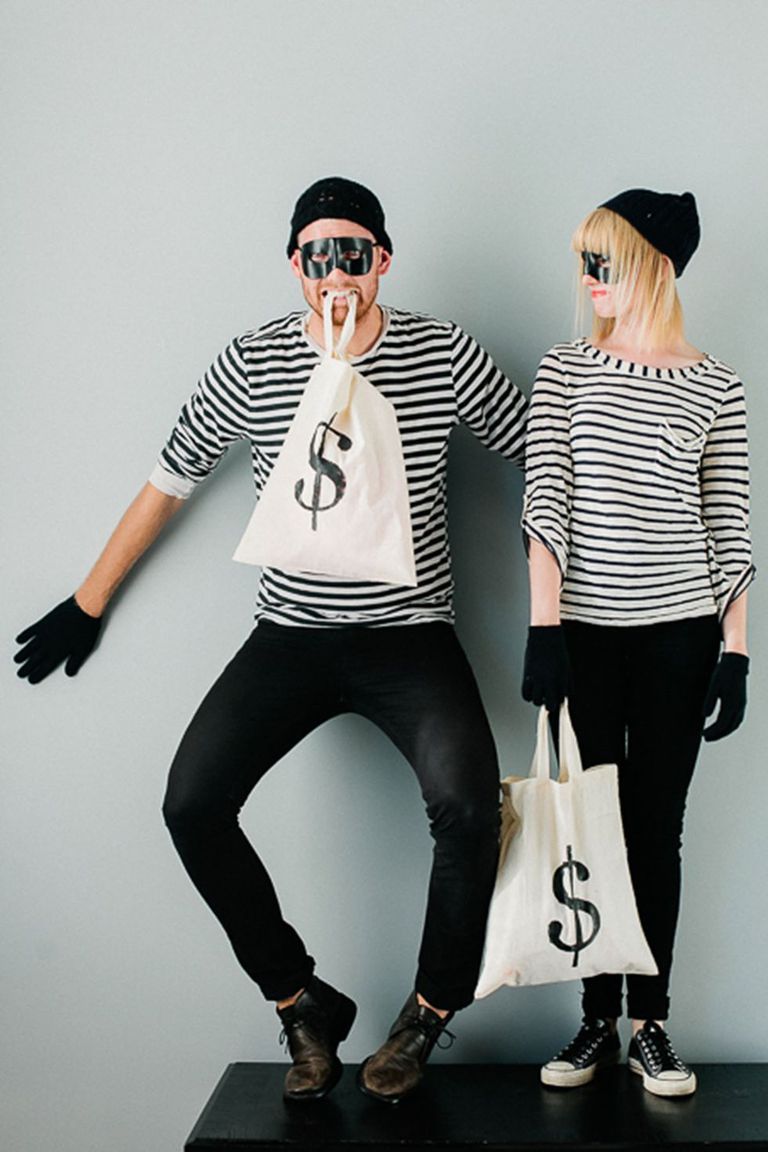 9.) Mike & Sully
Our favorite childhood monster team make their return on Halloween. To achieve Sully's look, a blue shirt with some purple spots will do just fine. Mike's lime green color on a shirt and one big eye right in the middle will let everyone know who you are. Now get scaring!
10.) Bumblebee & Flower
It may be autumn, but a bumblebee and their flowers are still welcome on Halloween. A yellow and black striped shirt, antennas, and little wings are easy to find for this bumblebee. Your flower can either be worn on your shirt or framing your face. Either way, everyone is going to be buzzing about your costume.
11.) Netflix & Chill
This costume is a simple, new costume as of recent years. All you need are blue and red shirts with Netflix and Chill written on them, and you're ready to run out the door!
12.) Peter Pan & Tinkerbell
This all-green partnership will be sure to pop out at a Halloween party. Peter Pan's signature all green outfit and red-feathered cap matches perfectly with Tinkerbell's little dress and wings.