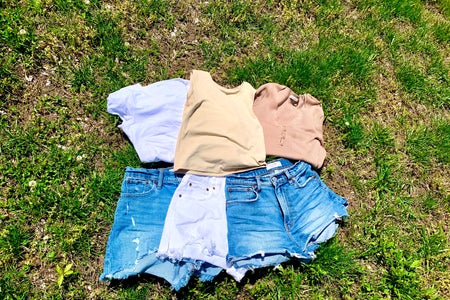 Original photo by Simone Llanos
Is Abercrombie Making a Comeback?
Picture this. It's 2010, your mom takes you to the mall and you beg her to take you to Abercrombie & Fitch. After initially refusing to go into the store because the loud music gives her a headache, she gives in. You beg for a pair of overpriced denim shorts that cover nearly nothing and you leave the store happy as can be knowing everyone at school will be so jealous. Abercrombie & Fitch was arguably the store of the 2000s. I think back to my preteen years, and I vividly see moose t-shirts, floral cupcake skirts, and A&F branded zip-up sweatshirts in every color of the rainbow. It was such a staple, but when it fell off the map, it REALLY fell off. Abercrombie was absolutely the last place I would want to go to in the mall from the end of those glory days up until now. You, you heard it here first! RUN, don't walk to your nearest Abercrombie & Fitch. 
Abercrombie has made their comeback, and it is absolutely FIRE. I know it's hard to think of somewhere we shopped at in middle school as trendy again because for years it was a total no-go. In order to ease you into this new moose-free Abercrombie era, I have picked out a few of my new favorites to share with you!