As we stagger to the finish line of summative season, it might be time to think about freshening up your study space before you're stuck behind your desk once more for the 2021 exam cycle. Once May is upon us, it'll be you, your water bottle and your desk against the world, so it's really important to create a space that you're comfortable in and that works for you.
The first thing I noticed when we switched to online learning last year was that I felt increased pressure to be more productive or work longer hours. I felt taunted by my desk when I was relaxing as if I should be studying, even if it was 10 p.m. To combat this, I have started creating designated zones in my room for specific activities to help compartmentalize my day. This means my desk is reserved for work only. It is no longer a makeup table or somewhere to eat my lunch, and similarly crawling into bed with my laptop for a 9 a.m. lecture is off-limits. When our bedrooms are now lecture theatres, exam halls and libraries, it's important to leave physical and metaphorical space for you to relax and unwind. 
Equally, I know that saying "tidy desk, tidy mind" is a terrible cliché but that doesn't preclude it from being true. If your desk is full of yesterday's work and books from an essay you were writing last week, there's no space for you to make yourself comfortable and concentrate on today's tasks. This means it's harder to focus, and the quality of your work may suffer as a result. I find that physically putting books and notes away at the end of the day creates separation between studying and relaxing—if everything is still out on the desk, the temptation is to keep working at unsociable hours when, realistically, the best thing to do is take a break.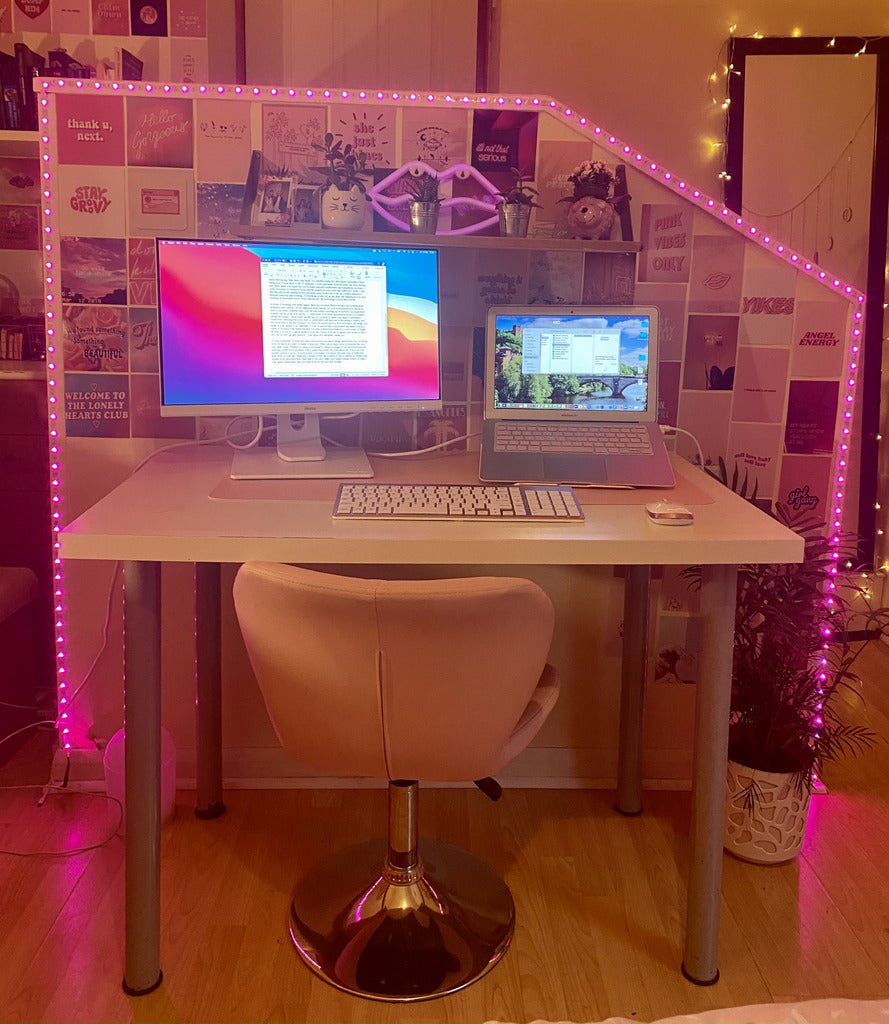 In terms of creating your study space, there are two main factors to take into consideration: aesthetics and comfort. As we approach exam season, we will be spending more and more time at our desks, whether that's due to last minute catching up on lectures we might have skipped earlier in the year (guilty!), long hours of revision and practice essays or actually sitting the exams—those hours all add up, so you need to make your space conducive. Aside from ensuring that your chair is comfortable and that you're not going to hobble into bed at the end of the day because your back has seized up on a rock-hard chair, the height and angle of your laptop is so important. If you've noticed that your posture has taken a hit as a result of working from home and that you find yourself hunching over your screen, it might be time to invest in a laptop stand or even use a stack of books to adjust your screen to force you into a more upright position – your spine will definitely thank you.
It's also important to make this space somewhere you enjoy and are willing to be for hours at a time, so make it look nice. There are so many ways to make your desk more aesthetically pleasing, whether it's using a pin-board to create a collage of your favourite pictures, injecting a little bit of greenery with a potted succulent (get a fake Ikea one if you can't be trusted to keep it alive), or some funky LED lights (the ones you've definitely seen on TikTok). Studying is bound to feel like a chore if you're staring at a blank wall, sitting on an uncomfortable chair with dingy, colourless lighting, so transform your space into a place that you want to be for the next few months!