I won't lie: I'm an Emma Chamberlain stan. I love watching her YouTube videos, listening to her podcast, "Anything Goes," and now, supporting her rebranded coffee company, Chamberlain Coffee. 
If you're unfamiliar with Emma Chamberlain, she is a 19-year-old who found her fame making YouTube videos. She's notorious for being a coffee fiend, and even popularized the iced almond milk latte a few years ago. Being such a coffee connoisseur, it only made sense for her to launch a coffee company back in December of 2019. 
The original launch included: steeped coffee bags, a coffee cup, and a travel mug. The flavor profile, the packaging, and everything in between was all chosen and customized by Emma. 
Her initial launch was successful; however, the company was met with a few problems (like what any new business might experience).  Fast forward almost a year later, Chamberlain Coffee has smoothed out the kinks and completely rebranded. 
This time around, Chamberlain Coffee has a younger, and more vibrant appearance. Instead of the previous neutral palette, the company has incorporated a mix of primary and secondary colors. Now, the slogan describes the product as, "Coffee without the bland, the beige, the boring." 
And, the most important part? The coffee review. Chamberlain Coffee relaunched with five blends, four of which are brand new: the Early Bird, Careless Cat, Social Dog and Night Owl blends. 
Each blend has their own respective flavor profile and something different to offer. I opted for the Careless Cat blend because I was looking for a medium roast and the notes suited my coffee preferences. 
The total for one ground bag of coffee is  $20, plus an extra $5 for shipping. At first, I was nervous the coffee would take weeks to arrive, but it delivered within a week. 
Upon making my first cup, I was expecting something immaculate, a sip of coffee like no other… 
…But, to be quite honest, Careless Cat tasted like any normal house coffee blend. From the way the coffee was described, I was expecting more of a unique flavor. Nonetheless, it's a great everyday coffee and has a light taste, which I like. Even with your preferred milk, the flavor is still detectable.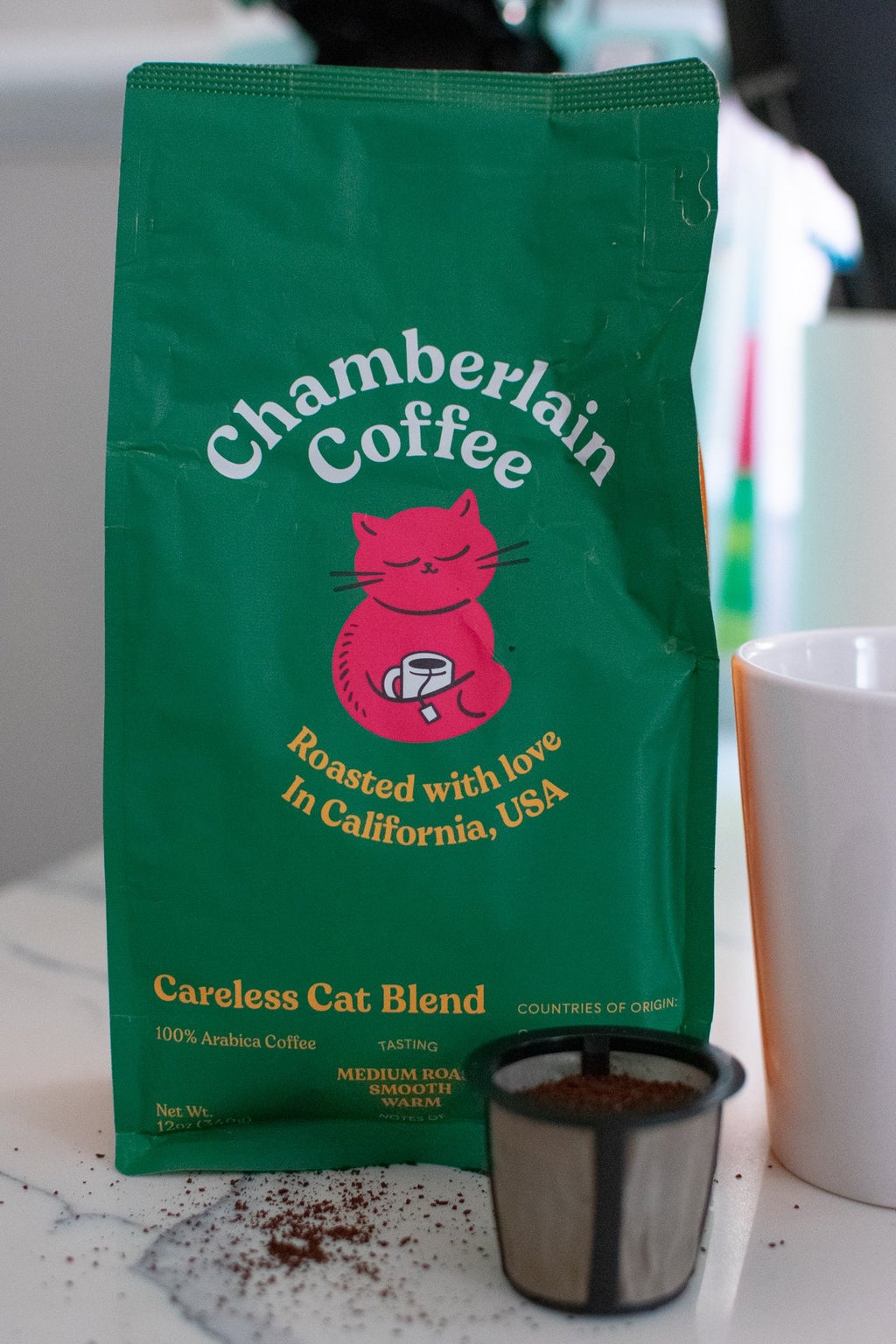 Upon further evaluation, what intrigued me most about this relaunch is the novelty of it. I love coffee, and I love Emma Chamberlain, so how could I not be a customer? 
I'd be interested in trying the other flavors in her new line, but I'm not willing to spend $25 more dollars on each bag of coffee–and that brings me to another point. The price point is a bit expensive for the rather normal taste. A coffee of a similar taste can most definitely be purchased at a local coffee shop or grocery store for much cheaper. 
As much as I hate to say it… don't waste money on these products (well, at least on the Careless Cat blend). Instead, shop local and support small business! There are plenty of coffee shops around Pittsburgh who blend their own beans and have amazing flavor. 
Nevertheless, Emma continues to slay. She truly deserves all of the success and praise on the relaunch.
If you'd like to shop Chamberlain Coffee, visit https://chamberlaincoffee.com/.