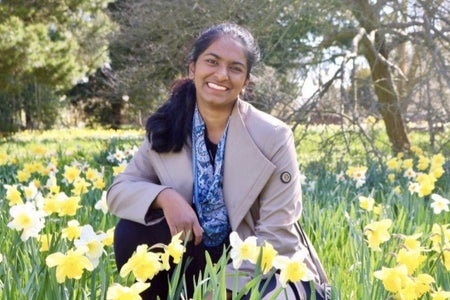 Original photo by Sophia Cetina
Humans of Duke: Ramya Ginjupalli
Name: Ramya Ginjupalli
Year: 2022
Major: Evolutionary Anthropology and Global Health
Hometown: West Bloomfield, MI
1. Where do you see yourself in this decade?
Fingers crossed, I will be in a pediatric residency program in NYC living with some of my best friends. 
2. Why did you decide to come to Duke?
Duke was the perfect balance between athletics, academics, and social life. I loved that I could learn from some of the most accomplished professors in the world, conduct groundbreaking research, go to a Duke Men's Basketball Game, and go out with my friends all in the same day.
3. What's your favorite season, and why?
My absolute favorite season is North Carolina Fall when it's around ~50 degrees outside. Sweaters + Boots + Apple Cider = Perfection.
4. What are some of the things you do outside of class? 
Outside of class, you can usually catch me working on projects for either Duke Student Government or the Tour Guide Program. I also love conducting research at the Center for Global Reproductive Health and volunteering at the Duke Children's Hospital.
5. If you had a theme song, what would it be? 
It would probably be All Night by Icona Pop. No other song brings me that level of serotonin :).
6. If you could shop for free at one store, which one would you pick?
It would 100% be Bath & Body Works. I am more or less obsessed with all of their scents (especially their foamy soaps).
7. What's been your go-to quarantine activity?
I love to bake, so I've been trying to come up with the perfect chocolate chip cookie recipe. It's not going super great, so if anyone has any recommendations please hmu!
8. Any advice for women just starting college?
It can be really easy to doubt yourself and your self-worth in college, especially at Duke. However, always remember that no matter what - you deserve to be here. You never need to prove that to anyone.
9. What do you think of classes being online?
The transition to online classes has definitely been on the difficult side. However, all of my professors have been very understanding. Honestly, I think it's going great given the circumstances!
10. Have you tented for the Duke-UNC game? What was it like?
I tented for the Duke vs UNC game both my first year and sophomore year. The process was definitely crazy at times. Can't say I was the biggest fan of sleeping on the ground in 30-degree weather and being woken up at random intervals. But, it was definitely worth it to be in Cameron Indoor Stadium for the game. The tailgate leading up to the game is always a blast as well.