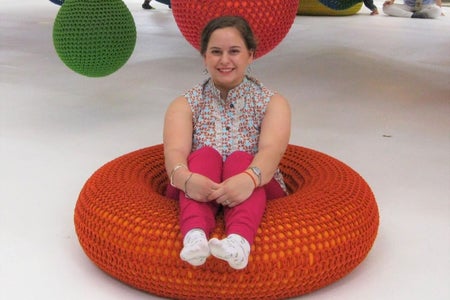 Humans of Duke: Paige Bartusiak
Name: Paige Bartusiak  
Year: 2023
Major: Computer Science  
Hometown: Lake Forest, Illinois
1. Where do you see yourself in 5 years?  
You'll probably find me on the West coast if I'm not back in Chicago, Seattle or Cali. I'll be curled up on my couch with my pet sipping cocoa after a long day working my new job at a tech company. Living the life and feeling the feels. Life will be good.  
2. If you could pick, what superpower would you have? Or which superhero would you be?  
Hands down: teleportation! One minute I'm in my apartment and the next moment I'm standing in France! Ce sera fantastique! But, of course, I'd have to be able to take anything I want, including that special someone.  
3. What are some of the things you do outside of class?  
I have lots of hobbies, but some are more practical than others here at college. I love to craft (sewing, cross stitch, crochet, paint, and doodle). I also love music, so if you walk by my door you might hear me practicing one of my favorite songs. I like to cook and bake as well as try foods! Movies are also something I'm trying to get more into. Find me doing any of these things while hanging out with friends.  
4. What risks are worth taking?  
I'd say that if the risk doesn't hurt your health, physical or mental, too extremely go for it. There's a whole world to claim for your own, and anyone should be able to go after what they want. Adventure and explore the greatness the world has to offer whether that's in your classes, professional career, or exploring some new hobbies!  
5. Favorite color? Why?  
I have three colors that I love above the others: Green, Blue, and Purple. Each color is calming on its own and together form into one creative vibe. I thrive off their energy. They are the colors of my soul.  
6. If you could shop for free at one store, which one would you pick?  
Hobby Lobby, no question. Crafting gives me life and I would love endless supplies. Also, free picture framing is such a steal.  
7. What's your favorite season, and why?  
There is nothing better than a crisp Autumn day. It's just cold enough for a sweater, but not cold enough for a winter coat. The leaves are falling in an array of warm reds, oranges, and yellows. The air just feels fresher.  
8. Who has been your biggest influence/inspiration?  
This isn't one person, but my family in general. My parents have raised me well with strong morals and hope for my future. My sisters have also inspired me to be my best self. Through all our time spent together I can say that I would not be the same outgoing, sincere, and curious young woman without these amazing people being a part of my life thus far.  
9. What's your strange addiction?  
My friend recently introduced me to mayo and fries because they were out of Ketchup at Market Place one day. Now I'm hooked. I get it several times a week.  
10. If you had a theme song, what would it be?  
"We are the Champions" by Queen. Except whenever they sing "we" substitute with "Paige." I came up with this in 5th grade as my theme song for gym class…now I can't think of anything else.