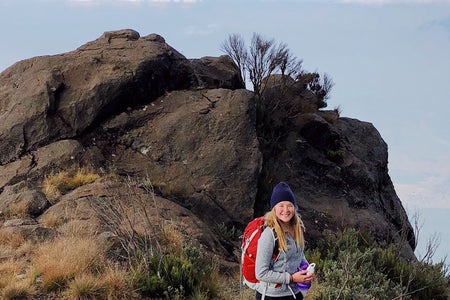 Humans of Duke: Maddie Manning
Name: Maddie Manning
Year: 2020
Major: Biomedical Engineering
Hometown: Pelham, NY
Who has been your biggest influence/inspiration? 
The person who's had the biggest influence on my life is my mom. I know that not everyone has the privilege of having their mom in their lives, or just having one as outstanding as mine, so it's a no brainer. This answer won't do her justice, but I'll try. It's absolutely a cliche sentiment, but I think that my mom is a superhero. As far back as I can remember, she's been there for me and my siblings without fail. She would go to the end of the earth and back for us, and honestly has a thousand times over, without us even having to ask and without a second thought. Regardless of the circumstances, my mom refuses to let us believe that our dreams are too big and has always done everything she can to help pave the road for our successes. She's one of the strongest and most resilient people I know (and as my friends like to remind me, she could easily take anyone in a fight).
What made you want to be an engineer? 
I thought I wanted to be a doctor when I was younger, but in high school I had some amazing teachers that made me fall in love with applied physics and math. My guidance counselor introduced me to biomedical engineering and I was sold.
What's an event in your life that made you the person you are today? 
I had a spinal fusion surgery (shoutout scoliosis) a few years ago and that really sucked to get through. It made me see the significance of having a support system and being a part of one for the people in your life.
Why did you decide Duke? 
In the end, it came down to two things: the school spirit and the people. 
It sounds corny, but I visited campus the day after the February [2015] UNC game and could feel the pride and love for Duke radiating on campus. I've always said that a few years down the line I want to be one of those moms that hosts game day watch parties and has a school throw blanket on the couch. Seeing how passionate people are about Duke just about sealed the deal for me. 
As is the case with all of us, I was looking at comparable academically rigorous universities. I spoke to some current students and could feel how genuinely they believed that their friends and peers were some of the brightest, hardest working and caring people they'd ever met. Also, they emphasized that the atmosphere was more collaborative than competitive (a line, I now know, is straight from the Pratt tour guide handbook) and that was probably the deciding factor for me.
If you could remind other Duke students one thing that you think they often forget, what would it be? 
I think I'd remind my fellow students that while Duke is a place where we've come to grow academically and socially, it's also a place that we have the power to help shape and grow as well. Though this isn't something that most students have the luxury of forgetting, we've seen countless times in recent years that Duke is not perfect. This campus, much like this country, is a place where not everyone is made to feel welcome. It's really important to me that we, as a student body, challenge that and try to make steps towards a more accepting and accommodating environment. I guess I'd like to remind people that it's okay to admit that the institution we love has faults and it's okay to demand better.
What are some of the things you do outside of class? 
I love spending time with friends and meeting new people. In terms of extracurriculars, I give tours for undergrad admissions, I'm a line monitor, I play IM & club soccer, I'm a TA, and I'm a part of the student dining advisory council.
What made you want to be a line monitor? And what was the transition like? 
As someone from a small, sports-centric town, I came in freshman year really excited to throw myself into the fan culture here. I had no previous significant exposure to Duke, but (of course) knew about the basketball program. I ended up going to every home game that fall, even camping out for the Big10-ACC Challenge against Michigan State (the Sparty was most definitely over, btw) and tenting for Carolina in the spring. In a way, K-Ville and Cameron became safe havens for me, a place where I was able to meet new people from all over campus and a place where the stress of schoolwork couldn't spoil a good time with 1,000 of my closest, blue-painted, screaming friends. When the season ended, all I wanted to do was be back in Section 17. I figured joining the Line Monitors would be a great way to be even more involved with basketball and the all of the amazing students that make up the Cameron Crazies (and, of course, for the blue jacket). 
The transition into the line monitor role was pretty easy because of how friendly and welcoming the group was towards us, especially Ali Wisner, one of the seniors last year. It was a little wild when tenting season started, mostly because I was checking in some of my tent mates from the previous year and now was the one pulling the trigger on that (still, to this day) anxiety inducing, shrill bullhorn siren. 
What's your favorite smell?
My favorite smell is either clean laundry or a bonfire on a cold night. Coincidentally, that's something that happens when we burn benches…