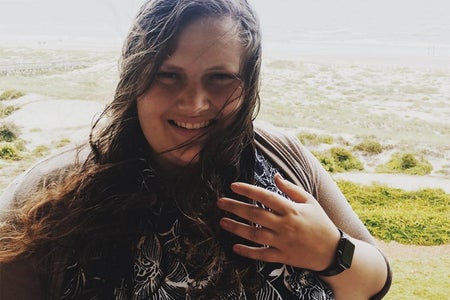 Humans of Duke: Katherine Waugh
Name: Katherine Waugh
Year: 2020
Major: Mechanical Engineering
Hometown: Easton, Connecticut
1. If you never had to sleep, what would you do with that extra time?
I would do a few things.  First, I really like music, especially singing.  I would want to use that extra time to really explore more of musical passions, like writing and recording original songs and arranging more for my a cappella group (Duke Out of the Blue).  I would also use that extra time to work on my Spanish writing, reading, and speaking abilities.  I was fortunate enough to take AP Spanish in high school and spend some time with a family in Costa Rica speaking all Spanish, but I haven't had a lot of time at college to keep up with it.
2. What makes you smile?
I love when I unexpectedly run into a friend on campus and have a really nice conversation.  I think that Duke students have a lot of wisdom, advice, and support to give to one another, and running into a friend randomly on campus really brightens my day. Also, Nugget (and Keith) always makes me smile.
3. What's one thing you would tell this year's freshmen class?
Don't be afraid to make friends anywhere and everywhere. Put yourself in uncomfortable social situations and always be willing to talk to someone new and learn from their experiences.  The best thing I did freshman year was try to talk to people who were interested in different things than me.  The opportunities at Duke are not just limited to academic and extra-curricular involvement, but the best connections are often made walking to class or sitting next to someone new in Marketplace.
4. If you could live in any fictional world, what would it be and why?
If I could live in any fictional world, it would be the world of Harry Potter.  It would be nice to relish in truly magical things and to be able to learn and understand some greater mystery.
5. What is one thing on your bucket list?
I want to travel more.  A lot of things on my "Life Bucket List" are not really things, but places.  Three places I would love to explore are Alaska, Iceland, and New Zealand.  I would also like to go back to Central and South America to explore the rich geological resources and well as the languages and cultures that are found in that part of the world.
6. Where do you see yourself in 5 years? 
In five years, I see myself working for an aerospace engineering company.  I've always been interested in using my education to solve problems and try to improve human quality of life.  To me, the aerospace industry fulfills this greater goal of mine, while also providing interesting and unique challenges that will only grow in scope as technology continues to evolve. I'm not exactly sure what I'll be doing, but I hope that I'll be doing principle engineering design work for an aerospace company.
7. What technological advance are you looking forward to in the next 50 years?
I am really looking forward to faster and more efficient ways to travel, especially in the aerospace realm.  I think that as globalization continues to grip the globe and as new trade networks create increased demand for the fast transport of goods and people, the need to quickly move people great distances via the air will drive fast change in the aerospace industry.  I think that in the next fifty years, there could be serious changes to the way we travel and see the world.
8. If you were famous, what would it be for?
If I were famous it would probably be for some engineering invention or for music. The little girl in me still wants to become a famous musician; so, maybe, one day that will happen.  In the meantime, I can hope to make a big impact in my chosen profession of mechanical engineering and maybe gain recognition for that.
9. What made you want to be an engineer?
I want to be an engineer because engineering gives you the opportunity to change the world and improve people's lives.  Engineering is the creative application of math and science to solve real-world problems.  Everyone grows up saying that they want to change the world.  It is my belief, that through their work, engineers can actually develop and enact that change. 
10. What's your favorite smell?
One of my favorite smells is the Christmas Cookie Candle from Yankee Candle.  It reminds me of spending time with family over the Holidays. I also love the smell of a fire in the fireplace.  There's something very calming of the smell of pine burning when the air is chilly and crisp outside.
11. Why did you decide Duke?
I chose Duke because, academically, it is a university that has its roots in a strong liberal arts education but also has a stellar engineering program. I wanted a school where I could gain implacable mechanical engineering knowledge, but also be able to explore my other interests in areas such as music, history, and cultural anthropology.  Duke has also given me so many opportunities to interact with people from extremely diverse backgrounds, which has been hugely impactful to my development as a person. The diversity of thought and the worldliness I felt at Duke when I visited really attracted me to the school. I also was very excited to attend a school with strong school spirit and a student body that celebrates a strong set of core values. Go Blue Devils!
12. What is your favorite Duke memory?
One of my favorite Duke memories occurred very recently.  I had the distinct pleasure of being able to sing at the Undergraduate Convocation and the Graduate and Professional Schools Convocation this past August (August 2018). This was a huge honor, and I loved being able to represent my students and my school in front of the incoming students.  The ceremony was thrilling to be a part of, and I was able to meet many administration and faculty members who I otherwise would seldom get the chance to talk to. It was really fulfilling to be on the opposite side of the stage from where I sat as a freshman at convocation two years ago.  Duke has been full of fantastic and unexpected experiences, but this one was very special because of the importance it held in my O-Week experience freshman year and for the symbolism it represents for the undergraduates and graduates beginning their time at Duke.