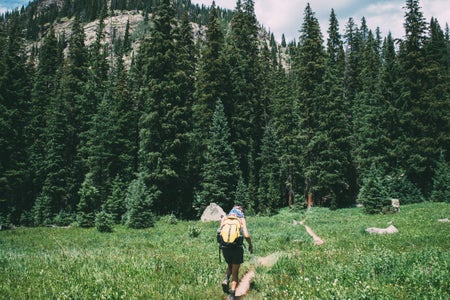 Cameron Smith / Her Campus
The white, puffy clouds contrast the shockingly blue sky reflected perfectly on the surface of the still lake in front of me. The water acts as a rippled canvas for the ever-shifting clouds above and the soft lines of the mountains ahead. White breasted nuthatches flit about the sky and become crisp reflections on the water as they soar close to the surface while I admire their synchronistic dance from below. The shore is littered with all forms and colors of rocks and pebbles.
I walk slowly along the washed-up sand and examine the shore's horizon waiting for a geode to catch my eye. The secret of finding a geode is a keen eye. I pick up several red and pink colored rocks, stuffing my pockets as I walk along; they are all over this magical shore in all different sizes and varying hues, but all wonderous in their own unique way, nonetheless.  As I continue to stroll along the beach, I stop every few feet to look up and take in the towering view of the endless mountain range beyond me.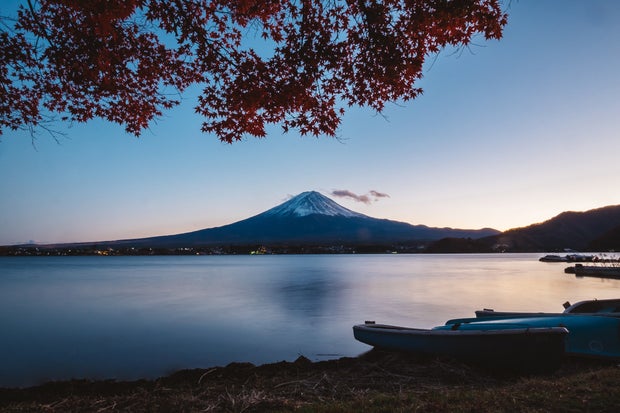 Liger Pham / Pexels The sun is shining from behind and illuminating the seemingly never-ending range. The shadowed mountains ahead seem so close, but I know they extend for miles and miles more—thousands of acres of mountain and forest waiting to be discovered by a fresh set of eyes. I get a restless itch that urges me to explore as much of it as I can one day. After all, was that not how I ended up here? Staying dormant for too long leaves me left feeling a boredom engulfing my life as I long to venture someplace new. I packed a single backpack and bought a flight and found myself in Frisco, Colorado, on the shores of Lake Dillon.
I packed basic camping essentials in my dad's twenty-year old forest green Patagonia backpack: a tent, zero degree sleeping bag, portable cooking stove, a single pot, eating utensils, clothes, and a journal (of course). By the time it was all packed up, the bag weighed around 60 pounds. Every item in this bag would be my lifeline for the next week. I was eager to live out my vagabond dreams, it had been too long since my last adventure. When I arrived at the Denver airport on a late August day, I quickly found the travel itineraries and considered my travel destinations via bus. I had no plan other than to travel cheap. I knew Frisco was deep in the Rocky Mountain range, which would provide good views, and (hopefully) easy camping accessibility. I bought a Greyhound bus ticket for $11 and was soon on my way. Waiting for the bus, I wondered what new experiences awaited me.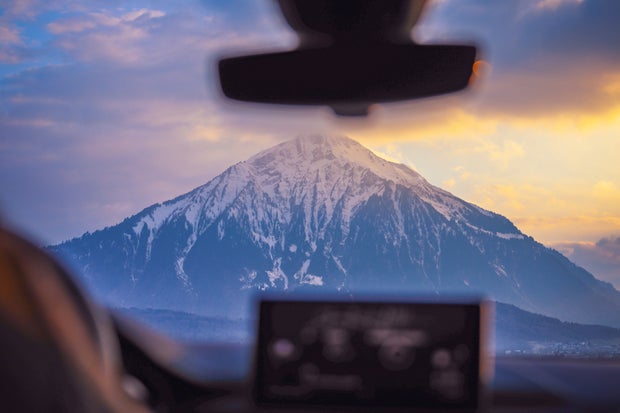 Sharafath Athimannil / Pexels When I stepped off the bus two hours later into the small mountain town, I was enchanted to find myself plopped into a bowl of mountain tops. Upon my arrival, I found a Wal-Mart to buy a couple of maps, a jug of water, and propane. Next thing I was hitch-hiking a few miles down the road to find camping. On any other camping trip I often find myself in a place of fear for my safety. Whether from a hungry bear, or an overly interested passerby. Yet here I found myself radiating sureness and confidence at a level I'd never quite felt before. To backpack on my own was exhilarating. With each step I proved to myself how capable I truly am.
Walking along the road was a stunning sight. I took in the views of the mountains and lake and birds and sunshine with absolute bliss. The three-mile hike to a dispersed campsite on the edge of town felt effortless. When I arrived at camp I sat down, hauled my bag off my shoulders, took a deep breath. Each direction I looked there were tall pines and birch trees with views of the mountains far behind; likewise, the ground was spotted with baby pines and juniper bushes with large boulders tucked neatly in between them all. I was unaware at this point of how close my campsite was to the lake. It was a breathtaking spot regardless, a memory I would never forget.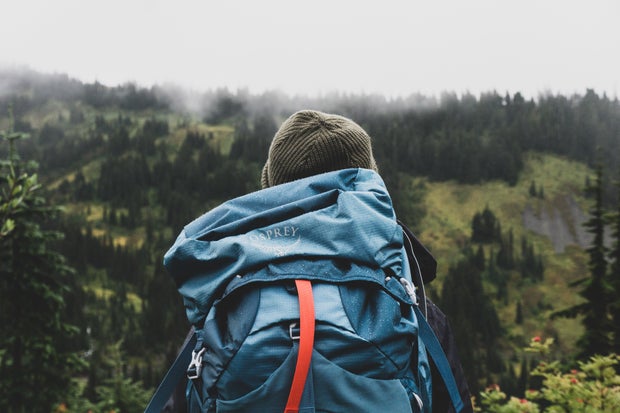 Tristan Pineda / Unsplash Sunset would be in an hour, so I hurried to set up the humble camp site that I'd be calling home for the next several days. When I finished setting up my tent and unpacking my toiletries into a bear-safe container, I moved onto my favorite part of the night: starting a fire and cooking dinner. I had a strong fire burning within ten minutes. I sat back, sipped my beer (camping essential), and admired how far I'd come. The first trip I took on my own was by car, but this was my first solo backpacking excursion, and I could not have felt more at peace. I was feeling strong, confident, and completely at ease in that moment. I realized it's not necessarily adventure that I so often crave, but rather this feeling of absolute freedom, and the peace I attain from not always knowing what my next horizon may look like.