President Biden's inauguration was a breath of fresh air with special thanks to the 22-year-old National Youth Poet Laureate Amanda Gorman. Amanda gave a breathtaking reading of her original poem, "The Hills We Climb," at the inauguration, and captured the attention of the nation with her words. Her performance was what the nation needed to both see and hear, to segway into a new chapter. 
Amanda, like the rest of the special inaugural attendees, was dressed spectacularly. She wore a bright yellow coat and her beautiful braids were pulled back into an updo complete with gold beads. Her outfit had a glowing golden motif complete with a caged bird ring. 
The ring was a gift from Oprah. Maya Angelou also received a gift from Oprah before her poetry reading at President Clinton's inauguration. As one of Amanda's greatest inspirations, her gorgeous ensemble was complete with a caged bird ring in reference to Maya's autobiography, I Know Why the Caged Bird Sings.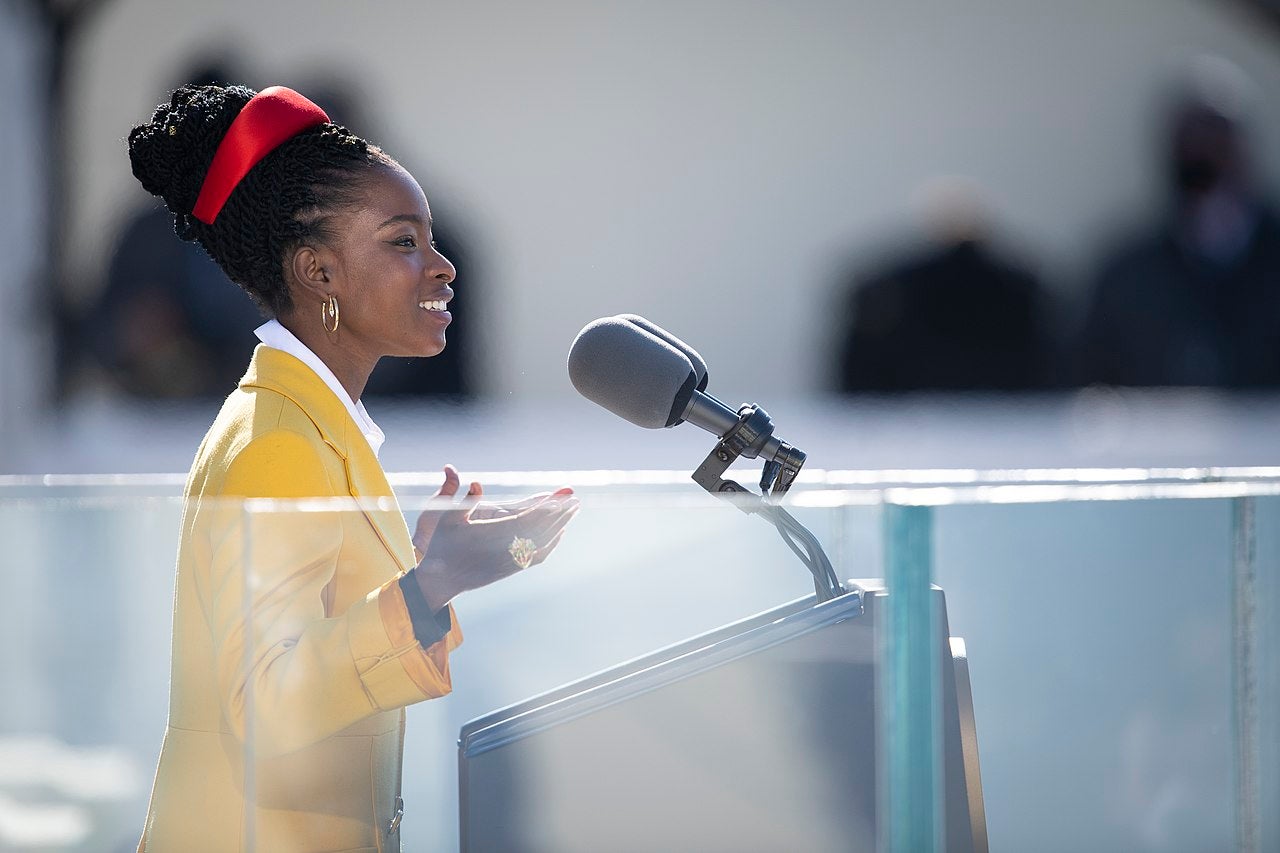 Amanda's name spread like wildfire. Her upcoming books are being mass-produced due to such high demand. She spoke on multiple television news programs about her performance including, CNN, Good Morning America, The Late Late Show, The Daily Show, and more. She has also recently been signed with IMG models. Amanda will even be the first poet to speak at the Super Bowl. I was so in awe of her reading and the support she has been receiving that I just had to learn as much as I could about her. 
Amanda is a Harvard graduate with a degree in Sociology and a National Youth Poet Laureate. The poem she wrote for the inauguration was the perfect combination of addressing all the hardships the nation has experienced most recently, in the past, and a glowing image of the future. Her five minutes of hope were nothing short of perfect. 
I learned while watching her interview with Anderson Cooper on CNN, that Amanda has struggled with a speech impediment for most of her life. She commented on how both she and President Biden can relate to each other in this way as he has a stutter. Amanda said that she tended to drop certain letters because she couldn't pronounce them. I could not believe that the woman with the most beautiful speaking voice I had ever heard, said that she couldn't pronounce her "Rs" until she was 20 years old. Her bravery is just as breathtaking as her poem. She included in the interview that the insurrection of the Capitol, "energized her message of healing." She said that in the past four years, the power of words has been violated and her poem was meant to "reclaim poetry" while also "repurifying the power of words."
A word that stood out to me in Amanda's poem was "rise." She was very theatrical in her performance by delicately using her hands to embellish her words. This was especially emphasized on the word "rise." Learning about how difficult it was to pronounce that sound makes the word even more powerful. In the interview, Amanda mentioned how writing poetry is both a form of self-expression and speech pathology. Her efforts to speak clearly beautifully symbolize the work needed to put in place by the future of the country. 
I had never heard anyone recite words in a way that Amanda had. She painted a picture of her words with her voice as well as her hand gestures. My favorite line from the poem was there is, "Always light as long as we are brave enough to see it." She truly was a light but she made sure not to ignore the dangerous division that needs mending. It really will take bravery and resilience to make amends. Amanda Gorman was absolutely golden, and her words were life-changing.