Charlie was a sinner is a local Philadelphian vegan restaurant and bar that serves delicious food (and drinks) tapas style. The place has the PERFECT vibe for a date night; it's dimly lit and super cozy. I recommend getting two to three dishes per person because it's a tapas style restaurant. You can still get full off of a hearty dish like the risotto (maybe), but the point of this place is to try a lot of different things. I highly recommend making a reservation from the 4-5 PM hour time slot because, after that, it's really busy and loud. I have come here twice, both times were for the 2018 Winter Menu, and below, I'll review each item that I've tried.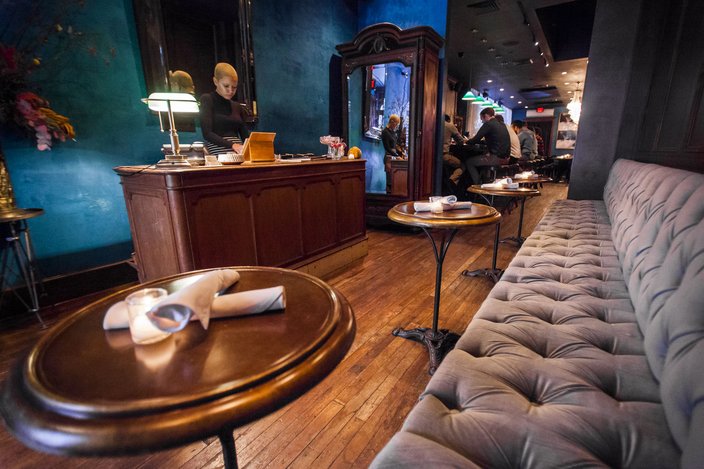 Image courtesy of PhillyVoice
Spicy Apple Mocktail ($6)
I couldn't find a picture of this drink, nor did I take one. However, I can vouch that it's super cute. This mocktail has green apple, agave, lime, and cayenne pepper. It really hits you in the back of the neck. Basically, the cayenne pepper is strong and gives the drink a real kick. It's refreshing, but not for people who don't like a hot spicy kind of feeling when drinking something. I did like it, but I like this next one even more.
Blackberry Ginger Soda Mocktail ($6)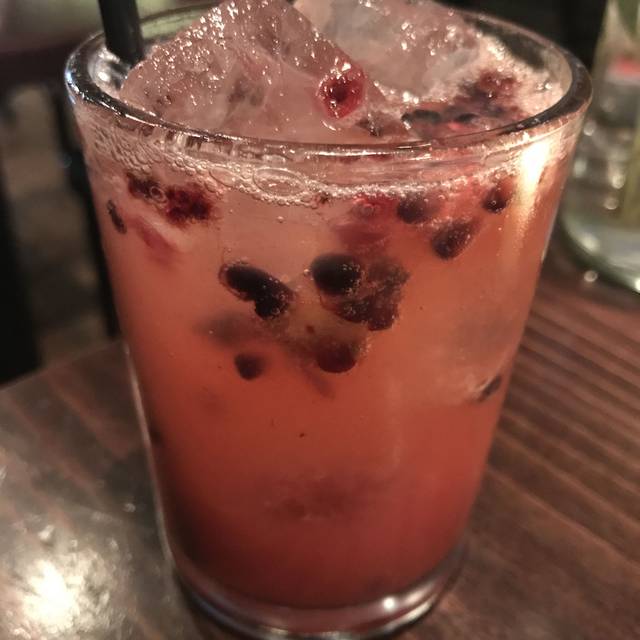 Image courtesy of Kayak
This is my all-time favorite mocktail I have ever tried. There are little blackberry bits in it and the ginger gives the drink a kick, but it's not too much. There's also lime and sparkling water in this drink and it's so good. After having this drink, I bought crystallized ginger to snack on. Ginger is my new favorite snack. This drink is SO refreshing, I can't even describe how much I love it. I got this drink both times I went to this restaurant.
Potato Croquettes ($8)
Image courtesy of Yelp
The potato croquettes come with this yummy chipotle aioli. I also got this one both times I was there because it's that good. The croquettes have a nice, crispy outside and an AMAZING velvety, fluffy inside. The chipotle aioli is the perfect amount of spice. I highly recommend coming to Charlie was a sinner just for the blackberry ginger soda and potato croquettes.
Caramelized Eggplant Bao Buns ($10)
Image courtesy of Yelp
This is their spin on little bun bao sandwiches, and to be frank, I think it's quite good. The eggplant was so tender and melted in your mouth. I don't even like eggplant, but I loved this dish. It's seasoned really nicely. The pickled slaw is really delicious; it gives a nice texture and taste contrast since it's crunchy and sour. The one critique I have for this dish is the sweet hoisin sauce. I feel like there could have been something added to it because it's just your typical hoisin sauce. However, I could be biased because I only like hoisin sauce in my pho.
Korean Style Fried Tofu ($10)
Image courtesy of Yelp
I have never had anything like this dish. There was a spicy glaze and sesame seeds on the tofu, and it was on top of pickles and pickled cauliflower. It wasn't my favorite dish because it was a little too spicy, BUT I still really liked it. The flavor profile was really interesting. I don't love pickles, so that wasn't my favorite part, but I can see why people like it. The tofu was perfectly fried and had a great texture. I would recommend this to anyone who likes spicy food and pickles.
Potato Gnocchi ($14)
Image courtesy of Yelp
I've never had gnocchi before, but this gnocchi was really good. It snapped when you bit into it and it kind of felt like this Vietnamese dish called bột chiên, which are fried rice flour cakes. The flavor was really good. The gnocchi, onions, everything, was delicious.
Wild Mushroom Risotto ($15)
Image courtesy of Yelp
This was my favorite "main" dish. I've also never had risotto and mushrooms aren't my favorite vegetable (even though I still like them). It was SO good. You could clearly see each rice grain and could pick out each one. It wasn't a mushy mess. There were crispy maitake mushrooms and English peas on top, and there were shiitake and royal trumpet mushrooms in the dish as well. It was savory and filling but didn't make me feel gross at the end. I really recommend it.
Bangers and Mash (menu item and price unavailable online)
So, this dish was fairly new, so I couldn't find a picture and I also, yet again, didn't take one. This, sadly, was my least favorite dish. The mashed potatoes were delicious, because duh. The sausage, on the other hand, was really strange. Usually, when I get fake meat, I'm expecting to be able to see and feel the vegetables that went inside the dish. With this one, I just couldn't. The texture was kind of spongy and it was bland. Unfortunately, we did end up taking it back. Our server was really kind about it, though. Don't let this one bad review about this one dish turn you off from the rest of the great things about this place.
Chocolate Pot de Crème ($8)
Image courtesy of Yelp
The dessert was SO good! It was basically a chocolate pudding/mousse with rum banana and whipped coconut cream and a cocoa tuile on top. It was so silky and delicious and in such a cute cup! I didn't feel guilty because it was a small portion (and I shared it with my S.O.) and it's a plant-based dessert (obviously).
Sorbet ($8)
This sorbet was really good (sorry for another unavailable picture)! We had a dark red sorbet (I assume it was raspberry). We got it for free because we were celebrating our anniversary. I don't know if I recommend it because there are other great desserts that are super unique, but definitely get this if you don't want to venture outside your comfort zone.
So, obviously, this place is pretty pricey and not for a casual, cheap date and meet-up. However, if you want to try new things and splurge on a great meal, come here! Everything I had was delicious, except for that one thing, but it hasn't turned me off at all. This is my favorite vegan place in Philadelphia, so whether you're visiting or just want to try a local place, definitely try this place out.