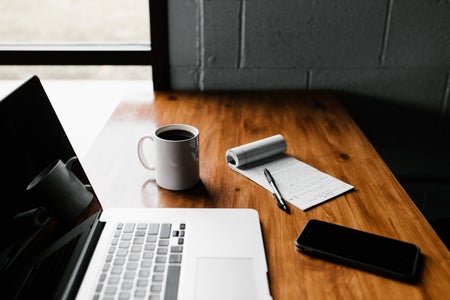 College From Home: Continuing a (Semi) Normal Life
At this point, you've probably reached the place where you're going to spend the rest of the semester. You may have unpacked, said hi to parents, siblings and pets, and now you're facing the prospect of continuing the DePauw life from the comfort of your bedroom. Even if your situation is perfect— your house is safe, you're financially fine and there are no added stressors—it's still far from ideal. At the very least, you might be stuck back in the "child" role, rather than living like a college-aged adult. 
However, we have to keep going. Assignments will be due, grades will be given and so many Zoom or Google Hangout calls will be made. Even though we're not on campus, and likely won't be until (hopefully) next semester, it's important to keep going. To stay productive and live as "normal" of a life as possible, you should do a few key things.
One of the most important things to do is to find or create a space where you can do work. At DePauw, it was your desk, the library or a table in an academic building somewhere. Now, it can be an extra room, the kitchen table or a corner of a bedroom. It's helpful if it's a place that's relatively quiet and has natural light, but that's not always possible (the space I've set up is in front of a window, but it's directly next to the stairs— a pretty loud place in my house). Once you have a space, set up what you need to be academically successful. That could mean pencils, a power strip to plug electronics into if the outlet is too far away, or your notebooks and textbooks for classes. Then, add anything you want to make the space a little more hospitable (a candle, pictures) and less like an industrially necessary workspace.

If possible, leave the house for a little while each day. That could mean taking a walk around your neighborhood, sitting outside for a few minutes or even sticking your head out the window to get some fresh air. Especially as the weather gets warmer, it'll be a nice way to take a break from being inside, and you'll be able to get some alone time.

If you're like me, and most of your friends are miles away, stay connected! Texting, Facetime, or even having a group hangout in Zoom is a great way to keep up with your besties (and their pets) right now. If you did anything to keep up with non-DePauw friends before, keep using those techniques! Share a recipe, watch Netflix together using Netflix Party (a Google Chrome extension), or make a simple phone call— anything will work!

With so much time spent at home, it's super easy to get annoyed by parents and siblings. Even if you have the best of relationships, it's still an adjustment (for everyone), and sometimes, you just need some time alone! Try to spend some time with just yourself, whether that's watching a movie, going on a run or listening to music with headphones in.

Keep your space organized in a way that doesn't stress you out, and try to stick to a schedule— homework, meals, exercise, and alone time can all be put on a calendar. If you give yourself 6 hours to do homework, the work will extend to fill the 6 hours. If you know you have to babysit siblings and that you won't get much done in that time, adjust your expectations accordingly.
This is a time that's difficult for everyone for so many different reasons, but if you can find time to be kind to yourself, it might make it a little bit easier.