Bridget's Bachelor Brief: Week 9
(Alert: This article contains spoilers from The Bachelor Season 23, Episode 9)
SO. MUCH. HAPPENED. Not only did we finally get the fence jump we've been waiting for, but also we were thrown a major curveball!! But let's start from the beginning.
The week started off with a one-on-one date with Tayshia. Tayshia and Colton took a helicopter tour around the coasts of Portugal and had a picnic near a lighthouse. At dinner that night, Tayshia told Colton the reason her last marriage ended was because he cheated on her... And then it was time for the infamous fantasy suite card from Chris Harrison, ya know, the usual "should you chose to forgo your individual rooms…" Tayshia told Colton that she had only slept with her ex-husband and took this step very seriously. Still, she said yes and said that "Colton might not wake up a virgin." Like LMAO, we all know he's not gonna lose his v-card on TV, but we appreciate the commentary for entertainment purposes. Everything seemed to be going smoothly, love was ~in the air~ ! Then Colton hit us with "I've done like everything else besides like sex." Like WHAT, thank you, Colton.
The awkward rolled around the next morning. I could feel the tension through the screen. Tayshia said something along the lines of "we didn't reach the physical intimacy I was hoping for…I could tell he was nervous." YIKES!!!
Next up was Cassie. Cassie and Colton ate pastries in Algarve and walked around looking at street vendors and dancing to street music. At some point in the date, Colton casually told Cassie that he didn't get her father's blessing and ya girl was SHOOK. Cassie did not see that one coming and said she expected her father to leave it open ended and not just flat out say no. Colton said all the right things and was like, this doesn't change how strongly I feel about you blah blah blah. But Cassie was still internally screaming. You could tell she was not okay with this in any way, shape or form.
THEN Cassie's DAD shows up!!! In Portugal?! That's a new one. He sits her down and says some bullsh*t about him not having any doubts about her mother and her mother having no doubts about him. Excuse me, sir, your daughter is not having the same relationship as you. But Cassie loves her dad and is actually only 23 years old (SOS) and feeds into this hardcore. Honestly, true villain of this season is Cassie's dad. GTFO…okay, maybe that's a little dramatic, but I am still not a fan of what's going on here.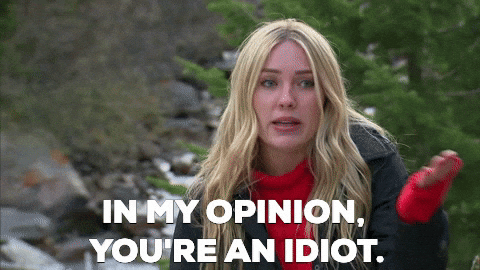 Cassie makes the decision to leave the show and walks over to Colton's house looking fine af in a sparkly dress. She says the words "I don't know" about 100 times. She's like, idk if I can get there, idk if I can give you what you want. Colton was NOT HAVING IT. He pulled out all the stops: he said I LOVE YOU. He said that he WANTED IT TO BE HER AT THE END OF THIS. He said I WILL BE PATIENT. He said I DON'T NEED AN ENGAGEMENT I JUST NEED TO BE WITH YOU. He said I CAN'T LOSE YOU. Like, guys, he was fighting hard, and she was still like I DON'T KNOW. What is going on? I mean, I understand this is a weird process and if Cassie isn't ready for engagement that makes total and complete sense, I'm just stressed. Colton was actually shaking. AHHH.
And then, THE FENCE JUMP. We love that sh*t. My personal favorite moment is when someone screamed "get Chris Harrison," and then Chris pops up and said, "he just jumped the f*cking fence." This is why Chris gets paid the big bucks. Chris and the crew continue to search for Colton like he's a lost puppy, and he's nowhere to be found. Our first missing Bachelor. Wow.
Tonight the drama continues on the most dramatic Women Tell All ever, hehe.