Bridget's Bachelor Brief: Week 8
(Alert: This article contains spoilers from The Bachelor Season 23, Episode 8)
Hometowns!!! We are getting to the real thing, people. Fantasy suites and a fence jump are right around the corner, hehehe. AND did you see the drama with Khloe Kardashian? Not the Tristan/Jordyn drama, but the Bachelorette drama?? That sh*t had me WEAK. Read more about it here for a good time.
Anyway, Colton did pretty well meeting the parents, so let's dive in:
Caelynn (Charlotte, NC): Caelynn and Colton took a horse and buggy through town to get ice cream! Colton had a big family to impress, but he sure did it!! Caelynn and her stepdad who raised her had a very touching conversation where Caelynn thanked him for being a supportive father. Colton asked him for his blessing…which we find out he does with all the women's fathers. And he kept using the word "permission," which was making me cringe. You're not marrying her dad bro, she can give you permission! But anyway, he got the blessing. And Caelynn reassured him that she was falling in love...and Colton said it back, SWOON. (Imagine if people went through a "falling in love" stage in real life HAHA.) (Also, this gif doesn't relate to this recap, but it's #relatable so)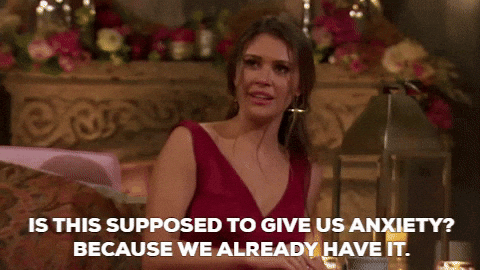 Hannah G. (Birmingham, AL): Hannah took Colton to a Southern gentleman etiquette class. He was a little nervous and very upset when the woman running the class instructed him to pull off one piece of bread and then butter it. I was upset too. That can't be a thing?! Hannah's mom seems APPALLED at first but comes around. Hannah's cousins and BFFs seem to like him, and her dad gives his blessing. Hannah and Colton also tell each other that they are falling in love.
Tayshia (Orange County, CA): Remember when Colton took Tayshia skydiving even though they're both afraid of heights?? HA, payback is a b*tch. Tayshia blindfolds Colton and takes him in her car to go skydiving. As they are getting instructions from the safety guide, Colton truly looks sick to his stomach. Like, we aren't sure if our boy is gonna make it. And then he's like, "I don't wanna die, I still have to lose my virginity." OMG. Anyway, they survive. Colton goes on to meet Tayshia's parents and two brothers. Her dad is skeptical and straight SWERVES Colton when he asks for his blessing, but after he talks to Tayshia, Dad is on board. At the end, Tayshia's older bro says he's gonna be in the FBI and will hunt C down (;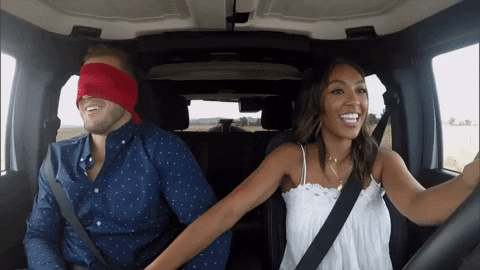 Cassie (Huntington Beach, CA): Cassie takes Colton surfing, and he is not doing too hot. I don't think the man stood up once, but A for effort. Colton meets her parents, and her dad is immediately unhappy, closely watching Colton's hands all over Cassie. Yikes, Colton, please learn how to read the ~vibes~ of the room. Colton also meets Cassie's beautiful sister, who, side note, is actually dating teen heartthrob Gregg Sulkin, but tragically he wasn't there. Cassie's dad DOESN'T give his blessing! C says he is falling for Cassie, but she never says it back.
Rose Ceremony: COLTON SENDS CAELYNN HOME??????? So confused as to why that happened, but okay. She is v upset, and me too, girl. Goodbye, queen, I'm hoping you're the next Bachelorette. I mean, look at her!!