Bridget's Bachelor Brief: Week 4
(Alert: This article contains spoilers from The Bachelor Season 23, Episode 4)
What's up, Bachelor Nation?? Welcome to the week 4 recap. This week is the first week the squad left the mansion, so it's kinda a big deal. The destination? Singapore!!
The week started off with a one on one with Tayshia. Her and Colton were just casually strolling down the beach when Colton pointed to a bridge and told her they were going BUNGEE JUMPING!??? Oh my…idk about you guys, but absolutely not. If a mans tried to convince me to do that, I would probably run away. At dinner that night, Tayshia told Colton that she was divorced in the past year and half. Colton took it very well, per usual. She mentioned to the camera that she could see herself falling in love <3
Women on the group date: Cassie, Courtney, Demi, Elyse, Hannah B., Hannah G., Heather, Katie, Kirpa, Nicole, Onyeka, Sydney, and Tracy
The group date this week included thirteen women. THIRTEEN!!! They walked around the streets of Singapore with Demi stealing the show, go figure. The women tried some bullfrog, pig toes, and fish eyes that we all know they wouldn't eat if they weren't trying to look ~adventurous~ in front of Colton. A fortune teller told Colton and Cassie that they were siblings in a past life. HELP! Still rooting for you, sweet Cassie!
At the cocktail party that evening, Demi told Colton that her mom was just released from federal prison. We saw a more vulnerable side to her as she explained that she loves her mother unconditionally. Again, Colton took it very well and was happy to hear that Demi never turns her back on family.
Soon after, a battle between Courtney and Demi began…dun dun dun. Courtney was upset she wasn't getting time with Colton, and Demi tried to encourage her, but Courtney was throwing herself a pity party. Demi was NOT HAVING IT and decided to talk to Colton for the second time that night…drama!! She proceeded to tell Colton that Courtney was "the cancer of the house." Okay, you can argue with her all you want, but this seems like a rather dramatic and problematic phrase.
Then, it was finally Courtney's turn. She also decided to use some time to say that Demi just wanted to be famous and was "playing the game." Colton was not happy.
Courtney and Demi had a little one on one of their own. And, I understand Demi is not the greatest, but Courtney was pretty out of line when she passively asked, "how old are you?" And...
Demi got the group date rose.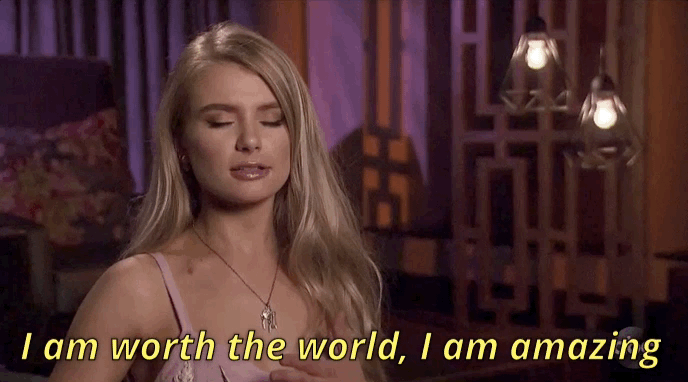 Caelynn got the second one on one. The date started out with a shopping spree!! Caelynn got to try on a bunch of beautiful clothes, and Colton was straight SWOONING. She came back to the house with all her bags, and the women were beyond jealous. Which, like, fair. Cassie literally fell apart sobbing when she tried to say the sentence "I'm happy for Caelynn." Oh no, sweetie.
Caelynn had a difficult conversation with Colton at dinner. She shared that when she was a sophomore in college, she was drugged and raped. Her friends, also at the party that night, were also victims of rape. She "did exactly what she was supposed to do," Caelynn states. She immediately went to the hospital, where she was turned away—which is illegal. After being administered a rape kit at the second hospital, the results were inconclusive since so much time had passed. One of the perpetrators got expelled, and the rest received no punishment for their crimes. She explained that she stayed at home and hid it for almost a year, and her assault has affected her relationships/intimacy. While many share personal stories on The Bachelor/The Bachelorette, I have never heard someone be this vulnerable, nor have I seen The Bachelor show this much of a story. I hope Caelynn's story opens up a dialogue, for unfortunately, her story is not that uncommon. For me, I didn't like the way The Bachelor advertised "an emotional conversation" in their previews. While, with Caelynn's consent, I believe it was important to have her story told, the advertising seems exploitative in nature.
Read more about Caelynn's story here.
If you or someone you know has experienced sexual assault and need help, contact RAINN at 800.656.HOPE
At the cocktail party, Caelynn and Hannah finally cleared the air… It seemed to go well, but?????
Rose Ceremony Eliminations: Courtney and Tracy