Bridget's Bachelor Brief: Week 3
(Alert: This article contains spoilers from The Bachelor Season 23, Episode 3)
Week 3!!! Now we're getting into the real drama…mwhahaha :) Good news though, folks, the virgin commentary has gone down…for now. (Don't hold your breath, fantasy suites are around the corner.)
This week started out with a pirate-themed group date. It was disappointing—pretty uneventful. Our favorite pageant queen enemies went face to face in a pirate dual…but Caelynn kinda just let Hannah B. win, and no blood was shed.
Women on this date: Katie, Heather, Courtney, Kirpa, Tracy, Demi, Caelynn, and Hannah B.
At the cocktail party that evening, Hannah B. confronted Colton about her beef with Caelynn and how she was "hostile" and said something along the lines of "if you like me, you couldn't possibly like her." Sounds like an ultimatum to me. Although it really only made her look bad, and Caelynn got the group date rose. HA! Talking bad about other women = not cool. THEN, Demi, our lovely villain, decided to BLINDFOLD Colton and then SPANK him with a PADDLE??? ~Flirty~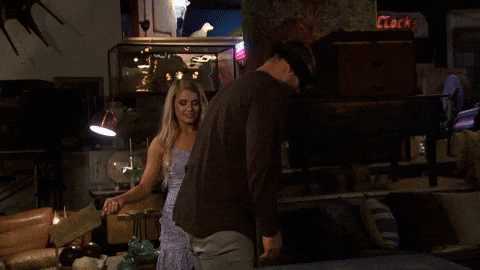 This week's one on one went to our redhead queen, Elyse! Their date involved some adorable little kiddos and an amusement park to themselves!!! The two definitely have a connection, and I am rooting for her! She even slipped to the camera that she was falling in love! GASP!! She got the rose.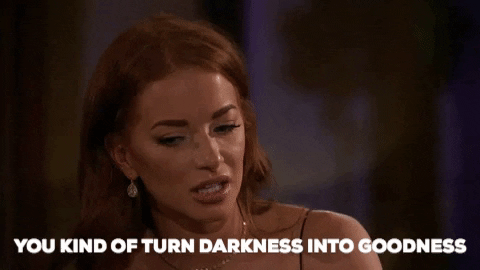 The second group date of the week included Catherine, Caitlin, Cassie, Nicole, Nina, Tayshia, Sydney, and Onyeka.
Oh hey, Terry Crews!!!! Yes, that's right, the second group date included Terry Crews and his wife, Rebecca King-Crews. They trained the women to compete for the title of "Bachelor's Strongest Woman." Sydney started out the day by having Colton help her stretch…and remember, she is a former NBA dancer, so ya girl is FLEXIBLE. The other women were ~very disturbed~ by this move. Then, the women moved to the competition, in which they literally tried to pull a limo, push a wedding cake, flip tires, and all this ridiculous stuff that was honestly making me tired just watching it. Nicole really struggled, and it was pretty funny to watch…because…same. Colton reassured her that night, though, that he knows she is a strong woman. Yes yes yes.
Caitlin, who hasn't got much time with Colton, finally had her chance to shine. And she blew it. Colton asked her what she was looking for in a partner, and she said something like "I just want a guy who will go out with my friends and get drunk." Excuse me? And then she continued to make me cringe as she stated that she has nothing to say about herself because her life has been…"good." Okay, you have no family, no goals, likes or interests to share? I'm upset. Colton sent her home right on the spot. Yikes!
Group date rose: Nicole
Bachelor's Strongest Woman: Onyeka
The cocktail party was canceled for a pool party complete with more drama with Hannah B. and Caelynn. They took turns giving their side to Colton and both called the other's "deceitful," causing Colton to nearly have a breakdown. TBH, I am on Caelynn's side with all of this. The most important part of the pool party was when Hannah B. said that there was a "beautiful beast inside of her" and proceeded to do this. Terrifying, honestly.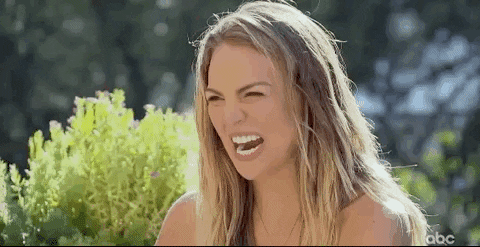 Oh man, this is good.
Women that went home: Bri, Catherine, Caitlin, and Nina