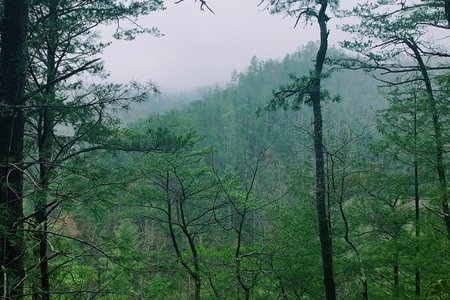 The Perfect Book for Earth Day
We are well into quarantine, and classes at Denison (at least for me) are still ramping up to prepare for finals. While I am being bombarded with assignment after assignment, it has been hard to take time to spend outside in nature, the one thing I love doing that helps ground me. This was, until, a reading assignment came along in a class I am in called Nature and the Literary Imagination. We were assigned to read Wild by Cheryl Strayed over the course of a couple weeks. Wild is a memoir about Cheryl's experience solo hiking the Pacific Crest Trail, a 2,650.1 mile long scenic trail that spans from the Mexican border in California to the Canadian border in Washington. While reading about Cheryl's past experiences that brought her to the trail, and the stories from while she was hiking, I had no idea how helpful this book would be to me during this time, and how fitting it was to read it right before Earth Day. 
The biggest thing I took away from Wild was the power of the story. A woman, freshly divorced and with no real family, incredibly inexperienced with backpacking, was able to make it from California to Oregon (where she got off the trail) all on her own. Before she started the hike, Cheryl's mother died from cancer at a really early age. It was unexpected and completely turned her life upside down, and she ended up being estranged from her siblings and step father as well. In addition to this, she decided to divorce her husband, with whom she had been married for years and they were still in love. Throughout her journey, she explains she had no other real idea of how to become herself again after all this trauma except to just (literally) walk it off. At the end of her hike, she has transformed into an entirely different person, one that is more free from the baggage she had before she started. The book is really moving in this regard, and while it definitely fits as a feminist memoir, it also is a book about a woman connecting with the earth and nature. 
The PCT crosses a handful of different western National Parks and Forests. The landscape is beautiful, with tall trees and snow capped mountains, and an abundance of streams, rivers, and lakes. From starting the trail in the California desert to ending in the Oregon forests, Strayed covers a lot of different landscapes, and develops a unique connection to all of them. On the hike, she has encounters with bulls, bears, deer, rattle snakes, bugs, and has to hike in snow (including completely frozen over sections), mud, and over 100 degree heat. Despite this, and maybe because of the hardships she has to face while out in nature, she feels every experience so much more. Every overlook and mountain top was that much more meaningful. By the time she nears the end of her hike, she can't imagine a life where she isn't sleeping in a tent out in the open wilderness. It was a deep love she formed for the landscape around her, one she didn't expect to find when she set out on the trail. 
Reading Wild was inspiring, even though I can't ever picture myself backpacking over 2,000 miles in my lifetime (for now). I think something that everyone can take away from reading this book is a sense of independence, and a want to develop a deeper relationship with not only yourself but the outdoors, too. I think that is a great inspiration to have, especially while celebrating Earth Day. While in quarantine, it may be harder for some to get outside that it is for others and celebrate nature. It's important to remember that this will not last forever, and that maybe this can be a time to become inspired and to appreciate our surroundings even more. And if you want to pick up a good book, you know what my vote is!