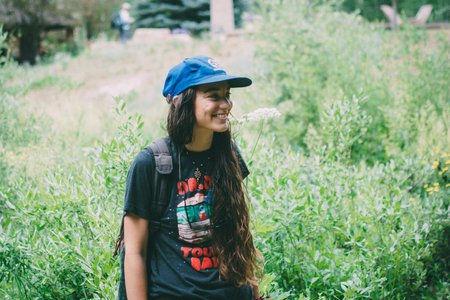 Cameron Smith / Her Campus
So I am currently being a good citizen and am staying six feet apart from everybody (except my family) while we all ride out this "unprecedented" and "momentous" time. (I wish news outlets would stop saying that sh*t. Like, we get it, nobody in our generation has ever done this before and we're all on the same page about disliking it, so relax.) Bad news: The whole thing sucks. Good news: I have things I can do!
Paint-by-numbers. I just finished a giant painting of a street with trees and such and I'm trying to find a different one to do next.

Tiktok. I swore I would never get the app but HERE WE ARE!!! And I'll be honest, I can understand the hype. The app is--and does--virtually everything every other social media app does. 

Watching Columbo. It's one of my favorite shows, and it's a 1970s (the better seasons, anyway) detective show featuring one of the greatest TV characters ever, Lieutenant Columbo, who goes about solving mysteries by pretending to be a bumbling idiot but in reality he's a SHREWD MOTHERF*CKING GENIUS. What's even cooler is you see the murder--and the murderer--right as every episode starts, so you already know who did it; each episode is actually about how Columbo solves the mystery. Admittedly, it's a bit slow for today's audiences, and one with a short attention span can get a little bored, but the episodes are beautifully written and Peter Falk does an OUTSTANDING JOB almost every single time. You can watch the 70s episodes on Amazon.

Playing Portal 2. It's great because even once you're done with the main storyline, you can play co-op mode with friends or there are THOUSANDS of user-created levels to play through.

Going out for walks. Or riding my bike. Just being outside, really.

Cooking occasionally. I'm likely gonna be doing more.

Worrying about my parents' health. My dad was having chest pains last week and I was more than mid-key concerned. But he's doing better!

Only checking the news twice a day. Once in the morning, once before I go to sleep--and I also look up "coronavirus good news" to make things feel *slightly* more okay.

Feeding my 4 cats their lunch. We feed them 3 separate meals a day because my family is weird (and also we don't want our cats to get too fat). Each cat has to be isolated in a separate room too or they'll eat each other's food, and they all have supplements they have to take as well. What we do for those we love!!

Trying to vibe. I'm managing, and as my most recent Instagram picture said, "I'm already an indoor person", so I'm j chilling despite it all I guess.
I recommend you look into doing some of the stuff on my list. We'll all get through this together! And it won't last forever.
Also, follow me @jjjuliet on Tiktok ;))