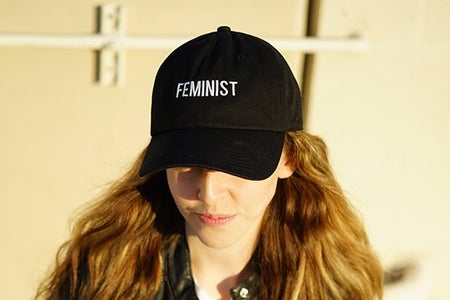 Laura Claypool / Her Campus
Ok, you might not agree with what I am going to say next but give it a try anyway; toxic masculinity is overrated. Sorry, but not sorry.
In this article, I'll try to; well, not offend the feminist crowd firstly and I will not talk about men because enough of men versus women already! So, when does femininity cease to be feminist and become toxic? Honestly, it is when you define womanhood and femininity so shallowly that a woman wishes she was a man instead. Just like toxic masculinity, toxic femininity comprises its own idiosyncratic rules and manipulative insecurities. Upon looking closely, you'll find that you're already caught in its vicious grip.
Toxic feminism is not the same thing as sexism but they are partners in crime. Toxic femininity is when you are told not to do something not as a question of your capability but as a reminder of your womanly gender roles. For example, Sarah says Anna cannot play football not because she isn't sporty, but because she will look sweaty and pathetic after playing football. It is imposing frivolity and docility on women and expecting them to adhere to it, and if they don't, pestering them. It becomes toxic when you refuse to recognize and accept individual nuances. It is when you feast on people's insecurities and enjoy it. It is made toxic every time you judge a woman by your own standard of femininity, every time you put down men because, well, they did it to us women for years!
An appropriate example of a woman misusing the laws made to protect her is the 'Jasleen Kaur harassment controversy.' The Jasleen Kaur harassment controversy stemmed from the accusation of sexual harassment made by Jasleen Kaur against Sarvjeet Singh in 2015. In August 2015, Jasleen Kaur posted a photo of a man, Sarvjeet Singh, on Facebook and accused him of harassment. The post went viral on Indian social media and garnered widespread attention. She received massive support for raising her voice against eve-teasing and sexual harassment on social media from national celebrities and politicians alike. Sarvjeet was arrested the next day and was granted bail the day after. This was followed by a trial by the media in which Sarvjeet was labeled terms like 'National Pervert' and 'Delhi ka Darinda' (Delhi's predator) on national news channels. This was a clear case of a woman blatantly misusing the power trusted to her through the feminist movement. I believe she thought that if she managed to hurt a man in any way, it would add to her strength. She, however, was everything but strong.
If you ask me, feminism has lost its path. It is mounted on a bulldozer with its eyes shut, crushing everything in its way but, refusing, even for once, to open its eyes and look around. Somehow, the idea of empowering women has lost its sheen to us. Now, expressing female capacity power has become all about becoming and belittling men. Surely we have women who have broken all barriers to become fighter pilots, accomplished sportswomen, and make their mark but does feminism also mean normalizing uncontrolled smoking, drinking, and substance abuse? We are doing just what we despised men for doing. Every time a woman tries to copy a man, she undermines the fact that women were supposed to be different. They weren't meant to be men, they were meant to be everything men couldn't be and so much more.
The only cure for this oppressive gender dynamics is 'gender sensitization'. We need it as much as we need food, water, and clothing for sustenance. Dr. Rajshree in her paper, 'Gender sensitization: Equality in the Indian context' says, "Sometimes a fear exists that advancing the position of one gender means that something is taken away from the other. However, the promotion of gender equality does not imply giving more power to women and taking away power from men." Gender sensitization must be made part of both the junior and the senior school curriculum. Kids from a very young age must be taught politeness, sensitivity in speech, and respect for all genders and sexes.
Remember the movie Daawat-e-Ishq where Parineeti Chopra frames Aditya Roy Kapoor in a fake dowry case to siphon money from his family? Well, it's not just a film, it happens every day. In the movie, everything falls into place (of course, it's Bollywood), but life isn't a Bollywood movie. Homes break, families break and human beings break when opposite sexes decide to wage such warfare on each other. This needs to be talked about, and let's not deliberate upon it as men or women, let's do it as one — humankind.