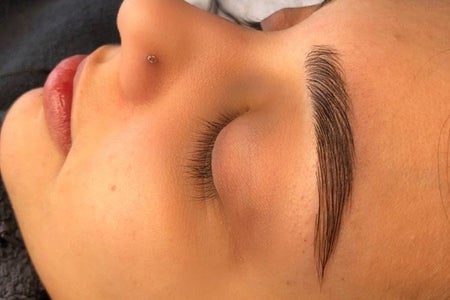 Brow lamination is the newest trend in the brow industry, giving you a semi-permanent brushed up, feathery effect. The brows can also be brushed down after treatment, allowing you to manipulate the shape to your personal preference.
If you often use SoapBrows or a really strong eyebrow gel, this treatment will save you a little bit of time in the mornings when you're getting ready. Brow lamination works by giving you a brushed-up brow in which the hair is lifted from the roots up.
Suzy the Brow Boss on Drury Street tell Image they use three different serums during the treatment. The first serum breaks the bonds down in your hairs, making them easier to manipulate. Once the hairs are moved into position, "sitting backwards on itself" the second serum is used to fix them into position.
Before applying the third serum, the eyebrows are tinted and waxed. Since the bonds have been broken, the tint will go deeper than usual and therefore lasts longer – with the entire brow lamination lasting up to six to eight weeks depending on your aftercare. The third serum is infused with keratin to bring the brow hairs back to their original form.
In total it can take between 40 minutes to an hour for the treatment to be completed. When they are done, it can take 24 hours for your brows to look settled and 'normal'.
Brow lamination is not bad for your eyebrows so long as you pay close attention to your aftercare to rehydrate the brows as they have been chemically enhanced. After 48 hours, Suzy the Brow Boss recommends putting castor oil on each night to strengthen the brow hairs. 
This treatment isn't recommended for anyone who has dermatitis or eczema, skin conditions that can cause dry and itchy skin. People who use their brow hair to cover up spacing underneath their eyebrows are also not recommended for brow lamination as you can see the whole underline of your eyebrow with the hairs brushed up.
The first 24 hours after treatment are the most important to ensure you get the longest possible time out of your lamination. You should sleep face up because sleeping on your side could potentially bend some hairs and they will be stuck like that since they are fixed into position.
After 24 hours of leaving them alone, you should cleanse them and brush them up. After 48 hours, you should apply some castor oil to help rehydrate them. It is important to remove any brow products at night-time and be more gentle than usual with your eyebrows.
If you choose to apply extra products, Suzy the Brow Boss suggests using a clear brow gel that doesn't have much of a hold. This is to prevent any damage to your brow hairs as you want to maintain hydration, rather than making them brittle.
If you're interested in making your brows feathery and budge-proof this is the treatment for you! There are an abundance of beauticians near DCU who offer brow lamination, starting at €50 for the treatment.