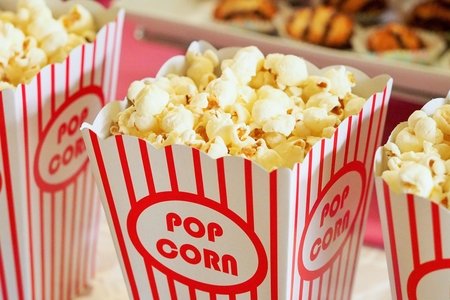 Movies to Help You Escape While Social Distancing
With everything that is happening in the world, stress levels are quite high. Across the globe people are living a new way of life, one of isolation from the people and the places they love. But with this situation brings extra time to watch some new movies or the classics you love. Enjoy this list of some of the best to watch! 
The Parent Trap (1998)
Let's begin with a family favourite. A lot of people had day dreams about going to an American summer camp, finding their long-lost twin and learning a funny dance because of this film. Of course, it's The Parent Trap.
This movie is sure to put you in a happy mood, transporting you on a virtual holiday to London and Napa Valley in California. You get the best of both worlds really and there is some truly brilliant moments and great performances all round.  
The Devil Wears Prada (2006)
This movie combines fashion, New York City and Meryl Streep so it's an absolute must. Especially perfect for 'Her Campus' readers because this is about a budding writer played by Anne Hathaway. The fashion makeover scene is iconic, and Emily Blunt is so amazing in this she will make you want to dye your hair red.  
Mission Impossible (1996)
The third movie is something completely different, Mission Impossible, there have been lots of these so plan this movie marathon well in advance.  
These movies are great for when you are getting bored at home, the chase scenes and explosions are amazing and each movie has a great cast. Tom Cruise is literally strapped to a real-life moving plane in one of these movies. Perfect for the whole family! 
Pocahontas (1995)
Pocahontas is a movie which needs no introduction.  
This Disney Princess has long been a fan favourite for many young girls and boys around the world. Bravery, independence and kindness are the central traits of Pocahontas who is believed to have truly existed. The animation is breathtaking and you will feel like you are right in the middle of the action or Just Around The Riverbend! 
Little Women (2019)
Our last suggestion is something new, Little Women. Perhaps you have seen this before but even so it's worth a second watch.  
A movie which has beautiful costumes, a stellar cast and a brilliant director, Greta Gerwig. A true comfort movie with lighting tricks you will only notice after watching. Maybe read the book before watching as it is equally fantastic.  
There are plenty of amazing movies on Netflix especially if these aren't your cup of tea. Movies are perfect in this current climate because they provide the escapism and adventure we all love. Happy watching and don't forget the popcorn!