Her Campus DCU Christmas Gift Guide
It's holiday season already and you're probably worrying about where you can buy gifts for everyone you love. This year, more than ever, it is so important to shop local and buy from smaller Irish businesses to help support them over the holidays.
Here at Her Campus we love Irish businesses and we have rounded up some of our favourites, to give you some gift ideas for absolutely anyone (yes, even those who are impossible to buy for).
Alchemy Aromas & Therapies
Help your friends and family create a calm and positive environment in their life, with these gorgeous crystals. You can buy the crystals alone, such as clear quartz and moonstones, for just €2 or you can get a variety of sets with crystals and sprays from €25 to €55.
You can purchase these crystals and sets on the Alchemy Aromas website and can view gorgeous images of their products on their Instagram.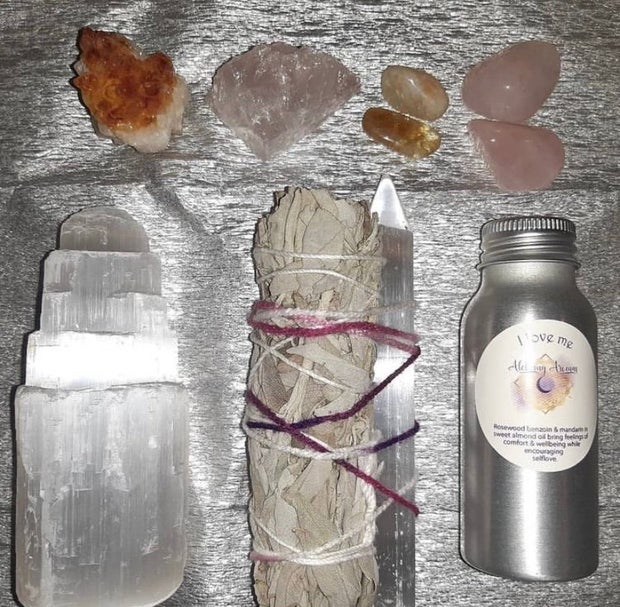 Photo by Alchemyaromas
Attic Art Prints
If you're looking for some amazing prints to gift someone, Attic Art Prints is the place to go! Ranging from €5 to €8, these great value prints feature Irish themed designs, beautiful artwork and breathtaking photography. One of our personal favourites is the 'Nollaig Shona Duit You Filthy Animal' print. This is an ideal gift for the Gaeilgeoir in your life!
Attic Art Prints can be found on Instagram, where you can DM the page for custom made prints or requests, or you can check out their Etsy store.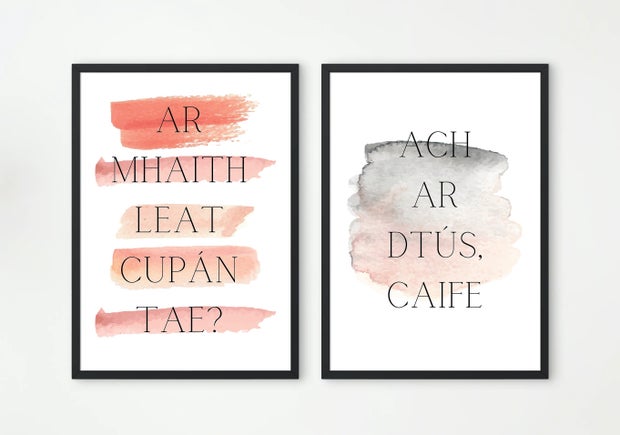 Photo by Atticartprints
Anam Studio Works
For the fashion lover in your life, Anam Studio Works sell beautiful, unique items of fashion. You can buy tops, trousers, coats and everything in between making an amazing gift, while also supporting sustainable fashion (yay). 
You can buy some stunning pieces on their Depop page.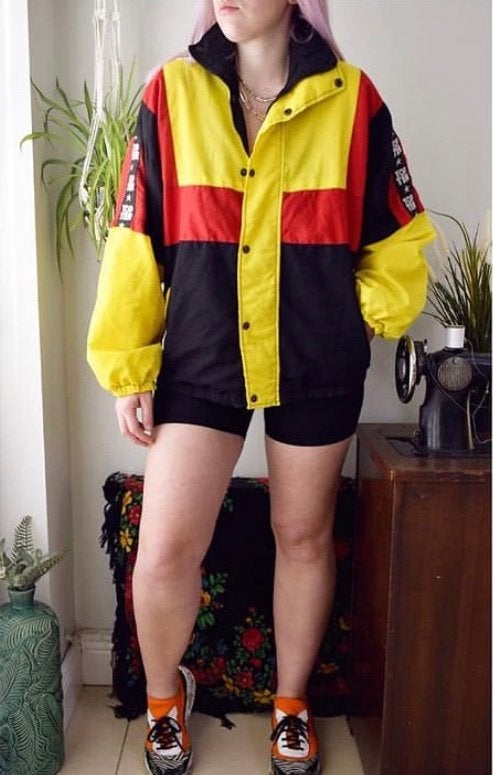 Photo by Anamstudiowork
Badly Made Books
Almost everyone knows a stationary nerd (no judgment we are too). Badly Made Books hand make beautiful notebooks on recycled paper. Who doesn't need a good notebook or even a sketchbook? From just €14 you can't go wrong!
You can purchase and view the full range of notebooks here.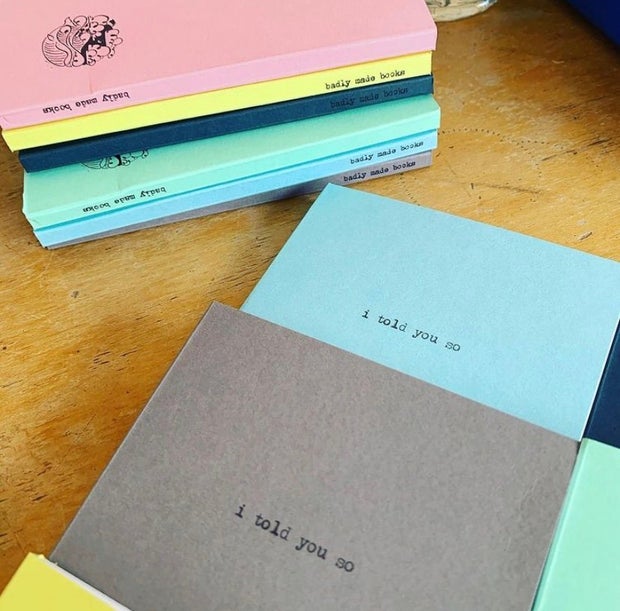 Photo by Badly made books
Bees of Honey
Everyone loves and deserves a self care day… or two, or seven. These handmade products include soaps, body oils, body butters and self care bundles. The owner, Mimmie Malaba, said the company aims to: "help people find a little happiness in self care", so spread that happiness to those you love.
You can learn more about the products on their Instagram and buy them on the Bees of Honey website.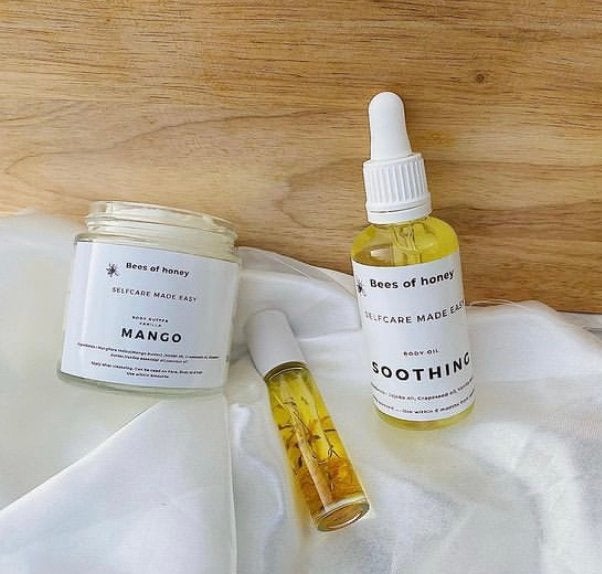 Photo by Bees_of_honey
CME Candle Dublin
Are you on the hunt for a vegan present that is classy and elegant? Look no further, CME Candle Dublin handcraft these stunning, sustainable candles in the shape of both male and female bodies. Ranging from €15 to €30 these are an ideal secret Santa gift (and an absolute steal)!
You can view their Instagram for some more stunning images of the candles and shop all of the collections on their website.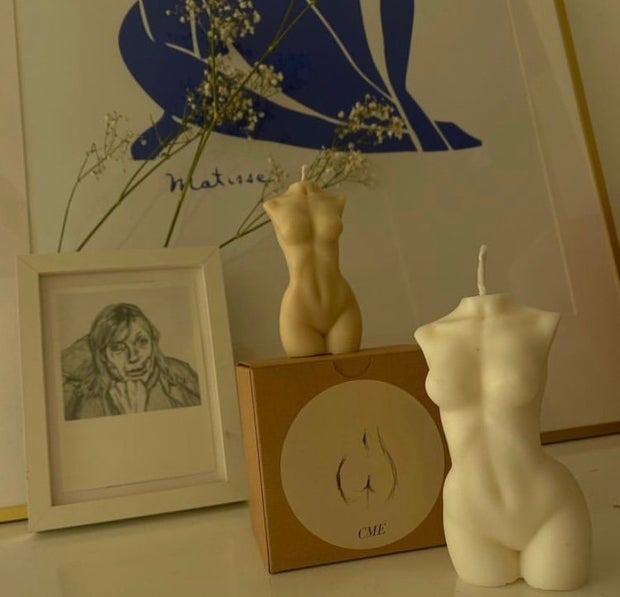 Photo by Cmecandledublin
Deburca Design
Fill your loved ones life with stunningly breathtaking designs from Deburca Designs. You can buy stickers, notebooks, tote bags and prints with quotes, illustrations of people and places and your fave celebs, including Harry Styles. Here you can buy any type of gift from a secret santa present to a stocking filler, or even a 'just because' present.
For more images of the range of prints you can follow Deburca designs on Instagram and their products can be bought here.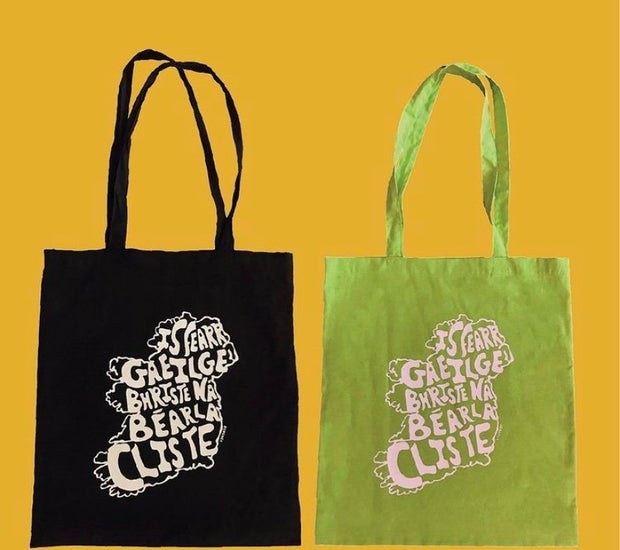 Photo by Deburcadesign
Dolls Boutique
As cringey as it sounds, staying in is unfortunately the new going out. So why not treat your friends to some gorgeous and chic loungewear? Dolls Boutique sells all of your must have staying in outfits, from loungewear sets to jumper dresses, you can't go wrong (but you can eat as much Christmas dinner as you like without worrying about bloating). 
You can buy the loungewear and other items of clothing here and can see them modeled on Dolls Boutique's Instagram.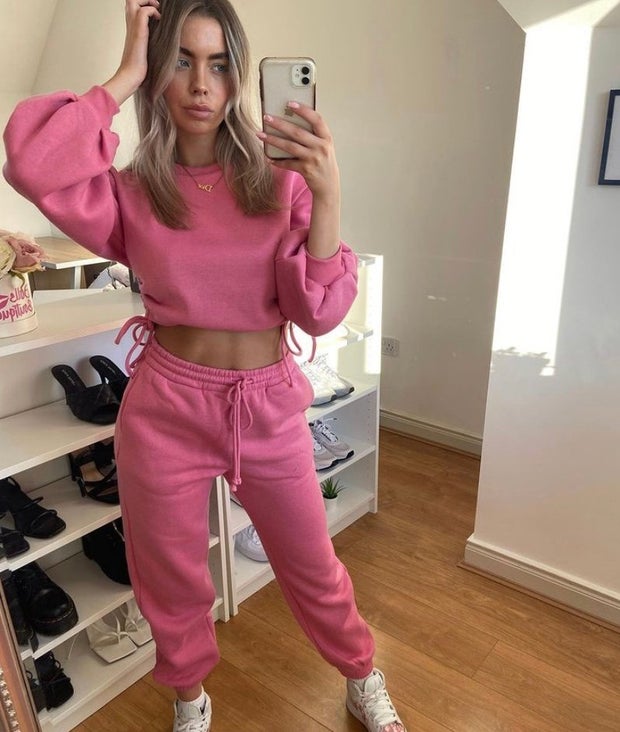 Photo by Dollsboutique.ie
Elaine's embroidery 
For some stunning personalised pieces, this business hand embroiders delicately beautiful designs onto jumpers and t-shirts from €20. These make a great gift if you just can't find that perfect top for someone and have something specific you want in mind, plus they're really cute so everyone wins.
You can view the full range and price of products and order them on Instagram.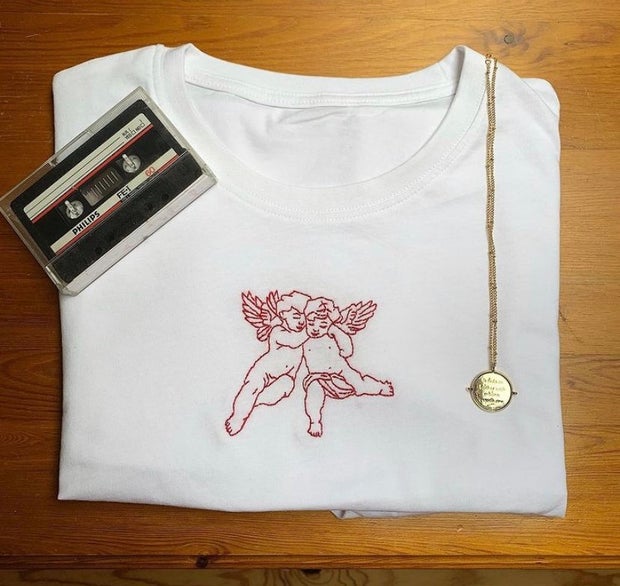 Photo by Elaines.embroidery
**Her campus DCU has been informed since writing this article that Elaine embroidery is no longer taking orders for the Christmas period. An alternative is Blue rabbit designs and you can view designs and order on Instagram. 
Fine Knight Creations
Have you got a jewellery lover in your life? Fine Knight Creations hand makes gorgeous earrings from Polymer clay. You can get a range of designs, such as bees, robins, penguins and even the Night Before Christmas characters from just €16 euro. 
All of these stunning pieces can be bought on their Etsy store and follow their Instagram for early viewing of new products!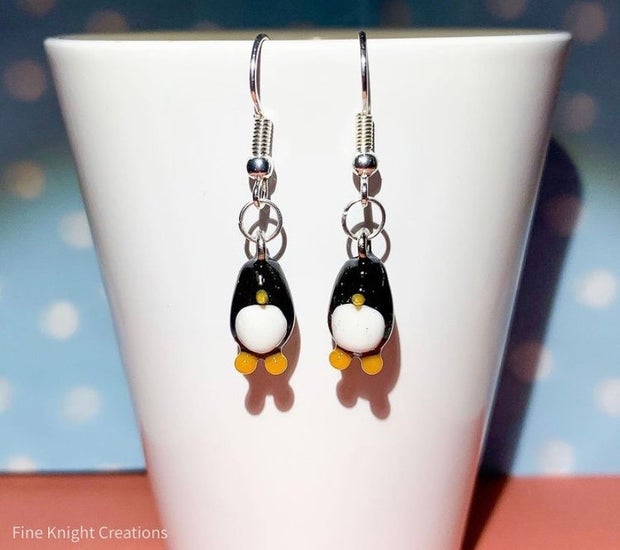 Photo by Fine Knight Creations
Indigo and Cloth
I'm sure everyone can agree with us when we say men are IMPOSSIBLE to buy for. Indigo and Cloth is one of the best places to go for men's gifts. They sell gorgeous, high quality clothes, shoes, accessories, watches, books, grooming products, skin care products and more! Best of all, they have everything you could need for making the perfect coffee at home! You can even buy a gift card if there are just too many amazing things to choose from.
You can view the full range of products on their website.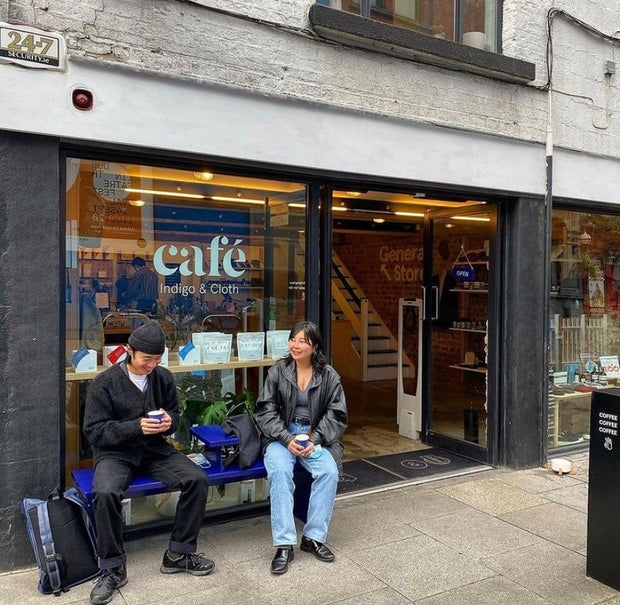 Photo by Indigo and Cloth
Kerry Who
For just €30 you can buy a beautiful, personalized birth chart for any friends and family who love astrology. The charts include a name of your choice, along with their date and time of birth. This is a thoughtful gift for anyone in your life who loves to learn more about the astrological science behind their birthday.
You can DM Kerry Who on Instagram to place an order.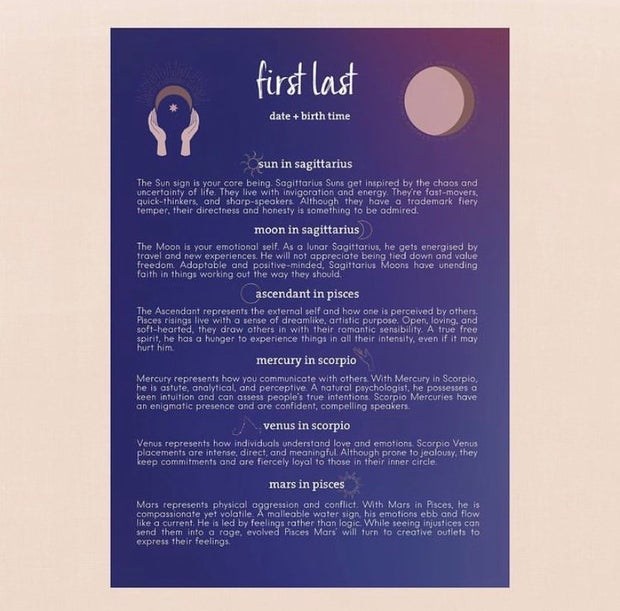 Photo by Kerrywho
Sammie's Comfort Zone
This shop is ideal for someone who loves glamorous beauty products. With a budget friendly range of €3 to €10 you can't go wrong with one of Sammie's lip glosses, shimmering body oils or bath petals. Why not pick a few things and make a small beauty pamper package?
You can buy these and more amazing products on their website and follow them on Instagram for even better content from the CEO, Samantha Ncube.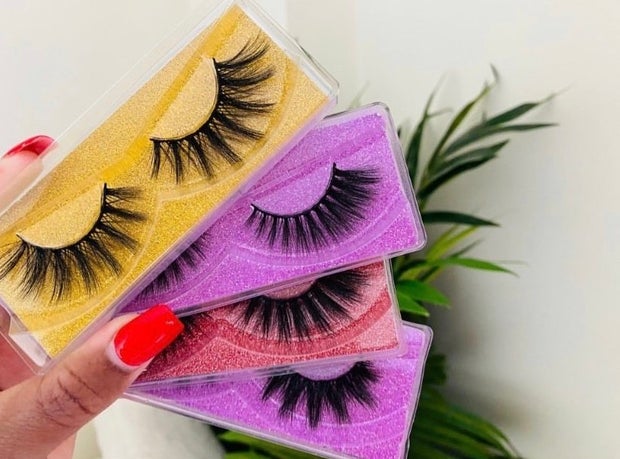 Sammies_comfortzone / s4_samz
The Kind Co.
This year, try your best to give gifts that are kind to our planet. The Kind Co is the perfect place to go for that! This sustainable living store has something for everyone from home decor to skincare to books, this is one of the best places to buy for a few different people at once.
You can shop on the Kind Co. on their website and learn more about their journey and products on their Instagram page.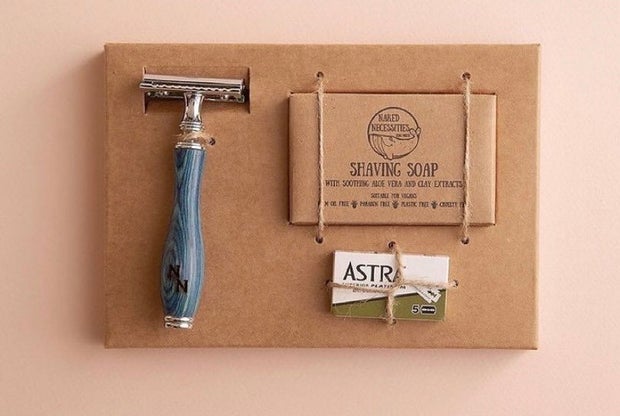 Photo by Thekind.co
505 Men's Vintage Apparel
Pre-loved clothes and outfits are some of the best out there. At 505 Men's Vintage, you can get some amazing pieces, like t-shirts, jumpers, jackets and more! Vintage clothes are almost always one of a kind, ideal for the person in your life who loves to stand out from the crowd.
Follow 505 Men's Vintage on Instagram to keep updated on what products they have on a regular basis, be sure to check out their sister shop @alfandroe.vintage for more pieces.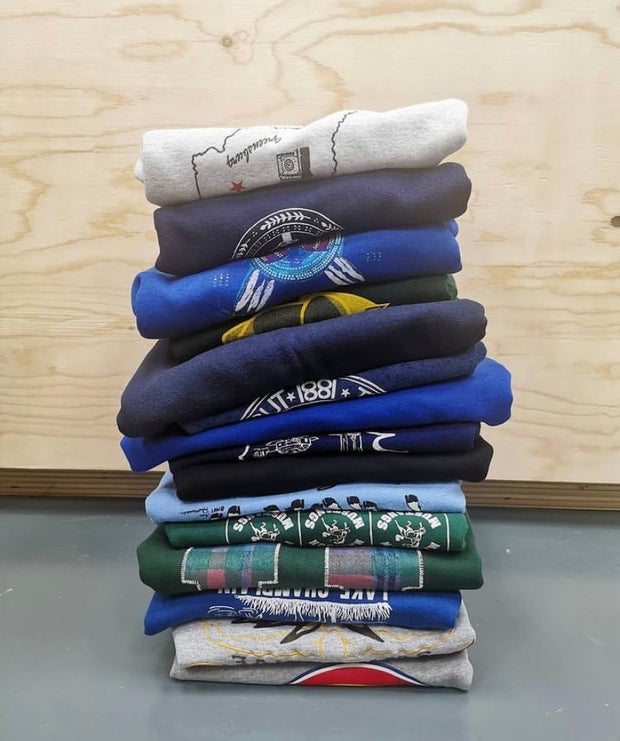 Photo by 505.mensvintage
Of course, there are so many businesses you can support this Christmas. Some of your friends might even have their own business, so try to buy something from them. 
Yes, there are going to be some of your gifts that will have to be from bigger businesses, but ordering from local smaller businesses allows them to grow and is the least we can do to support our own during a difficult time. By supporting your local businesses this Christmas you are giving back to your community. 
Happy holidays from all here at Her Campus DCU!