Carly Mahady Shares her Experience with Breast Cancer
October is Breast Cancer Awareness month and here at Her Campus, we think it is essential to promote this important topic. In Ireland, you have to get mandatory breast checks from the age of 50. However, breast cancer can affect any woman or man at any age.
Carly Mahady, a 25-year-old woman from Finglas, Dublin was just 24 years old when she was diagnosed with a rare form of breast cancer, known as secretory carcinoma. This is a slow growing type of cancer that is more common in younger men and women.
Photo by Carly Mahady
From the age of 16, Carly had felt like something was wrong with her chest. When she went to her GP to express her concerns, she was given a general breast exam, but the issue was dismissed by her doctor. He said it could be hormones and that it is natural for girls to have lumpy breasts.
"I just took it on the chin and walked out," said Carly, "I kind of had a feeling that that wasn't exactly what was going on, but at the same time you don't want to believe anything is really wrong anyway."
In May of last year, Carly began to experience problems with her chest again with shooting pains in her chest and side.
"I ignored it for a long time. I put myself on the back burner. I just kept on putting it off and putting it off. I was having a few personal troubles, I was struggling with my mental health a little bit and I just woke up one day and said 'no you have to go today'. I knew that something just didn't feel right and I just had to go get it checked out." 
Carly went through months of testing to find out what was wrong with her chest. She had to get ultrasounds, a biopsy, and a lumpectomy to remove a small benign (non-cancerous) lump from her chest.
"I wasn't afraid because I didn't think, I knew that if I did have any issues with my chest that it would probably be something mild. I never ever suspected that it would be breast cancer so it wasn't that daunting for me."
Carly first got a fright when her results kept getting delayed, by up to four weeks. The specialists rang Carly's mam, as opposed to Carly directly, to let her know that the results have gone off for specialised treatment.
"That was when I knew, 'I can feel a difference in my body, and I am fully convinced that I have breast cancer'. I was diagnosed on the 1st of October last year."
Carly explained that only 0.01% of people in the world have secretory carcinoma. 
"They had nothing to go off, so they didn't know what they were dealing with. There are only two case studies in the world that they had to go off and there wasn't a lot of information. There's no proper study done on my particular cancer, so they just had to go ahead and treat me as if it were a really aggressive form of cancer because they didn't know if I would wake up the next week and it would be in my throat, or in my stomach, they couldn't tell if that would spread."
In January, Covid-19 appeared in various countries so Carly was in her own lockdown before the rest of Ireland. 
"From January I was locked down and from the end of February, I couldn't leave the house. There was a risk that if I got sick that would be it, my immune system didn't exist at that stage with the chemotherapy that I was on. It wasn't an option for me to get sick, I was stuck in for months. I had a five week delay with starting my second course of chemotherapy," she said, "I was nervous that 'what if this gets worse while I'm on a break?'"
Throughout the course of her treatment, Carly shared her experiences on Instagram in the hope to spread awareness and help people. She didn't expect her Instagram account, with 34k followers, to blow up as much as it did. Although she sometimes finds it draining she is also happy to be able to help so many people.
"Sometimes I wish that I didn't do it, but that's just the selfish side when I get a little bit overwhelmed and I get a little bit anxious over Instagram. But 99% of the time I'm buzzing with the fact it's helped at least one person."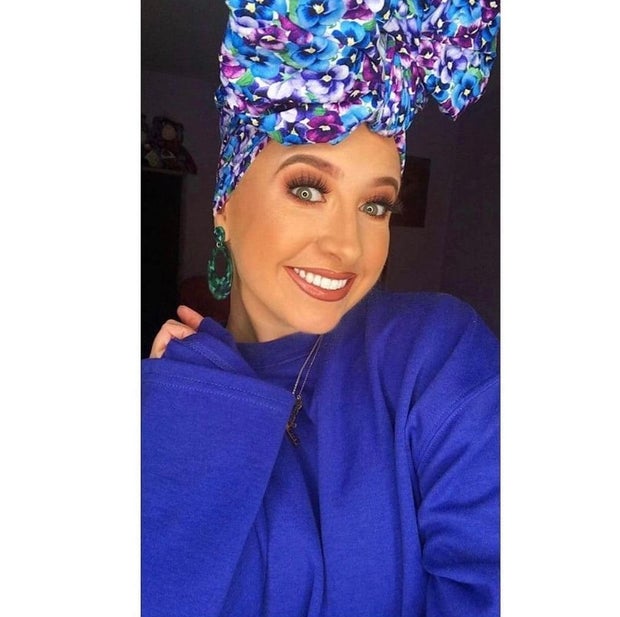 Photo by Carly Mahady
On the 28th of June, Carly finished her treatment and was given the all clear on the 11th of August. For her, it was hard to process what was going on as she didn't know what to do next. While everyone around her was excited over the good news, Carly was confused and didn't think it felt real.
"You kind of feel ashamed and embarrassed because you feel ungrateful that you don't feel that way. I'm even trying to still figure out now why I wasn't as excited about it…You're in survival mode when you're doing your treatment and when you're working towards the end," she explained,  "I think that's why it took the excitement out of it for me I was thinking 'oh my god you're after going through one of the hardest things of your life' and I feel like that was the day it only kind of set in with me."
Carly advises any men and women to be more aware and tuned in with their bodies, regarding any health issues. She strongly advises women and men of any age to do a monthly self-breast check, so if you notice any differences or abnormalities you can alert your doctor of it.
"Their favourite saying throughout the whole of Breast cancer Ireland, even their campaign, is 'early detection saves lives'. I know it does seem cliché and cheesy, but it is the god's honest truth."