Staples of Different Aesthetics
As quarantine has continued to overstay its welcome, I have noticed now more than ever I like experimenting with fashion. Maybe it's because fashion videos are all over my for you page or maybe it's because I'm about to be 20 and with nothing else to do I can finally find my style. Whatever the case, I have expanded my wardrobe and added a variety of different aesthetic staples. Now I want to tell you what some are and explain different ways to wear them. I'll start with my favorite aesthetic at the moment which I call the Donna Sheridan look. This look is a mix of late 70's fashion and bohemian fashion, meaning brighter colors, flowy skirts, bell-bottoms, and so much denim. A staple in my dressing up with this particular aesthetic is a pair of stretchy mid-wash bell-bottom pants. The color makes these pants incredibly easy to style with darker or lighter tops and its slightly high waist makes it perfect for any type of shirt. My personal preference is to style it with some heeled boots which honestly isn't even a fashion statement, the pants are just too long on me, and pair that with a long sleeve crop top either with bell sleeves or without. Add some dangly earrings, rings, and your favorite crystal pendant for some extra sparkle and now you're ready to conquer the streets of Greece and meet a mystery person or three. Next is a pair of pants on the complete opposite spectrum of fashion; black cargo pants. These pants fit into so many aesthetic categories that if you are going to be exploring any, they are a must. I bought my pair after seeing them in so many Asian streetwear videos and seeing how versatile they are. That means that for dressing these up as streetwear you have a ton of different avenues to try. However, my favorite way to style these and almost any baggy pants I have such as sweat pants is with a tighter short sleeve top. Whether the top is cropped or simply extremely well-fitting, it gives you back some of your silhouette which is lost in the ocean of fabric on your legs. Since it's still winter, short sleeves may be a big no-no depending on where you are which means you can also go in the opposite direction. That means an oversized shirt with a long sleeve button up layered underneath or an embellished or concert sweatshirt. While this won't allow for your silhouette to come through, you will be warm enough to rock these looks again in Hot Girl Summer. My final piece is a staple I didn't even know I was missing or needed until I was Black Friday shopping and saw a denim jumpsuit. I am a lover of the cottage-core aesthetic and soft girl aesthetic more than I care to admit and depending on how this is dressed it fits either. One way that I have seen denim jumpsuits worn, especially ones that are sleeveless like the one I purchased is over a tight-fitting shirt. Once again, with the cold weather you have to dress warmer, and keeping staple pieces cute while throwing them together with the rest of your clothes can be crucial to making yourself feel confident. Another way to wear it when the weather warms up is the classic nothing under mid zipped which is fun, flirty and gives an edge to the softer look of being in full denim.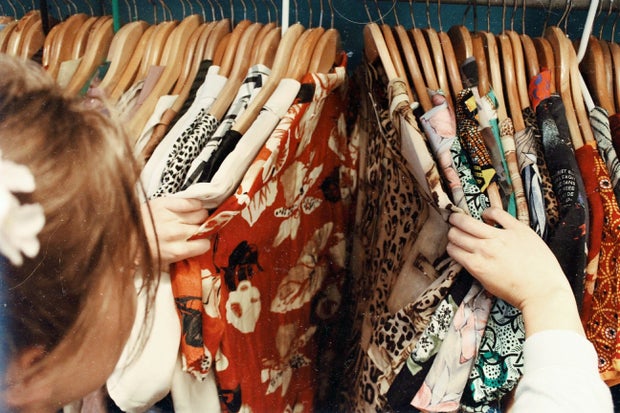 Photo by Becca McHaffie from Unsplash This article is in no way meant to tell you how to dress, what to wear, or anything like that because fashion is about freedom of expression. Just let this article act as a message for you to start dressing the way you want to. Don't let judging eyes and a monochromatic world stop you from being the rainbow fish in a sea of trout.