Save Yo Mama! A Guide to Living a More Sustainable and Eco-Friendly Life
In 2018, a grand total of 292.4 million tons of waste was generated within just the United States. There were a total of 4,200,000 tons of plastic bags, sacks, and wraps, and only 420,000 of those were recycled. If you are someone who blows off the idea of "going green", or even changing up some of your own habits in hopes of saving the planet, you may want to reconsider. 
Let's say you are going on date with a special someone at this beautiful outside restaurant. There is music playing, a lovely bottle of J.S. Terrantez Madeira sitting on your table waiting to be opened when you suddenly get a whiff of something sour. There is a big bundle of trash slid right up against the sidewalk ruining your nice evening. And what kind of trash is it? Oh, just a pesky sandwich wrapper with a half-eaten tuna footlong and numerous plastic bags all wet from the rain.
I know it can seem like a hassle, or even an expensive endeavor to constantly be using eco-friendly or "zero waste" products but honestly, it can be fairly cheap or even free. Being a college student, I am a broke b****. I barely have enough to pay for a Starbucks cup of coffee sometimes. But, when I do, I bring my own travel mug. Here are some eco-friendly swaps that you can make that are simple, but will make a world of difference. 
Plastics
Uh...it is 2021, if you are still using plastic water bottles, where the hell have you been loca?! Stop spending money on plastic water bottles that you just throw out once you are finished and buy a reusable water bottle. My favorites are of course the VSCO girl Hydro Flask and the Simple Modern water bottle from Amazon. These water bottles are easy to clean and they also come with their own straws! 
Recently, I have fallen in love with reusable sandwich bags. I am guilty of buying Ziploc bags in the past, but I have since moved forward towards greener pastures. The best kinds I have found are Reusable Silicone Storage bags and Bees Wrap. Both of these are great alternatives to plastic because you can wash and reuse them! Pro Tip: The Bees Wrap is best for covering the bowls that you lost the lid to!
Clothing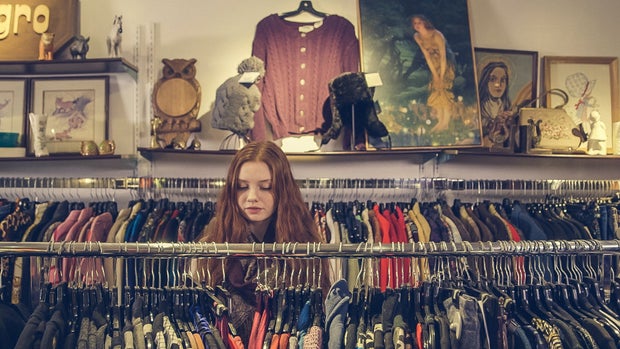 Photo by Burst from Pexels
Clothing is the second biggest waste on our earth next to oil. I understand how enticing "FREE SHIPPING" and $10 Tees can be, but I can assure you that second-hand shopping and thrifting will bring you a sense of peace and maybe even a new hobby. I can't tell you how many times I have gone into a thrift store and found the same shirt or the same jacket I just purchased at Urban Outfitters for $60 being sold for $10. 
If you are someone that does not have a thrift store around or you are simply more of an online shopper, here are some of my favorite eco-friendly brands: Pact, Vetta, Reformation, and EcoVibe.
Local Produce
Photo by Daria Shevtsova from Pexels
This is probably, in my opinion, the most eco-friendly swap you could make. If you do not take my advice on any of the other topics, please consider this one. Swap out the veggies, fruit, honey, and other grown produce you typically spend hundreds of dollars on at the store and stop by a local farmer's market. Shopping local lessens the gas that is generated from shipping produce from state to state, and it will also lessen the money you need to pull out of your wallet. But the best part is that locally grown produce typically has a better taste than veggies that have been sitting inside a frozen section. 
I can relate the world to the last Truffula seed. We are in charge of preserving these seeds because it is the trees we need. Like The Lorax said, "Unless someone like you cares a whole awful lot, Nothing is going to get better. It's not."
Save the trees protect the planet! I'll catch you next time for another article on the Swan House in Forks WA!