Ethics & Diversity in Publishing: Five Female Editors' Opinions
This quarter I was introduced to a number of editors rising in publishing. I, along with other class members, got to ask them questions geared towards the ethics practiced throughout the publishing industry. Some have been in publishing longer than others, and some have only just released their own literary magazines! Here's a list of these amazing editors and some information about them and their literary presses.
Online magazine Honey Literary just recently debuted its first issue in February 2021. Already, they have a very clear goal for their magazine. Dorothy Chan says, "our journal, of course, exists to spotlight and highlight and elevate the work of BIPOC writers, particularly BIPOC women, queer, non-binary, and trans-BIPOC writers." One way they succeed in this goal is by not charging any submission fee, unlike other journals. When charging a submission fee there's still no guarantee that the writer's work will get published. Chan wanted to look closer at other journal's reasoning for charging a submission fee and could find no reason other than gaining more money for themselves. Not only is it important to the Honey Literary team to not charge, but eventually they want to start paying their contributors; this goal is something that reflects back to their overall goal to elevate BIPOC voices.
In light of the past year's social issues and events, the publishing industry has been one to try and respond in a productive way. Jenny Xu talks about this when asked how the publishing industry keeps up with changes; Xu says, "any cultural shifts always have some kind of effect on publishing because we want our books to respond" (Xu). Some other responses from publishing industries have been new hires into leadership positions, reevaluating of company morale, raising starting salaries, and publishing more Black and PoC writers (Xu). Xu also talks about how her press has done several antiracism seminars and periodical checkups to make sure all their antiracism measures are working.
Maya Zeller, if you don't already know, is also a professor here at CWU; she mainly teaches creative writing. At Scablands Books she is the poetry editor and as such, she has made the ethical choice to not publish her own poetry to the press she edits poetry for. A lot of small presses do publish themselves and edit at the same time. Zeller believes in keeping those aspects separate, however, publishing outside of the genre she edits for is something she's not opposed to doing. An editor has to establish for themselves whether they're working for the company, the authors, or the writing; Zeller herself puts it simply as, "I want to work for poems, not people or aesthetics, but the art itself." She also makes sure that the art is diverse. She says, "I believe an editor has a responsibility to strive for greater representation in publishing…There is so much gorgeous and innovative writing being created by authors across backgrounds, and taking time to reach out to first-time writers especially is joyful work" (Zeller).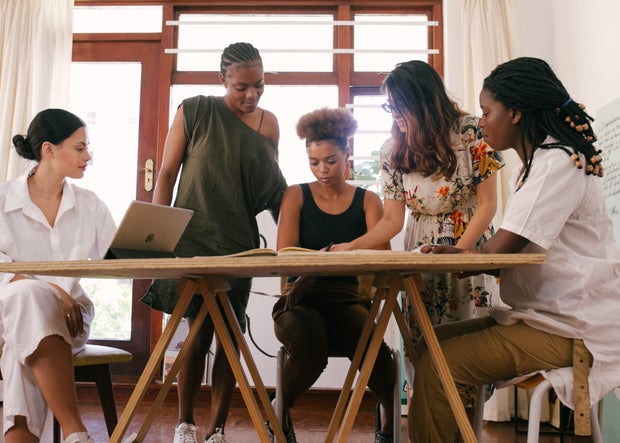 Photo by RF._.studio from Pexels
Keetje Kuipers put a lot of focus on diversity in her answers to each question she was asked. One of the ways she addressed it was by saying, "one of the things that are really important to me at Poetry Northwest is making sure that we have a magazine that not only represents diverse voices, but that spotlights diverse voices and enthusiastically celebrates diverse voices" (Kuipers). One of the ways Kuipers takes a deeper look into her magazine's name "Poetry Northwest", specifically the "Northwest" part. It's not a regional magazine, but it looks to honor the history the northwest region represents. Kuipers says, "The Northwest is an incredibly diverse and dynamic region… [with a] tremendous history of migration."
One question a student asked Elaina Ellis was specifically how Copper Canyon "actively encourages more BIPOC or other marginalized writers" to get published (Caitlin Holland). Ellis seems to believe that to help get BIPOC and other marginalized writers published, literary presses should first look inward. Ellis says, "At Copper Canyon we're trying to approach the work of becoming a more inclusive and actively antiracist organization as holistically as possible…in every department (editorial, marketing, development, finance) and ideally in everything we do… my hope is that all of these internal efforts will make us a more welcoming place for BIPOC and other marginalized writers to publish their work, and stay for the course of their careers" (Ellis). From their answer it's clear that unlike some publishing companies who are just trying to fill a "diversity quota", Copper Canyon Press wants to welcome diverse writers, create a safe space that makes them comfortable, and continue to support them throughout their careers.
It's so great knowing all these editors who are emphasizing representing diverse voices, especially in light of recent social issues, and they are making sure these issues are being responded to. Not only are they all making sure they're doing their part, but also making sure their presses are doing their part as well. Another way to make sure diversity is being represented in the writing world is by checking the VIDA Count.