4 Spring Cocktails to Add to Your List
There's no better time to perfect your bartender skills than on a sunny spring day. Over the last few weeks, my friends and I have been putting our creativity to work and have put together a list of some of the best spring cocktails we have made. Here are some delicious creative beverages for your girls' nights, tanning sessions, and afternoons spent in the sun. 
Raspberry Lemonade Slushies (Pitcher) 
1 cup of vodka 
3 cups of raspberry lemonade juice
1 tablespoon of lemon juice
Ice (fill with whatever room you have left in your blender)
Blend those together for perfect slushy and sugar the rim of your glass. Garnish with a lemon wedge and mint and you have a beautiful fruity spring slushy! 
Blueberry Lemon Ginger Fizz (Single glass) 
1 shot of vodka
Ginger beer
Mint
Sliced Lemons
Blueberries.
Pour in the Vodka, add lemon slices, ice, and mint, shake and pour over ice. Mix in ginger beer for the perfect glass. You can also freeze blueberries in ice cubes if you're wanting to add a touch of fanciness to your drink!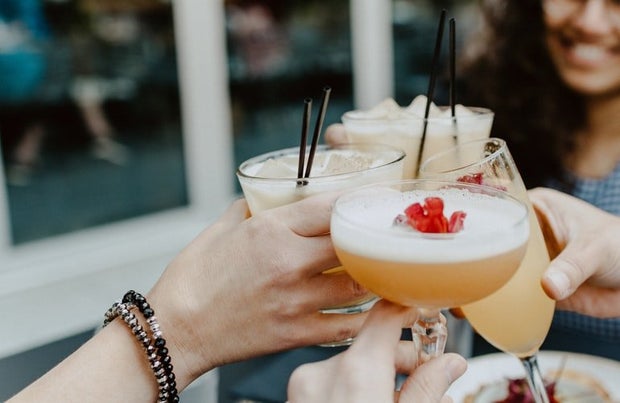 Photo by Kelly Sikkema on Unsplash
French 75 Lemon Drop (single glass)
1 shot of vodka
Champaign 
½ shot of simple syrup
Tablespoon of lemon juice 
Pour in vodka, simple syrup, and lemon juice, stir over ice. Pour the mixture over a glass with Champaign for a slightly stronger yet delicious lemon drop. Garnish with a lemon peel. 
Elderflower Gin and Tonic (single glass)
2 ounces of gin
1-3 lime wedges
3-4 ounces of elderflower tonic water 
Pour gin into a glass over ice, squeeze lime wedges to taste, and stir in elderflower tonic water for a beautifully light and refreshing twist to your typical gin and tonic. Garnish with a lime on the rim of your glass. 
Let us know if you have tried any of these recipes or have any favorite spring drinks to add to the collection! Cheers!