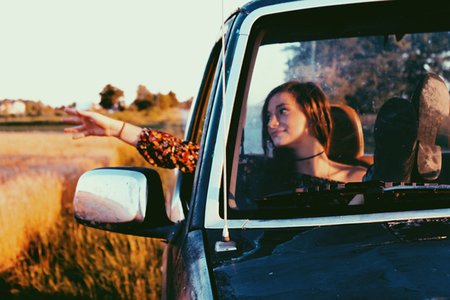 Amelia Kramer / Her Campus
Your Full and Comprehensive Main Character Playlist
My best friend and I live precisely 1,569.7 miles away from each other. She walks beneath off-white east coast skies, skipping along sidewalks scattered with orange-colored leaves already blown off from their branches. I live against mountaintops and breathe Colorado's crystal blue air (that is, when it isn't smogged up with the haze of wildfires). 
When we first moved away from each other, we began a nightly tradition of "Rose, Bud, Thorn". Recently, the game has gotten harder. In a year when strobe lights, carnivals, smiles, and any sense of normalcy are hard to find, finding a daily "rose" to talk about can be hard to come by. Over time, however, I've found my daily highlights in the little things:
Gliding downhill on a bicycle. 
Running blindly through early Boulder snowfalls. 
Dancing in an empty dorm room to the "Mamma Mia" soundtrack. 
This full and comprehensive playlist of over 100 songs from all decades and genres attempts to simply simulate moments when you feel like the main character and provide you with at least one good moment every single day. Below are just a few highlights:
1.

"Kids in America" by Kim Wilde

This 80's new wave bop has no shortage of movie cameos (looking at you, "Clueless"). This pastel-colored dance-in-the-club rocker will make you want to speed 90 mph down a highway at two a.m. while zipping up your black leather jacket and popping on bright purple lipstick. Who says you can't feel like a clubber in your dorm room? Grab a disco ball at your nearest thrift shop, and start re-imagining that night in, ladies! 

2.

"Faraway Look" by Yola

This is, perhaps, one of the most underrated bops of recent years. If you are short on time, fast forward to 0:58 for instant chills. How to describe this song? Well, it is the kiss at the end of the movie. The winning of the election. The first place at a race. It. Is. Triumphant. If you want to listen to more Yola, check out her recent Tiny Desk (Home) Concert here.

Close your eyes, bend back your head, and howl at the city lights. Yes, Bazzi might be best known for his memeable, 2018 chart-topping hit "Mine," but this pop hit is more than just another cotton-candy flavored pop chart-topper. This song is such a vibe, it is worthy of a TikTok trend (I'm waiting on y'all, TikTokkers…).

4.

"Helden" or "Heroes" by David Bowie

I cannot say enough amazing things about this song. It plays a significant role in so many iconic scenes from so many beloved television shows and movies. From that famed moment in "Perks of Being a Wallflower" when Emma Watson stands up and sticks her head out of a sky roof to that moment in Jojo Rabbit when two parentless children are dancing in the middle of a demolished Berlin street to celebrate the end of World War II, this song tugs at your heartstrings and will make you laugh and cry at the same time. Bonus: If you ever want to cry really hard, watch Peter Gabrielle's cover version of this song accompany one of the most emotional moments of Season One of "Stranger Things" [Video Contains Spoiler]. 

5.

"Everybody Wants To Rule The World" by Tears For Fears

A cold-war anthem turned emblem for the Gen Z experience, the twinkling synths, shuffling drums, crawling guitar solos, and throw-away vocals catapult the listener to a world bigger than their own. I challenge anyone to say that they don't resonate with this song. Be it a jock, princess, criminal, nerd, or basketcase, I guarantee everyone can relate to at least one lyric from this universally appealing melody. 
These are just a few of the high points, but if you want to hear the full and comprehensive Main Character playlist, click here.
So, go on and live that "main character" lifestyle, ladies. Most importantly, make sure every day has at least one "rose"!