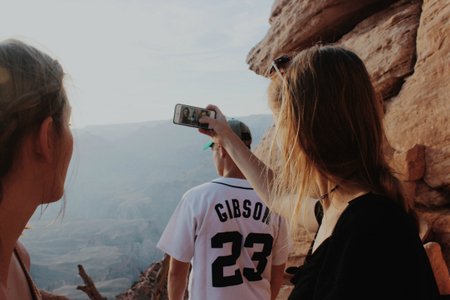 Anna Schultz / Her Campus
So, You Miss Your Friends―Here's How to Hang Out With Them While Maintaining a Social Distance
When rumors started circulating around campus that classes were going to go online a couple of weeks ago, I didn't think much of it. I knew COVID-19 was becoming a worldwide threat that was bound to hit the U.S sooner or later, but I never expected it to hit us this hard and fast. 
It wasn't long before these rumors quickly set into reality as fast as it had started, where several things I never considered before began to dawn on me―how my junior year would be cut short, how I wouldn't be able to go back to work, how much harder it would be to find an internship, and how I wouldn't be able to see my friends anymore (which was the hardest part about it all). 
Given all these overwhelming changes, it makes sense as to why so many mental health experts are concerned about the increased risk of anxiety, depression, and loneliness. Now, it's more important than ever to check-in and lean on our loved ones as much as possible during this time of uncertainty.  
Thankfully, we've come a far way with technology, which means there's plenty of different ways to stay connected with others even if we can't physically be with them.
Here are five virtual ways to hang out with your friends.
1.

Hold a Cooking Competition.

Pick out a new recipe to try out with a couple of friends and make it into a competition over video chat. To spice up the cooking competition a little bit, you can make it themed by mimicking some popular T.V. shows like "Chopped" or "Cupcake Wars". And if you want to make it more challenging, ditch the recipes completely and see who can create the best dish using only ingredients that are available in the pantry. 

Netflix seems to never disappoint when it comes to entertainment, and Netflix has done it once again by releasing a service called Netflix Party that makes it perfect to watch movies over long distances. Just install the Netflix's party extension on your browser, and you'll be able to watch a movie with all of your friends in real-time on a connected screen. One amazing feature of this extension is the special sidebar designated for a group chat, which enables you to "chat" with your friends during a movie like you normally would. 

Sticking to your normal everyday routine is crucial when it comes to adjusting to all these changes, and this includes meals. If there are friends you usually go out to dinner with at certain points throughout the week, call them up for a video chat and have dinner together at your usual times. This will not only give you a fun way you catch up with friends but it'll also help you maintain a little bit of normalcy throughout this time. 

Painting is a highly effective way to destress and reduce anxiety during this time. Depending on what you and your friends are in the mood for, you could paint with acrylics, watercolor, or even draw with colored pencils. YouTube has a ton of drawing tutorials online for all skill levels, and there are some Bob Ross paintings tutorials on Netflix too. 

It can become super easy to slack off on exercising when you're sitting at home in sweats all day, but an easy way to combat this is to work out with some friends. It's a great way to hold each other accountable and keep each other motivated during workouts. Look up some online workouts that you and your friends would enjoy. If you're unsure of where to start looking, I highly recommended the FitOn App! This app not only has a ton of workout choices, but it also provides the convenience of a personalized workout plan. 
As difficult as social distancing is, it's meant to protect us and our loved ones. Just remember, this restriction is temporary and will end eventually. Until then, take care of yourself and others―we will get through this!