Emily Mariko has officially taken over my life and my TikTok for you page, so when I saw her salmon rice bowl, I knew I had to try it for myself. 
On Sunday, when I was at Safeway, I pushed past my anxiety and went to the seafood counter to ask for half of a salmon. If you aren't aware, Emily makes her salmon with leftovers, so I had a salmon, roasted potato and tomato dinner first. Not gonna say this dinner was made just for the leftovers, but…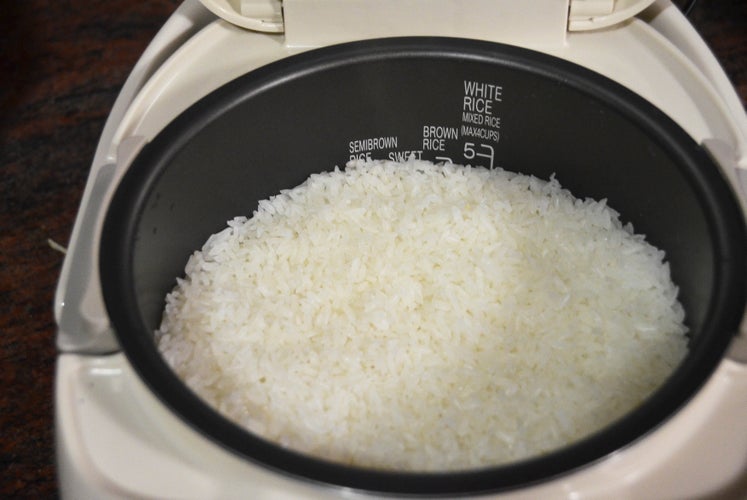 The next day I made the rice in the morning so I could fully encapsulate the leftover vibes that Emily embodies in her videos. When lunchtime rolled around I prepped my space: cold rice in a Tupperware container, out. Leftover salmon in a Tupperware container, out. Soy sauce, out. Kewpie mayo, out. Sriracha, out. I didn't have avocado, but she doesn't always have it either. It was officially go time.
I put the rice and pieced up salmon into a bowl and pushed the iconic ice cube into the middle of the bowl. One minute and three beeps later, the food is hot. The ice cube is taken out (because it's too dense to melt, apparently??).
From there, I squeeze the kewpie mayo, which I got from H-Mart, but you can also find at World Market, and pour the sriracha and some soy sauce on. I mix the bowl up and look for the seaweed wraps, only to realize that my roommates have finished them. I'm devastated, but won't let this stop me. 

The bowl is really good on its own, but I want to embody Emily, so I find the next best vehicle for food I know of — tortilla chips. Now, not to say that I have one-upped Emily because I didn't get to try it with seaweed, but it was so delicious. The crunch and extra saltiness of the tortilla chip completed the bowl. Disclaimer that dried seaweed is not my favorite, so if you're into it then you can go off with that.
If you had any reservations about trying this bowl, throw them out the window and go buy some salmon. In the 15 minutes of putting the bowl together and eating it, my left felt put together and flawless, which is what it's all about.
Overall, I give this bowl a 9/10, with the missing point being that it wasn't meant to be eaten with tortilla chips and that I was out of avocado.