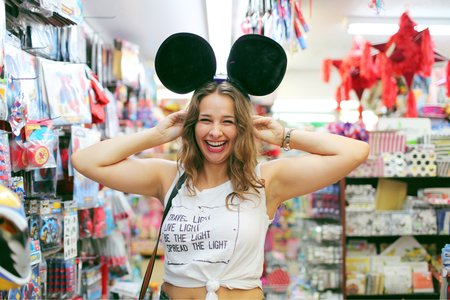 Pixar's "Onward": Reviewed
There's something so special about Pixar. That familiar noise when Luxo Jr. jumps on the "I," the shorts that can warm hearts in just a few minutes, and the stories that have become classic franchises with characters we can't imagine life without.
When we had the chance to attend a pre-screening of Pixar's new film, Onward, how could we say no? As Pixar's 22nd movie, this flick represents just another soon-to-be classic from a magic-making company that has been a huge part of most of our young lives. 
No big spoilers here, but for a quick recap: Onward is about two teenage elf brothers (Ian and Barley Lightfoot, voiced by Tom Holland and Chris Pratt *drool*) living in a once-magical world. The duo embarks on a quest to spend one last day with their father, who died when they were too young to remember him. If you haven't seen the trailer yet, check it out here. 
Here is what some of our HCCU members had to say about it:
"Onward reconfirms why I am a film major. This film brings to light the simple moments that make the adventure worth more than the reward. This film put a bright spot in my day, renewed my passion for filmmaking, and left me rushing to call my family, just to tell them how much I love them."

"Although Onward focuses on loss, it also provides a powerful view of self-love. The film reinforces the importance of a support system and has opened new doors towards a reflection of self-growth. This feel-good movie left the audience with a sense of hope and a smile on their face."

"Leave what you thought you knew about basic Disney tropes at the door. Onward goes beyond what one would expect a Disney movie to entail. This movie has familial love unlike any other. The humor in this movie was so versatile and could be appreciated by people of all age ranges which something Disney has been noticeably working towards, especially with movies like Toy Story 4 and Frozen 2. Onward had me cracking up but also warmed my heart in the best way. This movie makes you want to call your siblings after and tell them you love them!"

Onward was a movie that I didn't know much about going into the theater, but that made the whole experience even better. At the beginning of the movie, I was thinking it was going to be a normal Pixar movie, having the same plot and ending. Boy, was I wrong. This entire movie had me on the edge of my seat, while simultaneously bringing me to tears. Onward left me feeling happy and this movie is definitely a must-see!

"This movie was so unexpectedly fun and surpassed all my expectations for it. It made me feel so many emotions. I laughed, I cried, and I came out wanting to hug both of my older sisters for all that they've done for me. This movie portrays the importance of familial love, especially between siblings who seem to have nothing in common. It also explores important concepts like building your self-confidence, sacrificing for others, and dealing with loss. It's a must-watch movie and I'm definitely going to see it again with my sisters while it's still in theaters!"

"Onward was an unexpected gem of a movie. This film combined modern life with a medieval, magical twist resulting in an amusing storyline. Regardless of how you feel about elves & magic, there's something heart-warming and resonating about Onward that everyone will love. I can't wait to bring my family once it hits theaters and watch this film again!"

"Onward explores grief in a way I have never seen before in an animated film. Focusing on skewed family dynamics and brotherly love, this film leaves you feeling grateful for the ones in your life and a profound connection to those who aren't with you anymore. Moving, inspiring, funny, this one is one of Pixar's best. 

"Most people know I'm a large (some could say crazy) Disney fan. I had watched every version of the trailer for Onward, becoming familiar with the two brothers' quest long before the movie's release date. I thought I had an idea of what would happen but was surprised consistently throughout the emotional and suspenseful plot. Was I crying 15 minutes in? Perhaps. Was I crying at the end? Like a waterfall. Was I laughing? You betcha. Did I aggressively tap my seat neighbor with nerves about what would happen next? Enough to leave a mark. Oh, and I'm obsessed with the film art (double moons = major Star Wars vibes = happy Maeve)."
Now, if all this emotion, suspense, heart-warmness, magic, humor, and love didn't convince you, then we simply don't know what else to tell you. You're missing out if you don't head onward to theaters ASAP. And did we mention the voices of Chris Pratt and Tom Holland? 
Get tickets to see it in Boulder here!