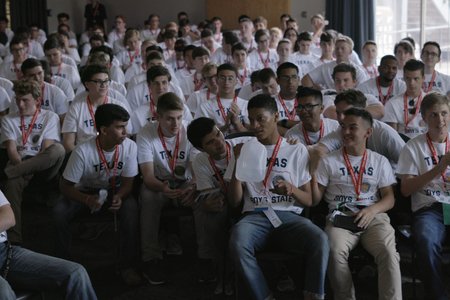 Courtesy of A24 Films / Apple TV
Notable People Who Attended a Boys or Girls State
American Legion Boys State is a government educational program for High School Juniors in 49 states. Founded in 1935, the program focuses on city, county, and state governments, with exercises such as court proceedings, legislative sessions, law-enforcement presentations and other recreational programs. 
Similarly, Girls State, a program from American Legion Auxiliary, is a program focused on preserving democracy through education on the principles of government.  
"Boys State", a new movie from A24, is a documentary directed and produced by Jesse Moss and Amanda McBaine. The film follows teenagers in Texas attending Boys State to construct a representative government. While the students followed in the film may now be on their way to fame, Boys and Girls State alumni already have some celebrities of their own. Here are a few. 
Beau Biden, former Attorney General of Delaware, and most notably son of Democratic Presidential Nominee and former Vice President Joe Biden, attended Boys State in 1986 in Delaware. He went on to attend Boys Nation, an incredibly competitive program that allows two representatives from each state to meet in Washington and learn about the federal government. 

Rockstar Jon Bon Jovi, a famous American singer-songwriter who is most famous for forming the band "Bon Jovi" with hits including "Livin' On A Prayer" and "You Give Love A Bad Name", attended Boys State in New Jersey. 

 

Senator Booker, the junior member of the United States Senate from New Jersey and candidate for the 2020 Presidential Democratic Nomination, attended Boys State in New Jersey in 1986. 

 

Bruce Springsteen, solo artist and frontman of "E Street Band", whose hits include "Dancing In The Dark" and "Born in the U.S.A.", attended Boys State in New Jersey. 

 

American Author E. Lynn Harris, who was openly gay was most famous for his stories and depiction of Black men who were closeted, attended Boys State in Arkansas. 

Journalist Jane Pauley, who held positions on NBC's Today Program and as a co-host of Dateline NBC, is now the anchor of CBS Sunday Morning. She attended Girls State in Indiana. 

2003 Miss Virginia winner, Nancy Redd, a New York Times bestselling author and GLAAD Award-nominee for outstanding digital journalism, attended Girls State in Virginia. 
While Boys and Girls State has many famous alumni, the program's greatest claim to fame will now likely be the A24 documentary produced about it. 
BOYS STATE is an Apple Original Films and A24 Release. Now available on Apple TV+