The modernization and minimalist trends of the past few years are equal parts overdone and still satisfying. Simple websites, clean branding, and fresh logos have dominated the market of all industries, even…dental care? Yes, I am talking about Quip.
Founded in 2014 and officially launched in November 2015, Quip has garnered over two million fans. CEO and co-founder of Quip, Simon Enever, is a British industrial designer that had a vision to improve dental health in America. With well-established names like Philips and Oral-B dominating 70% of the market, Enever knew he was entering a competitive field market. CNBC shares the idea for the Quip toothbrush came to Enever during his first American dental appointment, where his dentist shared that electric toothbrushes were strongly encouraged, but "individuals were still not brushing often enough, changing the brush heads or going to the dentist." I don't know about you, but brushing my teeth is never something I look forward to, at least not in the same way I enjoy a nice clean shower or taking my contacts out. Brushing my teeth is just another thing that I have to do as a citizen of planet Earth. Needless to say, Quip seized this opportunity: create a delight point, rather than a pain point, in the lives of your average toothbrush-er.
Both of my roommates upgraded to a Quip long before I did, and their cute matte black and rose gold toothbrushes stared me in the face whenever I opened the bathroom cabinet for too long. Plus, my old toothbrush definitely needed the brush head replaced, but of course, it was an off-brand electric toothbrush I bought way too long ago, and I couldn't find the right brush heads anymore. Oops. Looks like my only option was the Quip. Shoutout to Gabby for pioneering the Quip use in our household xoxo.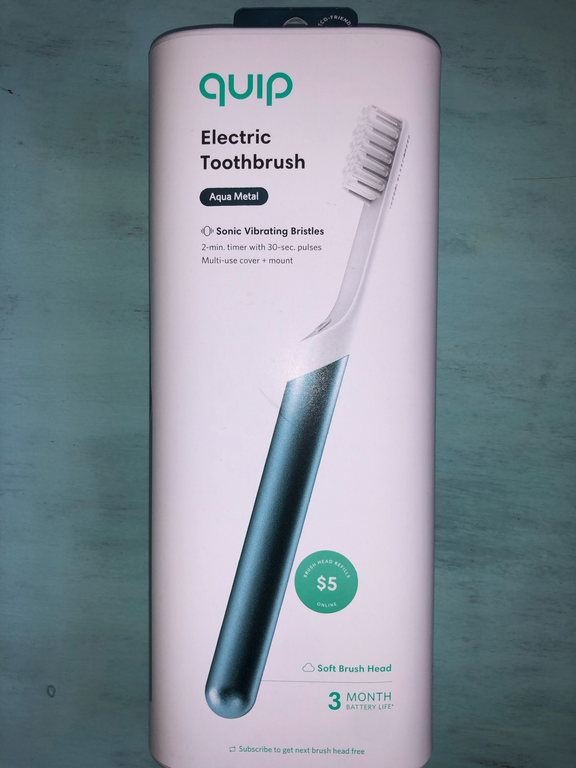 the packaging
You know how Apple has you hooked on even the unboxing experience? And how you feel guilty throwing out your Mac box from six years ago? Quip has emulated that satisfying experience perfectly. As a business student, we learn a lot about how even packaging can elevate a product experience and build brand loyalty. The simple aesthetic of softly opening my new toothbrush was so exciting, and it actually made me excited to brush my teeth.
Whoever is the designer at Quip knows that you know how to brush your teeth, but they include a few, simple, easy-to-digest tips and steps that I hadn't considered. Fancy new brush means fancy new brushing habits!
the brush
Okay, I unpacked my Quip, so of course, I had to immediately brush my teeth. I love that I chose my favorite color, although I'll admit that it was a hard decision. The brush has a three-month battery, but both my roommates have told me that they've never had to charge it.
The brush comes with a travel holder/cover and a mirror mount. If I didn't share a bathroom, my brush would definitely receive front-and-center treatment mounted on the wall. For now, the cabinet shelf will do. The Adult Electric Toothbrush has either a plastic (green or blue) or metal (silver, slate, copper, gold) handle, so you can even express your style via your toothbrush. Something to note: both my roommates and I bought our Quip brushes at Target, and none of the colors we have are offered on the site. Perhaps they are exclusive in-store offerings, but you may have to hunt for your favorite color!
The brush was designed by dentists and is American Dental Association approved, so I'm in. From the Quip site: "Per the ADA's Seal of Acceptance standards, this means that our quip toothbrushes help remove plaque and prevent/reduce gingivitis, our floss helps remove plaque between teeth and prevent gingivitis between teeth, and our toothpaste helps prevent cavities."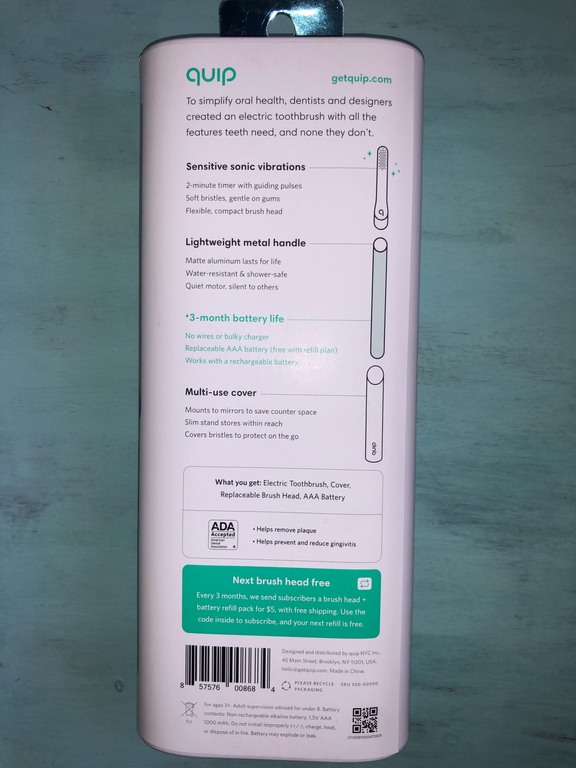 The actual brushing experience
One of my favorite things about the Quip is the timer. The brush has four 30-second pulses then automatically turns itself off after two minutes have passed. There was a time in my life where I diligently set a two-minute timer on my phone and brushed the whole time. But then I got lazy and simply didn't have the patience and gave up trying to brush for as long as you're supposed to. The Quip really holds me accountable for brushing, and I honestly feel guilty if I turn it off before my four 30-second intervals are up. It turns out when you have a brush that does the timing for you, two minutes go by a lot faster than you think.
The brushing isn't loud, either, which I know is weird to say but was really important to me when I upgraded to the Quip. My last toothbrush was big and bulky, and therefore the vibrations were loud. When you have roommates, one of whose room is attached to the bathroom, I always felt bad using my toothbrush so loudly. The quietness of the Quip was such a noticeable difference, and I no longer feel guilty brushing my teeth when the roomies are asleep.
The vibrating is also subtle but strong. Before I got the Quip, my roommates both commented on how clean it made their mouth feel, and they weren't wrong.
their add-ons
Of course, Quip has its customers hooked. If they could make me care to brush, they can make me care to floss. Quip is really doing work for all the dentists out there. They have both the refillable floss string and the refillable floss pick, both designed to be easy to use, refillable, and provide the ultimate minty freshness!
They also have anticavity toothpaste (comes in mint and watermelon flavors!), gum that "helps prevent cavities, freshens breath, and is sugar-free with tooth-friendly xylitol," and a mouthwash dispenser that is meant to live on your counter.
All Quip products are designed to be refilled at three, six, or nine-month intervals. They also offer several product bundles, like the Smart Custom Bundle, and even have a toothbrush for kids with a rubber handle in four colors.
Honestly, all their product pages are so informational I couldn't put it all, so I highly recommend checking out their site!
get a quip!
I honestly can't recommend a Quip enough. Seriously, if I liked a product so much that I was driven to write this entire article about it, it's gotta be good. This brand has totally revamped my dental hygiene routine – and I needed it. You can purchase a Quip online, or at places like Target, Walmart, Amazon, and Bed Bath & Beyond.
View all FAQs, and read their tips (there's honestly so much about dental hygiene I didn't know. So much of dental care is under our control!).