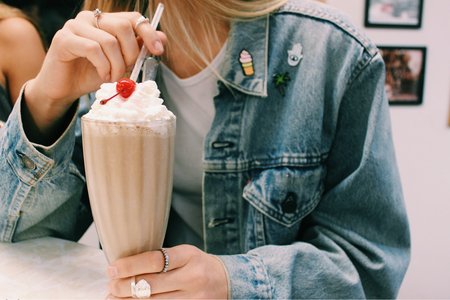 Anna Schultz / Her Campus
Kick Off Saint Patty's Day with a Homemade Shamrock Shake
With St. Patrick's Day just around the corner, it's no secret that this is the perfect time to indulge in McDonald's delectable Shamrock Shake. Initially called the "St. Patrick's Day Green Milkshake," this limited edition drink has been a huge hit with many milkshake lovers since its introduction in 1970.
What a lot of people don't realize when they take a sip of this cool and creamy treat is that it was originally created to help sick hospital patients and their families. Yes, you heard me right―the Ronald McDonald house would not exist if it wasn't for this drink.
Long story short, it was invented as a way to provide some funds for Fred Hill, a Philadelphia Eagles football player who wanted to buy a home for the families of sick hospital patients. During his trips to the hospital for his daughter's leukemia treatment, he noticed that there were a lot of families who camped out in the hospital because they could not afford a hotel room. He then set out to buy a home for all the hospital families that had nowhere to stay by using the money he earned from the Shamrock Shake sales. And that's when the Ronald McDonald House was born. 
This makes the Shamrock Shake that more special.
This year, McDonald's' is only offering the drink in special selected locations through March 24th. While it may be tempting to go out and buy yourself a shake, it's way more fun making your own. The homemade version I'm going to provide you with tastes exactly like the shake you find in stores―maybe even better. And the best part? It's super easy to make, and you probably already have all the ingredients in your fridge!
Ingredients:
2 cups vanilla ice cream

1 1/4 cup of milk (of your choosing)

Few drops of green food coloring

¼ teaspoon peppermint extract

Whipped cream and maraschino cherries for toppings
1.

Put the peppermint extract, food coloring, milk, and vanilla ice cream into a blender and blend, blend, blend!

2.

Pour the mixture into a cute glass, and serve with whipped cream topped with a maraschino cherry.
That's all there is to it, Happy Saint Patrick's Day!