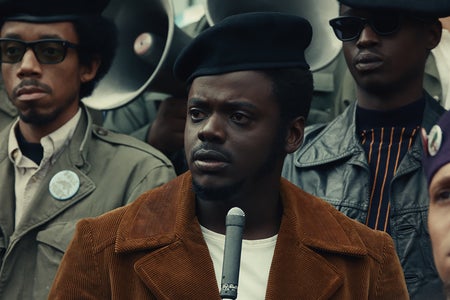 'I Am A Revolutionary' – 2021 Film 'Judas and the Black Messiah' Tells A Powerful History
Director Shaka King's new film "Judas and the Black Messiah'' exemplifies the grave racial injustice rooted in America's history. Inspired by true events, this film takes us back to the 1960s when our nation was widespread with political and social unrest. The black community began to fight back against inequalities in health care, housing, education and employment. The film follows the story of Fred Hampton, Chairman of the Illinois Black Panther Party, and his betrayal by FBI informant William O'Neal. 
With several Golden Globe nominations and an impressive cast including Daniel Kaluuya, Lakeith Stanfield, and Jesse Plemons, the film speaks loudly to racial injustices from our past and even louder to injustices we are facing today. "Judas and the Black Messiah" is truly inspiring and unforgettable. It is a film everyone should not only watch but learn from. 
In a recent virtual call with the talent from the film, Algee Smith, who portrayed Black Panther security captain Jake Winters, emphasized how important this film is in filling in the gaps our education system is missing when retelling Black history. 
"We were robbed of learning that history. All we have to go along with is how he was assassinated," Smith said, "But to have a film like this to show you the sacrifices he [Chairman Fred Hampton] made, his morals, his righteousness...to be a part of showing that is just great."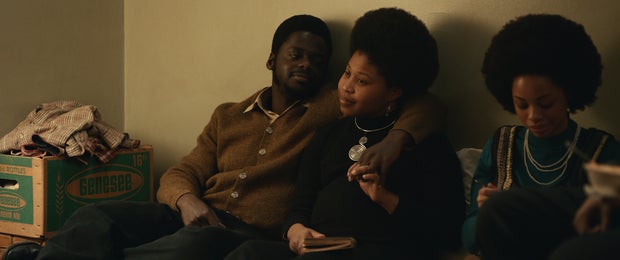 Warner Bros. Pictures
(Top l-r) DARRELL BRITT-GIBSON as Bobby Rush, DANIEL KALUUYA as Chairman Fred Hampton and ASHTON SANDERS as Jimmy Palmer in Warner Bros. Pictures' "JUDAS AND THE BLACK MESSIAH," a Warner Bros. Pictures release. 
King wanted to direct a film that emphasized Hampton's legacy, not his death, and he did just that. To ensure the story was as accurate as possible, the team recruited help from Chairman Fred Hampton, Jr. and Mama Akua Njeriwho who spent time with Daniel Kaluuya (Chairman Fred Hampton) and Dominique Fishback (Deborah Johnson) as they learned the complexities of these characters. Fred Hampton, Jr. and Mama Akua served as technical consultants and observers on-set to make sure King's vision told Hampton's story correctly.
Daniel Kaluuya's performance in this film was inspiring, and truly embodied Chairman Fred Hampton's leadership and devotion to the Black Panther Party. Although he is known for his roles in "Get Out" (2017) and "Black Panther'' (2018), King says it was his maturity and political involvement that landed him this role. To prepare, Kaluuya listened to Malcolm X and Martin Luther King Jr. speeches every morning, the four speeches that Hampton would listen to. He knew that it took listening to them more than once to understand them fully. 
"You have to do him if you want to be him," Kaluuya said, "It was the clarity of thought I took from listening to Malcolm X and Martin Luther King Jr. speeches. It is the way they would present an idea. They were storytellers."
Known for his role in "Knives Out" and "Selma," Lakeith Stanfield stepped out of his comfort zone to play William O'Neil, the Black Panther Security Captain who tries to infiltrate the party as an FBI informant. Although he found it hard to play a character that he repulsed, Stanfield also found O'Neil representative. When having to choose between courage or saving yourself, he believes most people would choose to save themselves.
"What helped me the most was getting out of my way, my own judgments, and trying to understand him [William O'Neil] in a way where my own personal judgments wouldn't keep me from achieving what I wanted to achieve," Stanfield said.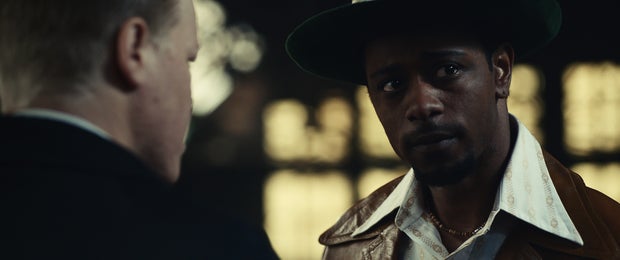 Warner Bros. Pictures (L-r) JESSE PLEMONS as Roy Mitchell and LAKEITH STANFIELD as Bill O'Neal in Warner Bros. Pictures' "JUDAS AND THE BLACK MESSIAH," a Warner Bros. Pictures release.
Dominique Fishback's character, Deborah Johnson, helps humanize Fred Hampton as his love interest in the film. Fishback's extraordinary performance brought audiences back to reality. 
"We often see these leaders and revolutionaries as larger than life people and having something we can only dream about," Fishback said. "With the movie, Daniel and I got to show that they aren't perfect, they are human and go through the same things we go through." 
King knew that Fishback's smart, intelligent, and warm personality was ideal for the character of Deborah Johnson, and her performance made Mother Akua proud. 
"Seeing Daniel and me on screen made her [Mother Akua] remember and miss that love," Fishback said. "To me, that means we have done service to her and her story." 
"Judas and the Black Messiah'' proves that history can, in fact, repeat itself. Although it takes place in the 60s, it is a film for every era. The parallel between the assassination of Chairman Fred Hampton and that of Breonna Taylor, George Floyd, and countless others, reminds us of America's continuous fight in a culture war. 
You can watch "Judas and the Black Messiah" on HBO Max or in theaters today!