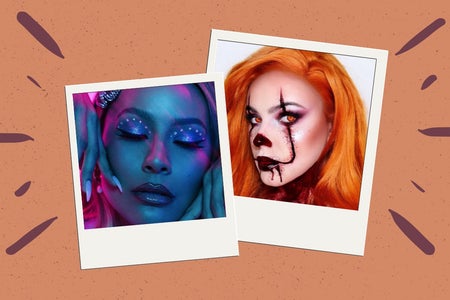 @desiperkins, @makeupbymaylen via Instagram
Five Makeup Accounts to Follow to Get You into the Halloween Spirit
Halloween is hands down my favorite holiday and the entire month of October is essentially set aside to be spooky season. One of the best parts is seeing all the creative makeup looks people come up with. From special effects to character recreations, here are five makeup artists from around the world that you should follow to ring in Halloween!
Roberta Santos is a Brazil-based professional makeup artist known for her events makeup and has created some incredible Halloween makeup looks!

UK-based makeup artist, Chris Graves has created some super creative makeup looks and crafted this spooky look with the help of liquid latex!

Now I'm a little biased because I actually grew up with Alexa, but her talent is seriously unreal. She goes through different makeup series and is currently participating in 31 Days of Halloween where she posts a new Halloween look every day of October!

Britt's account actually specializes in special effect and horror makeup, making Halloween all year round! Also doing 31 Days of Halloween, thus far Britt has recreated La Llorona and Chucky inspired looks.

Ukrainian artist, Sofia, showcases a variety of makeup artists in addition to her own work! Check her out for some spooky makeup inspiration for the month of October.
A lot of the above artists and similar ghoulish looks can be found on TikTok and Youtube, which is great if you're hoping to recreate some of the Instagram looks you've come across! Whether you incorporate these designs into a costume or just simply love to admire, happy haunting!