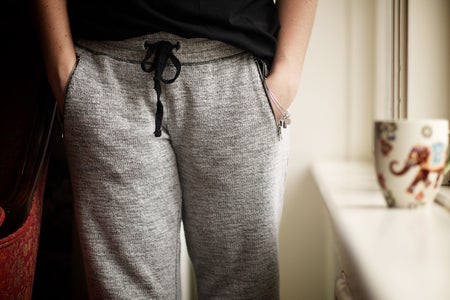 Arianna Tucker / Her Campus
6 Cozy and Trendy Places to Shop for Sweatpants
Comfort is SO in style...
We are finally living in a world where comfort is prioritized in fashion and I am loving it. Nowadays, sweatpants come in styles for all occasions and wearing sweatpants no longer has to be unfashionable. Sweatpants have become a staple in my college wardrobe, especially in the winter. Check out this list of my favorite brands of sweatpants for hanging around the house, going to class, traveling, and everything in between! 
Madhappy is the first place I go while searching for a new pair of sweatpants. If you are in the mood to splurge, Madhappy is where to start. The comfort and quality of their sweats justify the price!

Boys Lie is my new favorite place to shop for unique sweats! They do a great job oversizing their products in a way that still looks cute. Keep your eye out for new drops! 

If you don't want to break the bank, but still want a pair of stylish and comfortable sweatpants, Aerie is the place to shop. They have cute and affordable sweats in so many colors! Look out for sales!

I just purchased my first set from Talentless and I was not disappointed. Created by Scott Disick, you feel like you're wearing a designer outfit for a fraction of the price. Perfect for the oversized look! Did I mention they come in over 10 colors?

This California brand is perfect for lounging around the house or going to class. Aviator has styles for all occasions, with comfort being their number one priority. The laid-back, 70's vibe of the company adds a pop of color to every look! 

Aritzia JUST launched a new line of sweats in their Spring Collection 2020. These utility-inspired sweats are perfect for a day in bed or long flight. Get your hands on these before it is too late!
Sweatpants take on an entirely different meaning in the winter. When cold weather hits, make sure you have a go-to pair of sweats!