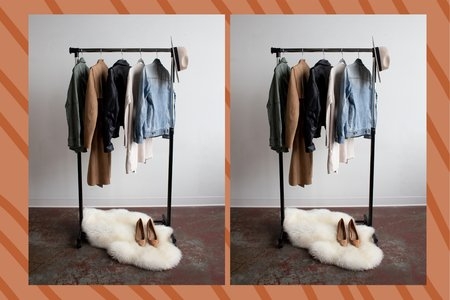 5 Eco-Conscious Ways to build a "Greener" Closet without Breaking your Budget
While it is easy to get caught up in the glitz and glamour of the fashion world, the fashion industry is actually one of the largest polluters in the world. The rate of our clothing production has immensely skyrocketed within these last ten years―leading to HUGE water waste as well as major air and soil pollution. More than 11 million tons of textile waste is generated each year, and it takes about 2,700 gallons of water to produce one T-shirt. 
Both consumers and fashion brands are guilty of playing a role in this global environmental impact, but there are ways we can help as consumers.
Here are five ways to incorporate sustainability into your own wardrobe:
You don't necessarily have to be a sewing genius in order to turn your old worn-out garments into fashionable clothing pieces. Having some basic knowledge of sewing definitely helps, but there are so many creative ways (sewing & no-sewing) to upcycle your clothes that you're bound to find an upcycling method that suits your skill level. It could include things as simple as cropping your t-shirt, hand-painting some cute details on your jeans, or ironing on some fun patches!

2.

Donate your clothes to a recycling program

If your clothes are too worn out to be donated and resold again in a thrift store, try donating your clothes to a recycling program instead! By doing so, some of your items may be resued (turned into items such as rags), while some items are processed into fibers to make different products. Places such as H & M, Zara, and Patagonia offer recycling programs with extra perks. At H & M,  you can drop off a bag of clothes at any of their store locations anddd you will automatically receive 15% off your next purchase. Not all recycling programs have these perks, but it's rewarding knowing your clothes are being put to good use! 

3.

Pay attention to your garment labels

Always make sure to check the part of the label that lists the material your item is made of. It's best to buy garments that are made of organic & biodegradable materials such as recycled polyester, recycled nylon, organic cotton, and recycled acrylic. Avoid buying clothes that are made of synthetic plastic material like viscose, polyester, nylon, and acrylic. You'll be doing our environment a favor because synthetic material often takes longer to biodegrade and it contains a high number of harsh chemicals compared to organic materials.

Thrifting can definitely be overwhelming when you have to look through these huge endless racks of clothing. To increase your chances of finding cute items, try to go thrifting as often as you can. Thrift stores receive new items all the time, so the more often you go, the better chance you'll have of finding something. The best thing about thrifting is you can find clothing pieces that are one of a kind―as in you won't be able to find another item quite like it anywhere else.

5.

Care for your clothes better 

This might be a no-brainer but caring for your clothes better will make them last longer―meaning you'll have less of a need to go shopping to buy new clothes! To care for your clothes better, try washing your items less often & follow the care label to prevent them from wearing and tearing a lot. You could also try buying more high-quality clothing items―it may be more expensive, but this will ensure your items will not fall apart after a couple uses + wears.
The best part of building a sustainable closet is there's no need to compromise your style. The only thing you're changing is how you shop & care for your clothes. These changes may seem small, but it makes a world of a difference when it comes to the environment. All it takes is putting in little more time & attention towards your clothes, and you'll be right on your way towards having a full-blown sustainable closet!